Los Angeles Uninsured Motorist Accident Attorney
Motor vehicle drivers in California are legally required to carry at least the minimum required amounts of car insurance. Yet many drivers in Los Angeles break the law by driving uninsured.  If you get in an accident with an uninsured driver, it can be difficult to receive fair financial compensation for your medical bills and property repairs. An attorney from Rose, Klein & Marias LLP can help you explore your legal options and protect your rights. Contact us today for a free case consultation.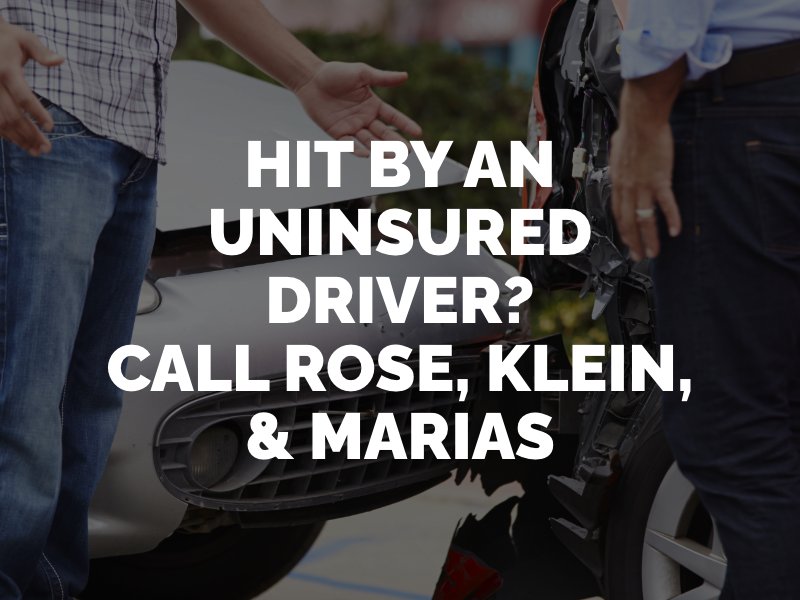 Why Choose Our Los Angeles Uninsured Motorist Attorney?
Our Los Angeles car accident lawyers have been serving injured victims since 1936. We understand how to handle challenging cases involving uninsured motorists.
We know how to get real results for our clients, and have achieved multiple six and seven-figure settlements and judgment awards. Our past case results speak for themselves.
We accept uninsured motorist accident cases on a contingency fee basis. You will only owe us attorney's fees if we successfully secure financial compensation for your case.
How a Los Angeles Uninsured Motorist Accident Attorney Can Help
It can be difficult enough to handle a typical insurance claim after getting into a car accident in Los Angeles. Car insurance companies are notorious for trying to take advantage of claimants to minimize their payouts. If the driver who caused your car accident does not have insurance, the recovery process becomes even more complicated. It is important to hire an attorney for assistance after an uninsured motorist accident – especially if you suffered catastrophic injuries or a loved one passed away.
A car accident attorney can take over communications and negotiations with an insurance company for you. Your lawyer will advocate for your best interests by accurately evaluating how much your claim is worth and pursuing a fair amount using aggressive legal tactics. Your lawyer will thoroughly investigate your car accident, collect evidence of fault and help you seek maximum financial compensation – even without the other driver's insurance available. This may mean bringing a claim against one or multiple third parties. Meanwhile, you will have the peace of mind to focus on healing from your car accident injuries.
Why Is Uninsured Motorist Coverage Important in California?
Uninsured motorist coverage, also known as UM insurance, is not required in California. Although all automobile insurance policies automatically come with uninsured and underinsured motorist insurance, drivers have the right to reject this insurance. They must do so in writing. If you do not remember rejecting uninsured motorist insurance when you purchased your policy, it is most likely included on your plan.
Uninsured motorist insurance may not be required, but it can be important to include on your policy as a driver in Los Angeles. It can cover your medical bills and other expenses if you get into a car accident with an uninsured driver. With hundreds of negligent uninsured drivers on the road, it is a good idea to protect yourself ahead of time by paying for as much uninsured and underinsured motorist insurance as you can afford.
Who Pays for an Uninsured Motorist Accident in Los Angeles?
California is a fault state, meaning the driver or party at fault for causing a car accident is held financially responsible for the related bills and damage. In a no-fault state, all drivers involved in car accidents seek compensation from their own insurance providers, regardless of fault. If a driver in California does not have insurance, however, it is not possible for the victim to seek compensation through a typical insurance claim.
If you get into a car accident where the other driver is at fault, but you then learn that the motorist was unlawfully driving without insurance, contact your own car insurance company to proceed with a claim. Call your insurance carrier to ask if you have uninsured motorist insurance on your policy. If so, file a claim with your own insurance company. Do not admit fault for the collision, and wait to accept a settlement offer from your insurer until discussing the potential value of your case with an attorney.
In the event that you do not have uninsured motorist insurance on your own car insurance policy, other financial recovery options may be available. For example, you could potentially pursue financial damages from a third party. A third party is someone who was not present at the scene of the car accident but who contributed to the crash or your injuries in some way. Examples include the motorist's employer, a trucking company, a motor vehicle manufacturer, a property owner and the government. An attorney can evaluate your case to identify all potential sources of financial compensation and insurance coverage.
Who Pays for a Hit-and-Run Accident?
Uninsured motorist insurance will also pay for a Los Angeles hit-and-run car accident. A hit-and-run means that the driver illegally fled the scene of a car accident without stopping or leaving his or her information with the victim. If the police are unable to identify the hit-and-run driver in your car accident case, your uninsured motorist insurance can provide coverage. Your car insurance company will treat the claim as if the other driver stopped at the scene but did not have automobile insurance to pay for your losses.
What Does Uninsured Motorist Insurance Cover?
If you need to file a claim using your uninsured motorist insurance in California, it can pay for the following types of losses, up to your policy's limit:
Your necessary medical care and hospital bills
Your passengers' medical expenses
Lost wages or earnings
Property damage repairs
Coverage for a totaled vehicle
Pain and suffering
You may also be able to turn to your health insurance, MedPay insurance or other forms of first-party insurance for additional coverage.
Contact Our Los Angeles Uninsured Motorist Attorney Today
Getting hit by an uninsured driver can be stressful. You may feel overwhelmed at the prospect of recovering financial compensation when the other motorist involved in your car accident does not have insurance. Help is available at Rose, Klein & Marias LLP. We can help you file an uninsured motorist claim or go up against a third party to fight for maximum financial compensation on your behalf.
Our experienced car accident attorneys will review your case for free and provide personalized advice about your potential legal options during a free case consultation. Request yours by calling (800) 362-7427 or contacting us online anytime.