Los Angeles Elder Financial Abuse Attorney
One form of elder abuse is financial abuse, also known as financial exploitation. Financial abuse can leave senior citizens penniless, robbing them of decades of hard-earned money. It is a heinous crime that targets one of the world's most vulnerable populations. Thankfully, there are ways to protect the elderly from being taken advantage of for financial gain. Find out how you can prevent Los Angeles elder financial abuse, as well as what to do when faced with this crime.
What Is Elder Financial Abuse?
Elder financial abuse is when a senior citizen (someone who is 65 years of age or older) is defrauded, scammed or exploited out of his or her money, assets or possessions. Simply put, it is when someone steals money or other valuables from an elder victim. Rather than a robbery, however, elder financial abuse refers to a pattern of consistent financial exploitation, often through means such as fraud, trickery or an abuse of power, either by a stranger or someone the victim knows. This victimization of a dependant adult may go hand-in-hand with other forms of mistreatment, such as physical harm, psychological abuse, identity theft, or nursing home negligence. 
Who Is Most at Risk of Elder Financial Abuse?
While any elderly individual can become a victim of financial abuse, some are statistically more at risk of being taken advantage of for financial reasons than others. Those at risk include seniors who rely on the care of others, such as those living in Los Angeles nursing homes or who have caregivers. In these scenarios, a caregiver can take advantage of his or her position of trust or authority to steal from the senior. 
If an elderly person has Alzheimer's, dementia or other mental health issues that can cause confusion or disorientation, he or she may also become a target for financial exploitation. A perpetrator may take advantage of the victim's condition, such as by tricking him or her into changing a will. Senior citizens who don't plan ahead, work with financial advisors or keep their sensitive banking information private are also at risk.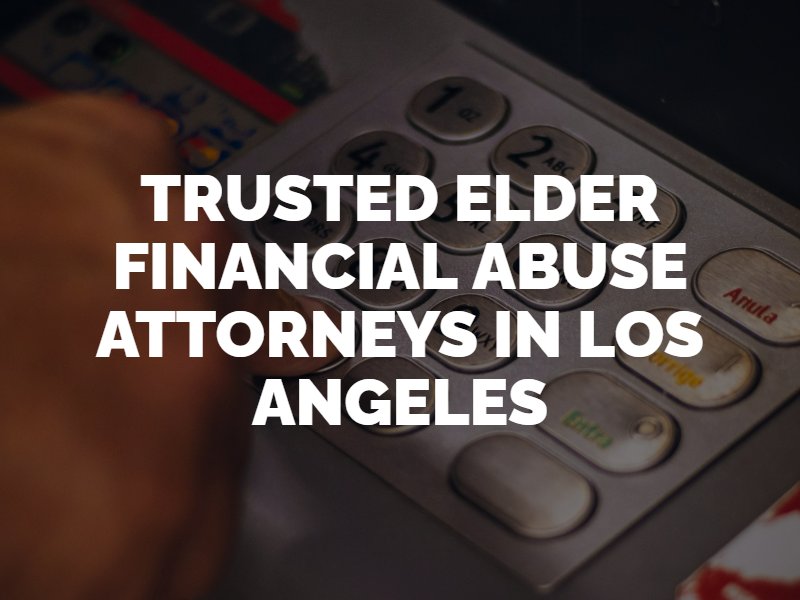 What Are Signs of Elder Financial Abuse?
Financial abuse can be very difficult to detect, especially if an elderly person is in charge of his or her own finances and isolated from friends and family. Unfortunately, this means that many cases of elder financial exploitation go unnoticed for months or even years – until all of the victim's assets have been drained away. As a friend, family member or caregiver of a senior citizen, you may be able to detect the following signs of possible financial abuse and take action:
Sudden, large or unusual withdrawals from a bank account.

Checks made out to caregivers or to "Cash."

ATM withdrawals by a senior who does not use a debit card or leave the house.

Missing personal belongings.

Unnecessary housing repairs or other services purchased.

Unusual transactions on credit cards.

Sudden or unexplained account closures.

Odd (forged) signatures on checks or financial documents.

A caregiver or friend suddenly conducts financial transactions on a senior's behalf.

Unexpected or strange changes to wills or estate plans.
Note that elder financial abuse may result in one, several or none of these signs. Ultimately, the best way to detect elder abuse is to communicate often with your elderly loved one, check on his or her finances regularly, and trust your instincts. Scam artists are often very skilled at what they do. If you suspect that something isn't right, follow up and investigate to make sure your loved one is not being targeted for financial crimes. At our law firm, we take every financial elder abuse case in Los Angeles with the utmost seriousness. If your loved ones have been victimized, we will thoroughly investigate the situation to hold those responsible accountable for their actions.
How to Prevent Financial Elder Abuse
Financial exploitation can be devastating for an older person. Some victims lose their entire life savings and can no longer afford their housing or care. In addition, victims often suffer significant emotional distress and mental anguish from financial abuse, such as feelings of anxiety or depression. It is always better to prevent financial elder abuse than to try to remedy the situation after the fact. Use these tips to prevent the financial exploitation of someone you love:
Supervise accounts and finances. Have someone trustworthy and reliable supervise your loved one's finances as he or she ages. Keeping a close watch on an elder's accounts can lead to the early detection of financial abuse before it goes on for too long.
Create a power of attorney. Although many seniors are reluctant to give up control of their finances, if they become mentally incapacitated, it is often best to assign a power of attorney to make money decisions and keep the individual's assets safe.
Choose caregivers wisely. Research your choice of caregiver thoroughly before choosing someone to look after your loved one. Look for positive reviews, licensed caregivers and facilities, and referrals from people that you trust. Be wary of any new close friends that your loved one makes.
Our financial elder abuse attorneys find that scams and fraud ultimately rob a victim of his or her independence. Ignorance about common elder scams and financial abuse can increase the risk of your loved one being targeted. Explain what elder financial abuse is and list common examples of scams, such as email schemes, fraudulent phone calls, lottery scams, investment schemes and health insurance fraud. Spreading awareness about the financial exploitation of the elderly may save your loved one from becoming a victim.
Resources for Victims of Elder Financial Abuse in Los Angeles
Reporting elder financial abuse can protect your loved one and other senior citizens from being exploited in the future. Bring a possible case of elder financial abuse to the attention of police officers and others who can help using these resources:
Contact your local police nonemergency number to file a report (1-877-275-5273 for the LAPD).

Tell the bank or financial institution where your loved one has accounts.

Contact the

Adult Protective Services

in Los Angeles at 1-877-477-3646 to submit a claim.

Call the

LA County ombudsman program

at (866-931-2222) for further assistance.
When you're ready to discuss the possibility of filing a Southern California personal injury lawsuit for elder financial abuse or fraud, contact Rose, Klein & Marias LLP to request a free legal consultation in Los Angeles. Our local lawyers can help your family understand its legal rights under California law.
Contact an Elder Financial Abuse Attorney in Los Angeles
If you or a loved one has suffered elder financial abuse in Los Angeles, help is available. Rose, Klein & Marias LLP has experienced Los Angeles elder abuse attorneys who can assist you with the claims process. We can carefully investigate for signs of financial exploitation, determine the defendant(s) for your lawsuit and help you demand maximum compensation for elder financial abuse. Learn more about this type of claim today during a free case consultation. Call (800) 362-7427.