Amputation Lawyer in Los Angeles
It goes without saying that an injury resulting in an amputation is a life-altering event. Most individuals facing an amputation will be required to adjust their entire life, including making adjustments at the workplace and at home to accommodate their new circumstances. Every day can prove to be a new challenge.
Rose, Klein & Marias LLP provides victims of amputation injuries the opportunity to recover compensation in hopes of bettering their lives. When arriving at our office, our lawyers will provide you with personalized representation and compassionate care. We have been helping personal injury victims recover since 1936, and we understand what California courts require in proving how an injury occurred and the amount of compensation needed to take care of your short-term and long-term needs.
Los Angeles Amputation Resources
To immediately access the resources at any point on this page, click the corresponding link below.
What is an Amputation Injury?
Amputations are More Common Than You May Think
Leading Causes of Amputations
Potential Side Effects of an Amputation
Adjusting to an Amputation
Amputations Caused by Medical Malpractice
Statute of Limitations for an Amputation Injury Lawsuit
Damages Are Only Available if You Prove Them with Evidence
How Your Attorney Handles the Claims Process
Speak to a Lawyer Today
What Is an Amputation Injury?
An amputation injury is the removal of a body part, such as a limb or digit. It can refer to the cutting off of an arm, hand, finger, leg, foot or toe. Amputations can be traumatic or surgical. A traumatic amputation occurs when an extremity is removed during an accident, such as an arm getting cut off in a piece of machinery at work. A surgical amputation is when the removal of the limb is medically necessary to save the victim's life or because the limb cannot be restored, such as removing an arm due to an untreatable infection or cancer.
Amputations are More Common Than You Might Think 
The loss of a limb is an injury that will have permanent implications for a person both in terms of their personal and professional lives. While you might not notice a great many individuals with amputations in your everyday life, the problem is more widespread than you might think. The Amputee Coalition estimates that there are over 1.9 million people living in the US with limb loss at the moment. 
While the leading cause of amputations is vascular disease, generally caused by complications linked to diabetes and peripheral arterial disease, they are also caused by accidents. In hospitals of California, there were 15,1498 amputations performed in 2014 alone. 
Collecting compensation for the costs associated with your amputation injury requires the initiation of a claim against the party that was responsible for your injury. The cause of your amputation will have an impact on the outcome of your claim.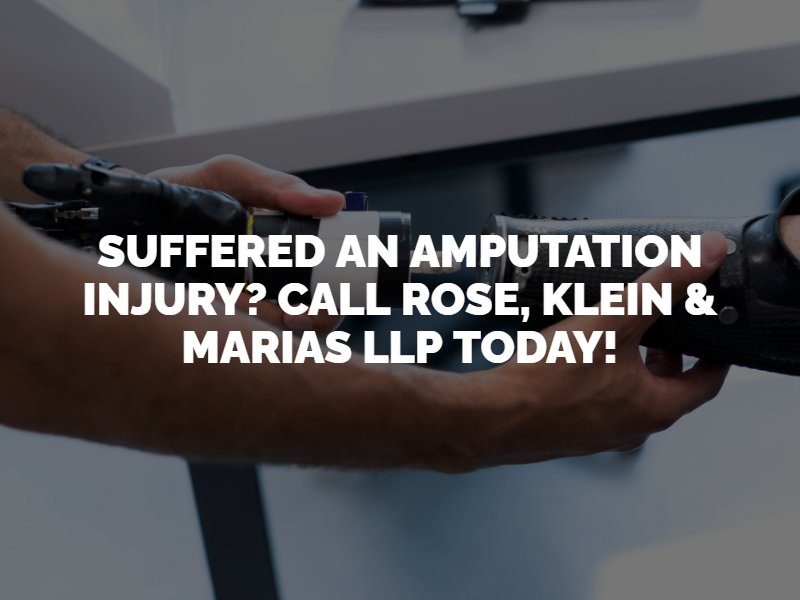 The Causes Of Amputations
A substantial number of amputations come about due to trauma related to a personal injury accident. Many such accidents come about due to the carelessness of other individuals. Common causes our Los Angeles catastrophic injury lawyers have seen include:
Motor vehicle accidents: Rollover accidents, motorcycle accidents, pedestrian accidents and a large number of other kinds of crashes can result in amputations occurring. Sometimes a limb is so badly injured due to a crash that medical personnel have no choice but to amputate that portion of the body.
Workplace construction and farm-related accidents: Accidents can happen at the workplace in many ways – especially when dealing with heavy machinery. Such an injury can occur due to equipment malfunction, falls from heights, crushing type accidents where the body or parts of the body are pinned, being struck by falling objects, or injured due to an explosion.
Electrical shocks: These can occur due to contact with overhead power lines, underground wiring or malfunctions of a breaker system. Sometimes businesses or companies are guilty of failing to warn of the dangers of an electrical shock or failing to take the proper safety precautions to prevent electric shock from occurring.
Defective products: A poorly designed or manufactured product such as power tools or industrial equipment can lead to the loss of a limb. Whether for use at home or at the workplace, manufacturers and other third parties can be held liable for such accidents.
Accidents or injuries leading to severe infection: Injuries as a result of dog bite, exposure to chemicals or laceration due to machinery can sometimes cause a limb to become infected resulting in the need for amputation.
Medical malpractice: A negligently performed medical procedure or surgery can result in the amputation of a limb and the doctors and hospitals can be held responsible for these situations.
There may be many other causes of events leading to amputation, and responsible parties need to be held accountable. While a lawsuit can in no way make up for your loss, financial compensation can help you be able to pay for medical care and the resources you need in dealing with your amputation.
Potential Side Effects of an Amputation
Amputations have an enormous impact on victims' lives. They are some of the most significant and life-changing injuries, as a victim has to adapt to a new life with a missing body part. Amputations can affect a patient's ability to move, work, engage in favorite hobbies and activities, interact with others, and be independent. In addition to the psychological side of things, an amputee must also live with the side effects of the injury itself. Some of the most common side effects complained of by amputees are:
Chronic pain due to nerve damage

Phantom limb pain, or pain perceived in the missing limb

Sensory issues

Trouble with mobility, balance and coordination

Fatigue due to physical exhaustion

Increased risk of falls

Medical complications, such as muscle contractions 

Deep vein thrombosis (deadly blood clots)

Mental health disorders, such as depression or PTSD

Body-image issues
Despite surgeons doing their best to stabilize the skin tissues, nerves, blood vessels and tendons, removing a body part is a major operation that will inevitably have multiple side effects for the patient. While it may be possible to address and control some of these side effects with medications, therapies and rehabilitation, others are chronic and can impact the patient for life.
Adjusting to an Amputation
Anything that you are feeling after having a limb or digit amputated is valid. Amputees struggle with immense emotional effects that take time to overcome. These often include depression and a mourning period while you grieve for the loss of your limb, your past self, and the independence or opportunities that you feel you have lost. With modern medicine, however, hope is always available. Today, amputees can regain a great deal of independence and mobility with science and medical technology. 
If you're struggling as an amputation survivor, use these tips to help you adjust to your new life:
Don't be ashamed to ask for help. Adjusting to your new life means being dependent on others for help, at least in the beginning. 
Acknowledge your feelings. Don't try to suppress negative emotions. Instead, express them in a healthy way through therapy and beneficial coping strategies.
Get support. Throughout your journey, have people around you to provide moral, emotional, social and practical support to help you heal.
Be active. Spend time exercising and being active to make yourself feel better and gain mobility. Exercising and eating a healthy diet can improve your body and mind.
Find your purpose. Being an amputee does not have to define you. Find your purpose in life and set meaningful goals to be who you want to be. Being driven by your larger goals can help you cope.
Create a daily routine. Having a set daily routine can help you reach milestones without placing too much pressure on yourself. Make time for self-care and things that you love in your routine.
Focus on the positive. Rather than dwelling on what you've lost, focus on everything that you can still do and enjoy. Replacing negative thoughts with positivity can help you fight depression.
More hope for the future can come from filing a civil lawsuit for your preventable amputation injury. A negligence claim can aid with adjusting to an amputation by providing the financial compensation that your family needs to afford necessary medical care. The resources to pay for top-tier medical treatments, advanced medical technologies, prostheses, rehabilitation, physical therapy and psychological therapy can improve your quality of life. 
How Does the Law Protect Those Who Suffer Amputations Due to Medical Malpractice?
Medical malpractice refers to a health care provider falling short of the standards of care required by professionals in the medical industry. There are many common examples of medical malpractice that can result in amputations, including misdiagnosis, failure to diagnose, surgical errors, medication mistakes and the failure to prevent infection. California's medical malpractice laws allow injured patients to file lawsuits against doctors, surgeons, other health care practitioners, and hospitals or medical facilities for medical negligence. 
If you suffered a wrongful amputation in Los Angeles, you have the legal right to file a medical malpractice lawsuit in pursuit of financial compensation for your past and future losses. You may be eligible for compensation for all of your necessary medical care, specialized medical devices and prosthetics, therapies and rehabilitation, lost wages, pain and suffering, and out-of-pocket costs.
Recently, California Governor Gavin Newsom signed a bill into law that increased the cap on noneconomic damages in medical malpractice cases. Previously, the cap was $250,000, meaning a plaintiff could not recover more than this in noneconomic damages, even for a life-changing injury such as an amputation. Now, however, the cap has been increased to $350,000, with additional increases each year of $40,000 until reaching $750,000.
What's the Statute of Limitations for a California Amputation Injury Lawsuit?
A statute of limitations is a state law that places a deadline on a victim's right to file a lawsuit in California. With only a few exceptions, if you miss your statute of limitations, you will be barred from making a financial recovery for your amputation injury. This makes it critical to contact an attorney in Los Angeles as soon as possible if you believe you have a case.
Currently, the statute of limitations on a personal injury claim in California is two years from the date of the accident or discovery of the injury. If you are filing a medical malpractice claim, you have three years. In a case involving a minor with an amputation injury, the minor has two years from his or her 18th birthday to file. Statutes of limitations can be shorter, however, if you are bringing a claim against the government. Consult with a lawyer about a potential case without delay.
Damages Are Only Available if You Prove Them with Evidence 
The loss of a limb can lead to substantial medical costs, and can also impact your ability to work and support your family. Common questions our clients ask us in relation to their amputation injury include: 
Who pays for my damages? 

How much are my damages worth? 

How long does it take to receive my compensation? 

How much will my Cerritos personal injury lawyer cost? 
Who pay for my damages? 
The answer to this question in all cases is: it depends. The party that will be liable for the damages you have incurred from your amputation injury is the party who's negligence caused the accident. Negligence is a complex legal term that lawyers spend years studying, then years in practice to learn how it applies in the real-world. It has four parts: duty, breach, causation, and damages. If a party had a duty to you, breached that duty causing an accident, and your injuries have related costs, you could be entitled to collect compensation from that party. 
Determining the cause of an accident requires the collection of evidence, and application of legal terms and concepts to that evidence to determine who was at fault. Prior to taking your case, we'll review the evidence to determine if there is a party we can pursue damages from. 
How much are my damages worth? 
The amount that your damages are worth will depend upon the costs associated with your treatment both today and into the future, as well as the impact on your ability to work and support your family. 
Damages for your amputation injury could include: 
Repair to any property that was damaged in the accident, like your car or motorcycle 

The cost of any and all medical bills linked to your accident, including short-term costs like the ER and long-term costs like surgeries, rehabilitation, treatment, and medications 

Any lost wages and work benefits during your recovery 

Any difference in your ability to work and earn, starting from the time of your accident and moving through the remainder of your working life

In some cases, damages for pain and suffering are also available 
To prove your damages, you'll need evidence that would be admissible in court. Evidence to measure your life-long medical costs from your amputation injury as well as the long-term impact on your ability to work and earn is collected from experts. Medical and occupational experts analyze your accident and the associated injuries, then calculate the future costs associated with them. 
We have a network of local experts whose opinions are respected in the courts, and we'll help you schedule whatever appointments you need to support your case. 
How long does it take to receive my compensation? 
The answer to this question, unfortunately and like the answer to many other related questions, is: it depends. When you are working with an experienced Cerritos amputation injury lawyer, we will put together the strongest case possible from the start. This encourages the insurance companies to offer a fair settlement that we can accept at the start of the process, rather than having to take them to court. 
Collecting the compensation you are entitled to requires evidence and the presentation of a strong claim, and the best way to do this is with the assistance of an attorney. 
How Much will my Los Angeles amputation injury lawyer cost? 
Lawyers who handle injuries like amputations practice in the field known as personal injury law. It is our job to help injured persons collect the full compensation they deserve, and we do it for nothing out-of-pocket. This is because if we take your amputation injury case, we'll take it on contingency, which means we only get paid if we win. Our payment comes out of a portion of the earnings that we'll agree upon before getting started, so you'll never have to pay anything out-of-pocket whether we settle during the initial claim or have to take the responsible party to court on your behalf.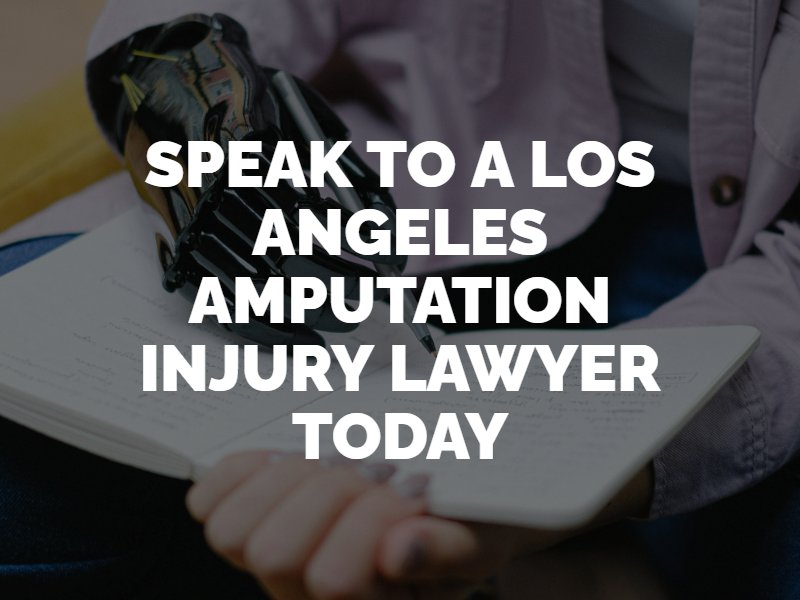 Your Attorney Handles the Claim Process Every Step of the Way For You 
The claims process is complex, and can be especially time-consuming if you are not sure what to do. The claims process begins with collecting evidence, and ends with collecting the complete compensation you deserve, but there are many steps in-between. 
The claims process includes: 
Collecting evidence to prove the negligence of the party that caused the accident 

Gathering additional evidence to prove the amount of damages that you are pursuing 

Incorporating all the evidence into the drafting of a claim 

Filing the claim with the appropriate party before the time limit to do so runs out

Negotiating the claim and ideally reaching a fair settlement

If a fair settlement cannot be reached, filing a lawsuit to collect on your damages 
When you have been through an accident and lost a limb, you may not have the time and mental energy to focus on carrying your case from gathering evidence through negotiating your compensation. With a Cerritos amputation lawyer from Rose, Klein, and Marias LLP on your case, you can step back and focus on recovering from your injuries while we handle the rest for you. 
How To Contact Rose, Klein & Marias LLP
To set up an appointment with an experienced personal injury attorney, contact Rose, Klein & Marias LLP at one of our 10 Southern California offices. You will not have to pay any fee unless our Los Angeles personal injury attorneys recover compensation for you.