Los Angeles Dangerous Road Lawyer
Los Angeles has a reputation for being a dangerous place to drive due to extreme traffic congestion and reckless drivers. Another crash risk drivers have to deal with, however, is dangerous roads. The City of Los Angeles does not always adequately maintain its roads, resulting in defects such as large potholes that can contribute to car accidents. In other cases, dangerous roads are caused by low-quality construction jobs or design issues.
At Rose, Klein & Marias, LLP, we can help if you've been injured in an accident on a dangerous road. Our attorneys have represented car accident victims and their families in Los Angeles for many years. We can provide a free case consultation, where you can receive personalized advice about your situation. If you are eligible for financial compensation, we can help you pursue the best results possible for your case.
Why Choose Us?
Our attorneys have been serving clients in California since 1936. We understand the state and local laws related to car accident cases and know how to navigate them.
We have a long record of success. We have recovered more than $5 billion in settlements and verdicts for past clients, including many successful car accident cases.
We accept car accident clients on a contingency fee basis. This means we won't charge you a dime in attorney's fees unless we secure financial compensation on your behalf.
What Is a Dangerous Road?
A dangerous road refers to any stretch of street, freeway or highway that is unsafe for drivers due to issues related to its design, structure or surface. A dangerous road increases the risk of a car accident regardless of driver behavior. Even if a motorist is driving prudently and properly, a dangerous road can cause an accident.
Dangerous roads in Los Angeles could contain:
Dangerous designs
Unsafe intersections
Road defects
Malfunctioning traffic lights
Crossing animals
A lack of warning signs
A lack of sidewalks
Inadequate traffic control
Dangerous roads not only put the lives of drivers at risk but also motorcyclists, bicyclists and pedestrians. All road users count on reliably safe and defect-free roads. If an unsafe condition causes or contributes to Los Angeles car accidents, the victim may have the right to hold the city or state responsible.
Examples of Dangerous Road Defects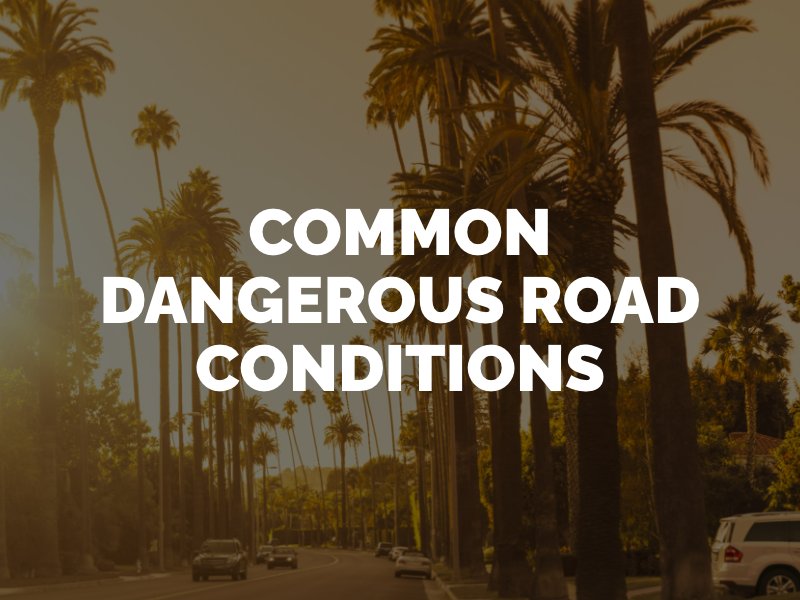 A city has a responsibility to ensure the reasonable safety of its roadways. Public roads must be properly designed, built, inspected, repaired and maintained. If the government entity in charge of road safety fails to meet its duty of care, a road could be made dangerous by many defects, including:
Uneven surfaces
Edge drop
Loose gravel or asphalt
Cracks or splits
Potholes
Water pooling
Dangerous slopes
Hazardous curves
Storm debris
Oil spills
Chemical spills
Poor sign visibility
Missing guardrails
Faded paint
These issues can greatly increase the odds of a motor vehicle accident. Common examples are single-vehicle collisions, tire blowouts, vehicle rollovers, intersection accidents and a loss of vehicle control. A significant number of road departure accidents are related to road design, repair or maintenance issues.
The Most Dangerous Roads in California
The California Office of Traffic Safety reported 3,606 traffic accident fatalities in 2019. Thousands of other victims suffered serious but nonfatal injuries in motor vehicle collisions. Many of these crashes took place in Los Angeles due to unsafe roads. The following are the most dangerous roads in California, based on an analysis of 4,452 roads:
I-15 in Hesperia, between Exit 138 and Exit 129
I-80 in Berkeley, Oakland, Emeryville and Albany, between Exit 14A and Exit 8A
I-80 in Richmond, El Cerrito, Pinole and San Pablo, between Exit 15 and Exit 21
I-5 in Sacramento, from Del Paso Road to Railyards Boulevard
I-215 in Colton and San Bernardino, between Exit 44B and 39
SR-74 in Menifee, between Melba Avenue and 3rd Street
I-605 in Norwalk and Cerritos, from Exit 5B to Firestone Boulevard
Many roads in LA remain unreasonably dangerous for drivers despite ongoing repair efforts. The City of Los Angeles has a list of current road construction projects posted on its Public Works website. These projects involve road resurfacing, reconstructing intersections, widening narrow roads, repainting pavement markings, reconstructing curbs and sidewalks, and repairing cracks and holes in the pavement.
Who Is Responsible for an Accident Caused by a Dangerous Road in LA?
If you get injured or a loved one dies in an accident involving a dangerous road in Los Angeles, you may be entitled to financial compensation from one or more parties. California is a fault-based car insurance state, meaning you will file a claim with the person or party who caused your accident to seek coverage for your medical bills and property damage.
In a case involving a dangerous road defect, you may be able to bring a claim against the city or state government responsible for road maintenance. Claims against the government are complicated in California and come with their own unique rules, including a much shorter deadline for filing. Hire an attorney right away to assist you with the claims process.
Compensation Available
Your car accident lawyer can determine where the fault lies for your car accident. If the government and another driver share fault for your dangerous roadway crash, you may be able to file a claim against both parties.
The compensation you could potentially collect includes:
Present and future medical bills
Losses of income and employment opportunities
Lost future capacity to earn
Vehicle repairs or replacement
Disability costs
Physical pain and emotional suffering
Loss of consortium
Wrongful death damages, if applicable
Punitive damages, in some cases
Before you accept a fast settlement offer from a car insurance company, consult with a lawyer about the potential value of your claim. The extent of your injuries and losses may be worth more than what an insurer initially offers.
Contact Us Today
You should not be at a higher risk of serious injuries or death due to dangerous roads in Los Angeles. If a recent car accident involved a road hazard or defect, contact Rose, Klein & Marias, LLP for a free case consultation with a knowledgeable attorney. You may be entitled to financial compensation from the government and/or another party. We will ensure your rights are fully protected during the recovery process. Call (800) 362-7427 today.