Los Angeles Defective Car Door Latch Attorney
Defective car door latches can lead to serious and potentially fatal injuries. A defective latch may make a car door open while in transit or in a collision, causing an occupant to be ejected from the vehicle. In other cases, a defective latch may trap occupants inside the car during dangerous situations by preventing the door from opening.
If you've been injured by a defective car door latch, the lawyers at Rose, Klein & Marias, can review your case at no cost. We are committed to helping clients go up against vehicle part manufacturers in pursuit of justice and compensation for product defects. Speak to a  Los Angeles car accident lawyer that is experienced in defective car door latches today. Request a free consultation at (866) 674-5150.
Why Choose Us?
We are highly experienced motor vehicle defect attorneys in Los Angeles. Our lawyers have held auto part manufacturers responsible for harm caused by their products for over 80 years.
Our law firm has a reputation for providing excellent customer service. We get our clients the results they need while providing the personalized care they deserve.
We offer high-quality legal services at no cost upfront. You will pay us $0 in attorney's fees unless we secure financial compensation for your auto part defect case, guaranteed.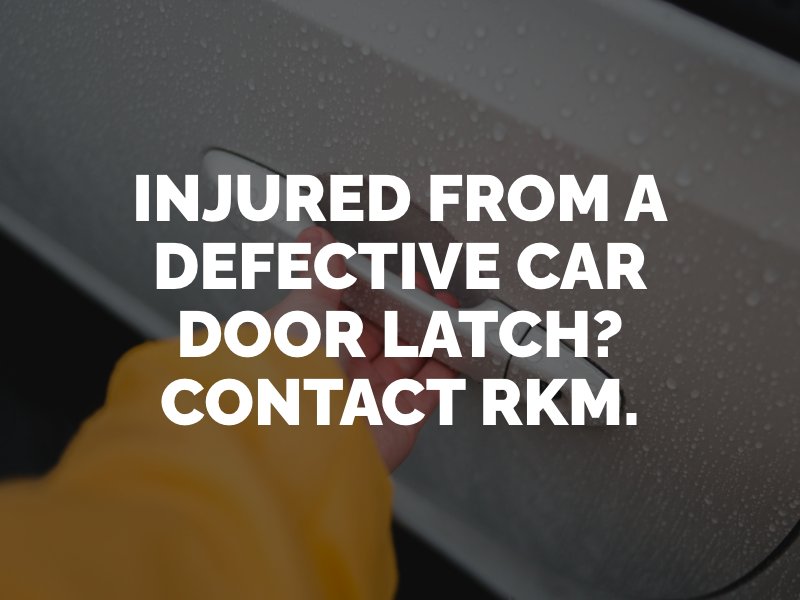 Types of Car Door Latch Defects and Auto Door Failures
A door latch is a small car part located on the edge of a car door frame. It is designed to lock into a small opening on the car door to keep the door shut and secure it to the rest of the vehicle's frame. A latch with a faulty design, manufacturing defect or marketing flaw may fail to work as intended. This could result in related disasters, such as the door suddenly opening during a drive.
Examples of car door latch defects include:
Faulty connection: the door latch fails to fasten, making the car door open unexpectedly.
Underperformance: latch does not meet federal standards in terms of inertia load bearing.
Incorrect fit: inaccurate placement of the latch mechanism fails to allow it to click into place.
Improper door latch installation: loose screws on the door latch cause it to fall out of place.
Door latch freezing: the door latch fails to fully fasten in wet or below-freezing temperatures.
Door latch sticking: the door latch gets stuck, trapping occupants inside of a car.
Defective door latch: a faulty latch breaks off from a sudden impact on the road.
Mechanical failure: components of the latch fail and prevent the latch from fastening.
Broken door rods: a defective latch breaks off the remote rods, creating dangerous metal points.
Disconnected door: a faulty door latch causes the door to fall entirely off of the car frame.
A door latch may be small, but it is a key component to a vehicle's overall safety. If anything goes wrong with a door latch, it may not click into position, shut the door correctly, secure the door to the car frame or keep the door safely closed in a car accident. Conversely, a defective door latch could also keep a door shut, trapping victims inside. If the vehicle is on fire due to an accident, this could prove fatal.
Vehicles That Have Been Recalled for Defective Door Latches
Ford Motor Company has the highest number of vehicle recalls for defective door latches. For example, in 2020, Ford issued a safety recall for defective side door latches on several of its 2011-2016 models. This recall involved a door latch with a pawl spring tab that could potentially break and prevent the door from correctly latching. It affected nearly 2.2 million vehicles in the U.S.
The list of vehicles that have been recalled by Ford due to defective car door latches includes:
1997-2000 Ford Expeditions
1997-2000 Ford F-150s
1997-2000 Ford F-250 Super Light Duty Trucks
2000 Ford F-150 Super Crew
2005 Ford 500
2005 Mercury Montego
2005-2006 Ford Freestyles
2012-2014 Ford Fiestas
2013 Ford Escape
2013 Ford Lincoln MKZ
2013-2014 Ford Fusions
2015 Mustang
2015-2017 Ford F-150s
Vehicle recall alerts for defective door latches recommend that owners inspect the latches themselves to see if there are any noticeable defects. Vehicle owners can also request a door latch safety inspection from their local Ford dealers. If a door latch is found to be defective or unsafe, the National Highway Traffic Safety Administration (NHTSA) should be notified. The NHTSA's Vehicle Safety Hotline can be reached at (888) 327-4236.
Who Can Be Held Responsible for a Defective Car Door Latch?
Manufacturers have a responsibility to ensure the safe design, manufacture and installation of the car parts they create. Parts such as door latches should not contain any design flaws, manufacturing mistakes or marketing errors that put the public at risk of injury. Yet many vehicles are produced with latches that contain mechanical and technological defects – exposing drivers and their passengers to serious risks of injury.
Product liability law states that a manufacturer can be held legally responsible for injuries or harm suffered by consumers or users due to defects present in the products purchased. Typically, product liability cases invoke the strict liability rule, which does not require an injured victim to prove negligence to recover financial compensation. Negligence, or a manufacturer's failure to exercise reasonable care, is not a requirement if it can be shown that the product contained a defect and caused the injury.
Manufacturers may reduce the safety of their products in an effort to lower expenses and increase profit margins, such as choosing a lower-quality metal alloy during manufacturing. If a dangerous or defective car door latch is not traced back to the manufacturer, however, a door latch installer or auto repair shop may be liable. The installer may also be to blame if it did not install the part correctly in accordance with the manufacturer's instructions. Finally, a repair shop could be at fault if it used a second-hand car door part to reduce the cost of a repair.
Contact Rose, Klein & Marias, LLP for a Free Consultation
If you or a loved one has suffered an injury due to a defective car door latch, do not hesitate to contact an attorney at Rose, Klein & Marias, LLP for a free case evaluation. We have a track record of success going up against auto manufacturers and other parties for injuries caused by part defects. We can help you pursue maximum compensation for your injuries or the loss of a loved one's life. Contact us today at (866) 674-5150 to learn more.