Southern California Permanent Disability Attorney
Seriously Injured At Work?
If you or a loved one suffers a permanent disability because of a work-related accident or an occupational disease, the injured worker has a legal right to pursue compensation for their financial support.
For more than 80 years, the attorneys at the law firm of Rose, Klein & Marias LLP, have successfully protected accident victims. We are a driven law firm, ready to help you obtain a fair amount of workers' compensation coverage.
Helping Clients Throughout Southern California Obtain Disability Benefits
We offer complimentary initial consultations at one of our ten convenient locations throughout Southern California. Contact us today to schedule a flexible appointment — you will owe us nothing unless we obtain compensation for you. We are proud of our success rate and eager to protect you.
Since 1936, we have been representing the rights of injured workers in Los Angeles, San Diego, and throughout Southern California. Our team includes board-certified workers' compensation attorneys who are ready to do what it takes to get you results. We are determined to make your case a success.
The attorneys at our law firm take on all types of permanent disability cases, including those involving:
Paralysis
Head injury
Quadriplegia

Neck injury

Nerve damage

Permanent back pain
Loss of limb, strength or range of motion
Repetitive motion

or stress injury

Damage to knees, elbows and other joints

Organ damage

Cancer or occupational disease
We understand that a permanent disability can put you in a challenging position. You may not be able to engage in simple activities in the way that you were able to previously. Getting out of bed, going to the grocery store, playing games with your children, going out to eat and doing other activities may be painful or impossible. You may require long-term care.
What Can We Do For You?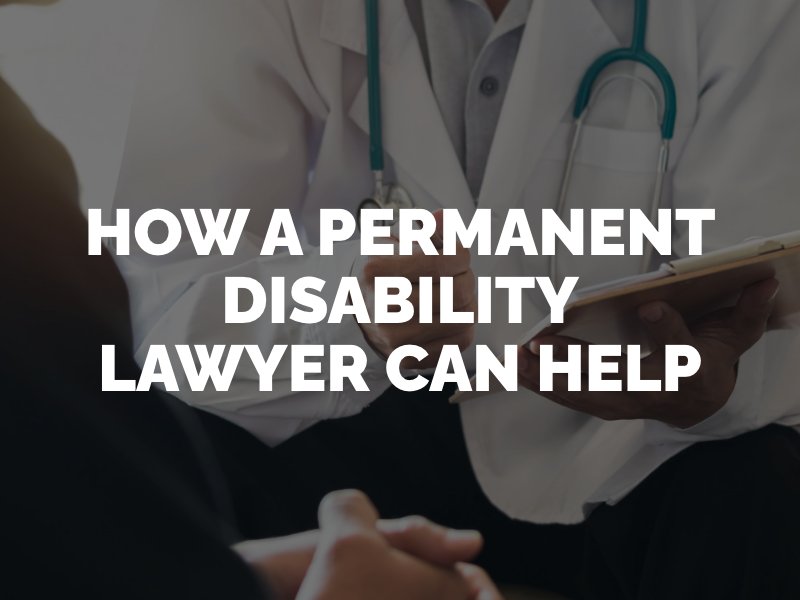 The lawyers at our law firm work to help you obtain the financial support you need to cover hospital bills, lost wages and future medical costs. We are also experienced handling appeals of denied Social Security Disability claims. We work to help you overcome the obstacles you are facing.
Common Workplace Accidents in Southern California
Some industries may be more dangerous than others, but worker injuries can occur in any workplace setting in Southern California. Whether you work in an office building or a construction site, you could be at risk of suffering an injury or illness that results in permanent damage. According to the Bureau of Labor Statistics, 2,607,900 nonfatal injuries and illnesses were reported in private industries in the U.S. in 2021.
Common examples of workplace accidents in Southern California include:
Caught in or between objects or equipment
Crane collapses
Equipment malfunctions
Falls from heights
Fires and explosions
Ladder accidents
Oil and gas accidents
Scaffolding accidents
Struck-by falling objects
Transportation accidents
Violence by persons or animals
Not all permanent disabilities are caused by traumatic or sudden workplace disasters – some result from repetitive motions required by a job, such as bending, twisting, lifting, pushing or pulling. These are known as non-impact injuries, and they can still give a worker grounds to file a permanent disability claim in Southern California. At Rose, Klein & Marias, LLP, our attorneys know how to handle all types of workplace accident and injury claims.
What Qualifies as a Permanent Disability?
Permanent disability has a specific legal definition. To be eligible for disability benefits in California, your condition must meet certain parameters. A permanent disability is any lasting infirmity or incapacity from a work injury or illness that affects the individual's ability to earn a living. You do not have to lose your job or be completely unable to work to receive permanent disability benefits. If you lose feeling or function in any part of your body, or your doctor states that you will never recover completely or will permanently be limited in the amount of work that you can do, you may qualify for coverage.
Workers' Compensation and Permanent Disability in California
Workers' compensation benefits may be available to employees in California who suffer permanent injuries or disabling illnesses out of the course and scope of their employment. Workers' comp is a program that provides financial assistance to workers who are injured while performing tasks related to their jobs. It is not necessary for the worker to prove that someone else was negligent or at fault to receive workers' comp insurance benefits.
For the purposes of workers' compensation, permanent disabilities receive an impairment rating. This is a percentage that estimates how much your disability limits your ability to work. The insurance company will analyze your injuries and base the amount of benefits available on the impairment rating assigned. Impairment ratings use factors such as your medical condition (as described in your permanent and stationary or P&S report), your age and occupation at the time of injury, and how much your disability was caused by your job.
If you have a permanent total disability, your impairment rating would be 100 percent. Anything less than 100 percent means you have a permanent partial disability. An attorney can help you protect your rights during a workers' comp claim by having your case evaluated by a qualified medical evaluator (QME) or agreed medical evaluator (AME) to ensure a fair impairment rating. If you disagree with your rating, we can help you challenge it by negotiating with a claims administrator and requesting a rating by a disability rater. We can also have a workers' compensation judge decide on the correct rating for you.
How to File a Workers' Comp Claim in California for Permanent Disability
If you get injured in an accident at work, report it to your employer right away. The state's workers' compensation system requires workers to report their injuries within at least 30 days of the accident or injury discovery. If you need emergency medical care, get it right away. If it is not an emergency, you will need to go to a health care provider on your employer's approved list. Then, request a workers' comp claim form from your employer or download it from the State Department's website. Complete the form and submit it to begin your workers' comp case. The types of benefits available will depend on the extent and severity of your injury. They may include:
Medical care
Temporary disability benefits
Permanent disability benefits
Supplement job displacement benefits
Death benefits
Typically, you must qualify for temporary disability benefits first before receiving permanent disability pay. Your temporary benefits must be exhausted before an insurance company will consider placing you on permanent disability. Once you have reached your temporary disability limit, a physician approved by the insurer will evaluate you to determine if you have reached your point of maximum medical improvement (MMI). If so, you may start receiving permanent disability benefits for a long-term disability.
Other Legal Options for Permanent Disability in Southern California
Workers' compensation may not be your only option for payment for a permanent disability in Southern California. If you do not qualify for workers' comp – such as if you are an independent contractor and therefore ineligible – you may be able to seek compensation for a disability through other means. An attorney at Rose, Klein & Marias, LLP can review your legal options with you in more detail.
For example, you could potentially file a claim seeking Social Security Disability Insurance (SSDI) or Supplemental Security Income (SSI) benefits. Social Security is a federal program that provides financial benefits to citizens who suffer permanent injuries that interfere with their ability to earn a living wage. Depending on the type of claim filed, your benefits will be based on need or your earnings.
You may also qualify for financial compensation through a personal injury claim in Southern California. If your attorney can prove that someone else's negligence caused your permanent injury – such as your employer, a coworker or a product manufacturer – you may receive a settlement or judgment award that includes permanent disability benefits, as well as pain and suffering.
What if Your Disability Claim Gets Denied?
If your permanent disability claim gets denied, do not give up hope. Many disability claims are rejected the first time around. Hire an attorney to help you appeal the denial. Appeals are available for both workers' comp and Social Security Disability claims. The appeals process involves submitting an appeal request, along with evidence or documentation supporting your argument as to why the denial should be reversed. Some appeals also involve hearings and reviews by judges or councils. You must appeal a decision in writing within a certain number of days of receiving notice of a denial.
Types of Financial Compensation Available for a Permanent Disability
You and your family may be eligible for a long list of damages, or financial benefits, for a permanent disability, depending on the circumstances. The types of compensation available will vary based on the type of claim you have filed, your injury or health status, your impairment rating, your age and work history, and many other factors.
Potential compensation may include:
Past and future medical bills
Disability costs and accommodations
Home or vehicle modifications
Live-in or around-the-clock care
Travel or transportation
Lost wages and earnings
Lost future capacity to earn
Diminished quality or enjoyment of life
Pain and suffering
Emotional distress
Post-traumatic stress disorder
Loss of consortium
Wrongful death damages, if applicable
You may also be eligible for punitive damages, in rare cases. This is an additional monetary award given to plaintiffs in personal injury lawsuits that involve a defendant's recklessness, malicious intent to harm or gross negligence. The potential value of your permanent disability claim is something you should discuss with an attorney before accepting a settlement. The long-term or irreversible nature of your injury may qualify you for more than an insurance company initially offers.
What to Do After Suffering a Catastrophic Injury at Work
If you or a loved one sustains a serious injury from a workplace accident or long-term repetitive motion, it is important to take the correct steps to protect your rights. Take the following steps:
Make sure you are in a safe place, away from the source of danger.
Seek medical care or emergency assistance.
Document your injuries by requesting copies of your medical records.
Take pictures while still at the scene of the accident.
Speak to anyone who witnessed the accident or injury take place.
Report your workplace accident to an employer or supervisor within at least 30 days.
File a workers' compensation claim, if desired, in a timely manner.
Do not sign anything or accept an insurance settlement before contacting a lawyer.
Once you accept a workers' comp settlement, you cannot file a claim against your employer for negligence. Always discuss your legal options for permanent disability benefits with an attorney before resolving your claim.
Give Us The Ball!
We have a strong background fighting for individuals disabled from work-related accidents, and we are committed to providing you with the best legal representation possible. Contact us today to schedule a free lawyer consultation.