Los Angeles Pedestrian Accident Lawyer
Pedestrian accidents are some of the most devastating collisions in Los Angeles. They almost always result in serious or fatal injuries for victims. If you or a family member were recently in a pedestrian accident, a Los Angeles pedestrian accident lawyer from our firm can help you fight for fair compensation. We understand what it takes to secure financial recovery for these life-changing accidents. Contact us today for your free consultation with a lead attorney at Rose, Klein & Marias LLP.
Why Trust Rose, Klein & Marias LLP With Your Pedestrian Accident Case?
Our lawyers commit to bettering the laws that apply to pedestrian accident cases and the way insurance companies handle them.
Our firm has focused specifically on personal injury law and workers' compensation cases in Southern California for more than eight decades.
Our Los Angeles pedestrian accident attorneys offer legal counsel and representation for pedestrian accident cases on a contingency fee basis in Los Angeles.
How Can a Los Angeles Pedestrian Accident Attorney Help?
A common issue injured pedestrians encounter during insurance claims is the company denying liability for the accident. Insurance companies do not want to maximize your payout. They want to minimize their liability or refuse to pay you at all. You can strengthen your case while going up against an insurance company with assistance from an injury attorney in Los Angeles. One of our lawyers can guide you through the process of gathering evidence and presenting your case to an insurer in a way that will lead to the best possible outcome.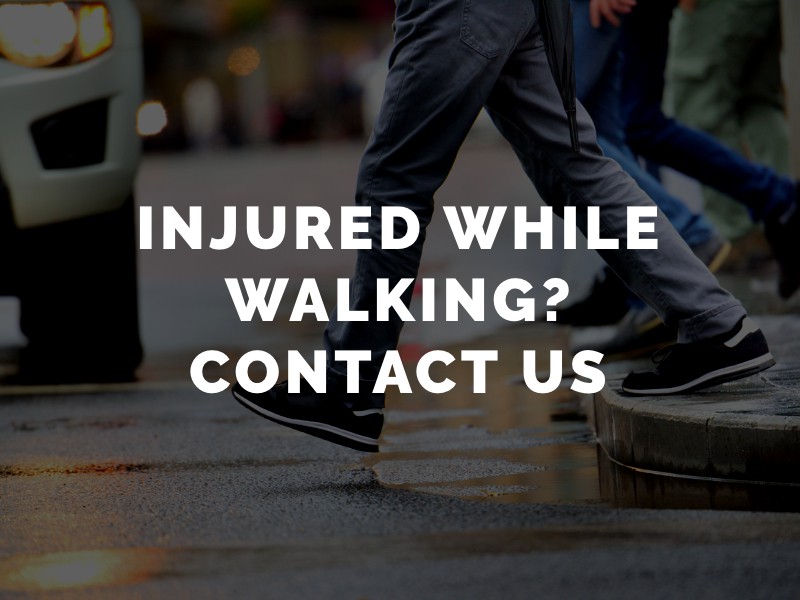 Common Pedestrian Accident Injuries
When a vehicle strikes a pedestrian in Los Angeles, the pedestrian can suffer serious injuries to his or her legs, pelvis, torso, chest, or head. The vehicle often strikes the lower extremities first, then additional areas of the body suffer injuries in subsequent collisions with the vehicle and/or the road. At our law firm, our Los Angeles pedestrian accident lawyers have helped dozens of pedestrian accident victims through the claims process. We understand the most common types of injuries sustained in these types of accidents.
Broken bones
Skull fractures
Neck and back injuries
Internal organ damage
Lacerations and road rash
Fatal injuries
Our firm has the power to represent clients who have suffered permanent or catastrophic injuries. We have obtained fair awards for clients with long-term disabilities such as brain damage and paralysis. We do not stop at insurance negotiations if we believe a trial will result in better compensation. Our pedestrian accident lawyers in Los Angeles are not afraid of taking powerful corporations to court in pursuit of top results.
Who Is Liable for Pedestrian Accidents?
California is a fault-based car accident state. After a pedestrian collision in LA, the injured party should seek financial recovery from the at-fault party. The driver that struck the pedestrian will most likely absorb fault for damages. Your Los Angeles pedestrian accident lawyer can help you build a case against the driver or another party based on the facts at hand.
Driver. Texting and driving, failing to yield the right-of-way, speeding, and driving drunk are all common causes of pedestrian collisions.
City. The City of Los Angeles may be accountable for defective sidewalks, crosswalks or street signals that contribute to a collision.
Company. If an on-duty driver for UPS, USPS, Uber, Lyft, a pizza delivery place or another establishment struck you, the company could be liable.
Holding a driver or another party responsible may take a full investigation from a law firm. Our attorneys can revisit the scene of your accident, help you gather evidence, obtain copies of police reports and take other steps to build a case against one or more parties in pursuit of fair recovery for your damages. Your case starts with a free consultation at our Los Angeles office.
Speak With a Pedestrian Accident Lawyer in Los Angeles Today
Do not wait to speak to an attorney after a serious pedestrian accident in Los Angeles. Contact our lawyers as soon as possible to avoid missing an important deadline, such as California's statute of limitations on personal injury claims. We are available 24/7 to take calls from potential clients. To schedule a free initial consultation, call (213) 626-0571 today.