Ventura Personal Injury Lawyers
A personal injury can cause significant hardship for victims and their families. If you or a loved one has been injured due to the negligence or recklessness of another person, you may be eligible for financial compensation. In these situations, you need an attorney on your side.
The Ventura personal injury lawyers at Rose, Klein & Marias, LLP can represent your claim and help you secure the compensation you need to recover. With over $5 billion recovered for our clients, we are dedicated to achieving the justice that you deserve. Call our Ventura office at (805) 642-7101 to set up a free case evaluation.
Why Choose Us for Your Ventura Personal Injury Case
We have represented injured people in California for over 80 years. We have the skills and resources you need to secure the highest possible settlement.
Our lawyers are regarded as being at the top of their fields and have won numerous awards, including multiple honors from Super Lawyers Magazine.
Our firm operates on a contingency fee basis. You will not be charged legal fees unless we win a settlement in your case.
What Is a Personal Injury?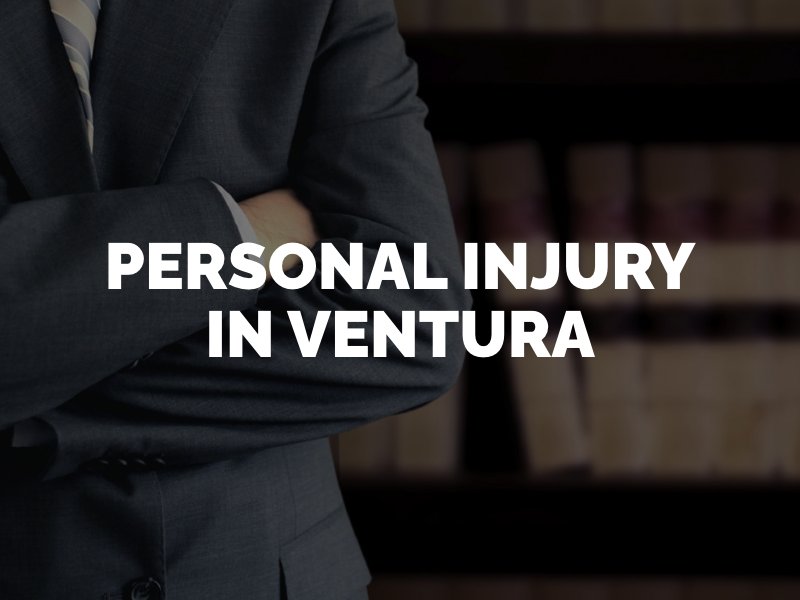 A personal injury occurs when you sustain an injury to your body, mind, or emotions. If someone else's actions are responsible for your injury, you can file a personal injury lawsuit against that party in civil court. This type of lawsuit is a claim for financial compensation against one or more at-fault parties (defendants) to make the victim whole again. 
The right to file a personal injury claim is given to a victim of negligence. Negligence is the failure to exercise reasonable care. It is up to the victim to prove negligence by establishing that the defendant owed him or her a duty of care, breached this duty and caused the injury in question. The claimant must support the claim with clear and convincing evidence.
Types of Cases We Handle in Ventura, California
At Rose, Klein & Marias, LLP, our attorneys represent clients in a wide range of Ventura personal injury cases. The following practice areas are examples of some of the cases that we handle.
Dog bites
Burn injuries
Bus accidents
Bicycle accidents
Car accidents
Premises liability
Slip and fall accidents
No matter what type of accident you were involved in, our attorneys in Ventura can help you understand your legal rights and options as an injured victim.
Benefits of Hiring a Ventura Personal Injury Lawyer
A Ventura personal injury lawyer has a wealth of knowledge, experience and resources that can help you build a claim. You can rest and focus on your physical and emotional recoveries while your lawyer handles the financial recovery. A personal injury attorney can investigate your accident, determine its cause, identify the defendant(s), preserve and collect evidence to support your case, hire experts, and file the required paperwork for you.
An attorney is also invaluable when negotiating a settlement with an insurance company. Many accident victims make the unfortunate discovery that insurance companies do not always play fair. You may face inadequate settlement offers, unnecessarily long processing times or a wrongfully rejected claim from an insurer. These tactics can make it difficult to collect the compensation that you deserve.
An insurance company will not take advantage of you, however, if you hire a lawyer. Your lawyer will aggressively negotiate with an insurance carrier on your behalf to pursue maximum financial compensation. If the insurance company refuses to settle your case fairly, your lawyer can represent you during a personal injury trial in Ventura County, instead.
What Damages Are Available in a California Personal Injury Lawsuit?
An unexpected accident can significantly impact your life. You can sustain significant financial hardship due to medical bills and lost wages. You can suffer from painful and sometimes permanent injuries, as well as psychological trauma.
By filing a California personal injury lawsuit, you can recover compensation for the damages that you sustained in the accident. You can hold the at-fault party accountable for your economic losses, like medical care, lost wages, and property damage. You could also pursue compensation for the pain and suffering that you experienced, such as chronic pain, emotional distress, and post-traumatic stress disorder (PTSD).
How Long Do You Have to File a Personal Injury Lawsuit in California?
If you believe that you may qualify for a personal injury lawsuit, it is important to act quickly. According to California's statute of limitations for personal injury claims, you must file your lawsuit within two years from the date of your accident.
It is very important to meet this filing deadline. If you file after the two-year period, the court will likely dismiss your case and prevent you from recovering compensation. To protect your future claim, speak to a Ventura personal injury lawyer as soon as possible.
How Long Does a Personal Injury Lawsuit Take in Ventura?
Many accident victims are eager to resolve their cases in Ventura. You may need insurance benefits right away to pay for medical care and hospital stays, for example. One of the most common questions we receive at Rose, Klein & Marias, LLP is, "How long will my lawsuit take?" We can only answer this question after carefully assessing your unique case, as the timeline depends on the circumstances.
However, some averages can give you an idea of how long your case might take to be resolved. If you have a relatively simple case, such as one involving minor injuries and no liability disputes, expect to reach a settlement within about three to six months. If, however, you have a complex case that has issues such as a severe injury, a lengthy recovery time, an in-depth investigation or arguments about liability, your case could take much longer.
If your personal injury claim has to go to trial in Ventura, expect it to take one year or longer from start to finish. A trial comes with a discovery phase that could take several weeks. You must also wait for your court date to arrive. This can take a long time in a busy county. If you hire an attorney, he or she will do whatever is possible to reduce the processing time of your claim and achieve an efficient resolution.
Questions to Ask Your Attorney
If you are considering hiring a Ventura personal injury attorney to represent you, prepare a list of questions to bring with you to the free initial case evaluation. The case review is your chance to ask questions about your legal rights and options, as well as to get to know the attorney better so that you can determine if he or she is the right fit.
Some of the questions you may want to ask your attorney are:
Do I have a claim? One of the most basic questions to ask is whether or not you have a case. The attorney will listen to your story and let you know if it sounds like your case has merit under one of California's personal injury laws.
What kind of experience do you have? Ask the attorney if he or she has handled cases within the same practice area as yours before. If so, ask about past case results that demonstrate if the attorney is capable of successfully obtaining a settlement or judgment award.
How much do you think my case is worth? Although no lawyer should ever guarantee positive results or promise a specific amount, he or she can give you an estimate of your potential case value after assessing your medical bills and other financial records.
Will my case have to go to trial? This is something that may not be immediately answerable, as it often depends on how settlement negotiations go with an insurance company. However, a lawyer can give you an educated guess based on the circumstances.
How much time do I have to file? The statute of limitations on a personal injury case in California is two years from the date of the accident. An attorney can help you calculate how much longer you have to bring a lawsuit so that you file in time.
Do not be afraid to ask as many questions as you want during a free case review. This is your time to confirm that you are making the right choice if you decide to retain the attorney. If you are ready to schedule your consultation at Rose, Klein & Marias, LLP, call (866) 642-9627. 
Cost of Hiring a Ventura Personal Injury Attorney
Hiring a high-quality personal injury attorney does not have to add another expense in the aftermath of a costly accident. If you find an attorney that operates on a contingency fee basis – as is the case at Rose, Klein & Marias, LLP – you will not have to pay anything for your legal representation out of your own pocket. This is true whether you win or lose the case.
When operating on a contingency fee basis, a lawyer charges a client $0 upfront, with no retainer fee. The client will only owe attorney's fees if and when the personal injury case succeeds and produces financial compensation for the victim. If the case is successful, the fee is deducted from the total settlement or jury verdict collected. With this arrangement, the client is never billed directly.
Contact Rose, Klein & Marias, LLP Today
Are you planning to file a personal injury claim? You need a personal injury and car accident lawyer in Ventura who can advocate for your best interests, craft a compelling case in your favor, and help secure the settlement that you deserve.
The experienced attorneys at Rose, Klein & Marias, LLP can represent your lawsuit and fight for your right to justice. Contact us today to schedule your free consultation with a Ventura personal injury lawyer and learn more about your legal options.