Los Angeles Bicycle Accident Lawyer
When a driver strikes a bicyclist, the latter always loses. A bicycle cannot withstand the forces a larger and more powerful vehicle exerts upon it in a collision. The bicyclist, therefore, can suffer catastrophic and fatal personal injuries while the driver of the motor vehicle often escapes unscathed.
At the law firm of Rose, Klein & Marias, we care about holding at-fault drivers accountable for serious bike accidents in Los Angeles. We work for injured bicyclists and pedestrians throughout Southern California, protecting their rights and advocating for fair compensation during settlement meetings and bicycle accident injury trials. If you or someone you love was recently in a bicycle accident caused by a negligent driver, contact a qualified Los Angeles bicycle accident lawyer at our firm for assistance. Initial consultations are free at our local law office.
---
Los Angeles Bike Accident Resources
---
Why Hire Rose, Klein & Marias LLP for Your Bicycle Accident Claim?
We have been committed to obtaining maximum compensation for clients in personal injury cases for more than 80 years.
We offer dozens of experienced attorneys at 10 law offices throughout Southern California for your convenience.
We have devoted our careers specifically to personal injury and workers' compensation law, giving us a depth of knowledge in these practice areas.
We want to make legal representation accessible to all injured parties in LA; we offer our services on a contingency fee basis.
How Can a Los Angeles Bicycle Accident Attorney Help?
Our plaintiff's attorneys assist injured parties with their insurance claims and/or personal injury lawsuits after life-changing accidents, including bicycle collisions. If you recently suffered serious and painful injuries, expensive property damage, or the loss of a loved one in a bike accident, you could use a lawyer's assistance during your claim. Otherwise, the at-fault driver's insurance company may try to take advantage of you or convince you to settle for an unfair amount. Our Los Angeles personal injury attorneys have the power to protect you during insurance negotiations and demand fair compensation for your losses.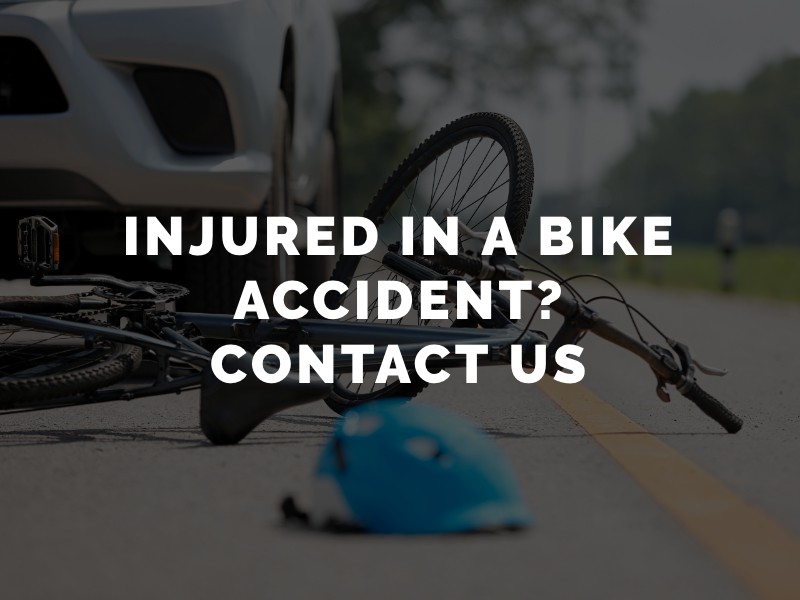 Bicycle Accident Statistics
Bicycle accidents are typically preventable. They arise when one or more parties fail to adhere to traffic laws or otherwise act negligently. In Los Angeles, California, negligence, unfortunately, happens often on the road – enough to cause thousands of serious injuries and deaths each year. In 2021 alone, 543 bicyclists suffered injuries and died in traffic accidents in the City of Los Angeles. Twenty-four (24) of these victims were 14 years old or younger. Throughout LA County, the total number of fatal and injury bike accidents in 2021 was 1,780. It is every road user's responsibility to try to prevent bicycle accidents through due care and attention.
Common Bicycle Accident Injuries
A bike accident often results in very severe, catastrophic injury and can range from a traumatic brain injury to spinal cord injury and everything in between. With hardly any protection for the bicycle rider, an impact with another motorist and/or pavement can cause a wide range of injuries. Bike riders are also much more likely to suffer catastrophic injury. The Los Angeles bike accident lawyers at the law firm of Rose, Klein & Marias LLP accept clients with all types of severe injury:
Broken bones
Skull fractures
Lower extremity injuries
Lacerations
Road rash
Internal injuries
Scarring and disfigurement
Catastrophic and permanent injuries are common in serious cyclist accidents. Bicycle crash survivors often live with the repercussions of their accidents for the rest of their lives. Common long-term injuries include brain injury or head injury, physical scars, and paralysis. Bike riders may also suffer emotionally and psychologically from the trauma of a bike crash. Working with a local bicycle accident attorney in Los Angeles can help you fight for maximum compensation for your bicycle accident case, including tangible and intangible damages like medical expenses, pain and suffering and more.
Proving Negligence in Bicycle Accident Cases
Accountability is key in a bicycle accident lawsuit in Los Angeles. The party that caused your accident and injuries will be financially responsible for your losses. Holding the correct party accountable may take an investigation of your collision from a skilled Los Angeles bicycle accident lawyer. The driver will be legally responsible in most cases, but other factors could have also contributed to your wreck, such as a pothole or a bicycle defect. Once your attorney identifies the correct defendant(s), he or she could help you prove fault.
The essential element of proof in a personal injury claim in California is negligence. Your lawyer must prove through a preponderance of evidence that the at-fault party was negligent and that this is what caused your injuries. Proving negligence may take gathering evidence from the scene of the bicycle accident, interviewing witnesses, and hiring bike accident reconstructionists. Our law firm has the resources to help you build the strongest possible case against one or more defendants in LA.
Free Consultation With a Bicycle Accident Lawyer in Los Angeles
If you wish to protect your rights while going up against drivers and other at-fault parties after a serious bicycle accident, retain a Los Angeles bicycle accident attorney from Rose, Klein & Marias LLP. We can help you deal with common issues during insurance claims, such as the driver disputing fault or the insurer undervaluing your losses. We can fight for maximum compensation using our knowledge, experiences, and resources. Contact our Los Angeles law office today at (800) 362-7427 or through our online form.