Los Angeles Forklift Accident Attorney
Forklifts are used in a variety of applications in industries such as construction and inventory distribution. They are dangerous pieces of heavy machinery that should be operated with the utmost care. Even with proper operation, however, forklift accidents can occur if the equipment contains a defect or an employer fails to maintain a safe workplace.
If you or a loved one has been injured in a forklift accident in Los Angeles or the surrounding area, the attorneys at Rose, Klein & Marias, LLP can help you understand and protect your rights. Contact us today for a free consultation about your case.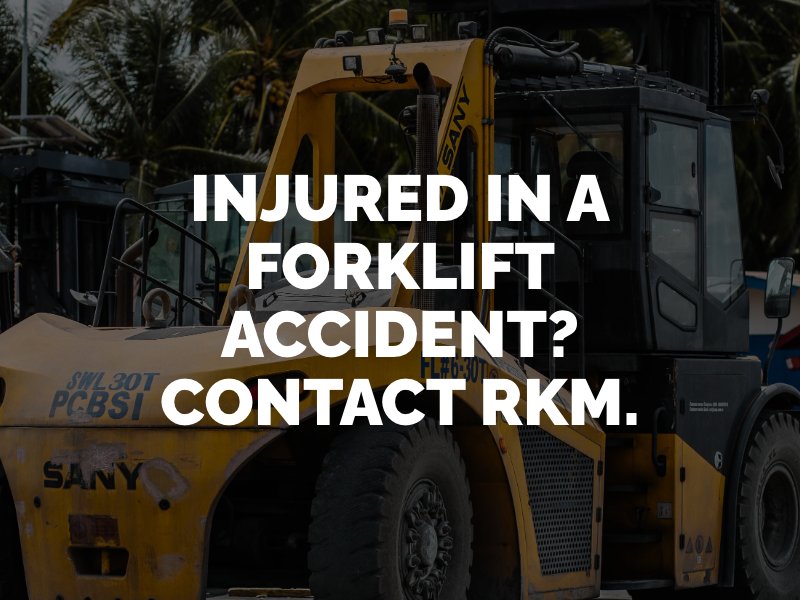 Why Choose Us?
Our success stories speak for themselves. Our personal injury attorneys have collected more than $5 billion in settlements and verdicts for past clients.
We have been representing injured workers in California since 1936. Our lawyers are widely regarded as being at the top of their fields.
Our forklift accident lawyers accept cases on a contingency fee basis. This means you will only owe us attorney's fees if we secure financial compensation for your case.
How a Forklift Accident Attorney Can Help You
Personal injury cases involving forklift accidents can be complicated. You may be going up against a major adversary such as your employer or a product manufacturer. Hiring an attorney can balance the scales, giving you more power during settlement negotiations or a personal injury lawsuit. A lawyer can help you collect the financial compensation you need for serious or permanent injuries.
An attorney from Rose, Klein & Marias, LLP can conduct a comprehensive investigation into your forklift accident, including visiting the scene and interviewing witnesses. Our law firm also has connections to highly qualified experts, including medical experts, who can testify during your case. We can take over communications with your employer and insurance companies on your behalf to pursue the best possible results for your case.
Common Causes of Forklift Accidents
Forklift accidents at construction sites or other workplaces in Los Angeles are often caused by human error and negligence. In personal injury law, someone is negligent if he or she fails to act with proper care, resulting in injury or harm to someone else. Forklifts have high centers of gravity, making them prone to rollovers. For this reason, forklift operators must be properly trained and use reasonable care at all times. Any act or omission that falls short of this responsibility could result in a forklift accident.
Common causes of forklift accidents include:
Negligent hiring practices
Poor employee training in proper forklift operation
Careless or reckless forklift operator
Failure to look before backing up a forklift
Improperly loaded or overloaded forklift
Failure to secure a forklift load
Poorly maintained forklift
Construction accident
Dangerous workplace or premises
Defective forklift part or design
Forklift tipping or rolling over
The party that may be held liable, or financially responsible, for your forklift accident in Los Angeles will depend on the circumstances. This includes where the accident took place, what caused the accident and which parties were involved. Our attorneys can carefully investigate your case to determine whom to hold liable, such as your employer or a third party. We have the power to go up against any defendant, big or small, in LA County.
Injuries Caused by Forklift Accidents
A forklift accident can result in serious injuries. In the most severe cases, forklift accidents can be deadly. Construction workers, forklift operators and other parties can suffer injuries such as:
Broken bones
Bruises and contusions
Concussions
Crush injuries
Fall-related injuries
Internal injuries
Losses of limb
Neck injuries
Paralysis
Skull fractures
Soft-tissue injuries
Spinal cord injury
Traumatic brain injury
No matter what type of forklift injury you suffered at a construction site or in a workplace accident, our legal team can give you tailored legal advice regarding workplace injuries and help you file a personal injury claim.
What Are Your Legal Options After a Forklift Accident in Los Angeles?
Most forklift accidents in the United States occur at work or while a worker is performing job-related tasks. California has a workers' compensation program that allows workers to seek no-fault compensation benefits for injuries and illnesses that occur within the course and scope of their employment. However, this may not be your only option for financial recovery if you get injured in a forklift accident.
Your legal remedies may include:
If you suspect that someone else's negligence caused your accident, such as an employer violating federal Occupational Safety and Health Administration safety regulations, consult with a personal injury attorney before accepting a workers' compensation settlement. Accepting a settlement means you can no longer sue your employer for your accident injuries. Before making this decision, contact our lawyers for legal advice.
Financial Compensation Available for a Forklift Accident in Los Angeles
Recovering from a work site forklift accident may not be easy. You or a loved one may be struggling with serious or catastrophic injuries that will impact you for the rest of your life. While no amount of money is sufficient to make up for a traumatic forklift accident, securing fair financial compensation for your injuries could help your family pay for related losses and move forward.
Although each case is unique, the compensation available may include:
Past and future medical expenses
Disability costs
Lost wages and capacity to earn
Pain and suffering
Emotional distress
Loss of enjoyment of life
Wrongful death damages, if applicable
At Rose, Klein & Marias, LLP, our lawyers can help you seek maximum compensation for your forklift accident liability claim. Our legal team can seek the financial recovery that you deserve for your medical care, long-term losses or the death of a loved one. Our attorneys are ready to go to trial to achieve fair results for compensation claims, if necessary.
Contact Our Forklift Accident Attorneys Today
You are not alone after suffering a serious workplace injury or losing a loved one in a fatal forklift accident. The personal injury lawyers at Rose, Klein & Marias, LLP are here to provide tailored legal advice and counsel during this difficult time. We care about our clients and will guide you through each step of your compensation claim.
Contact us today for a free case evaluation with a Los Angeles forklift accident lawyer. Call (866) 674-5150 or fill out our contact form online and we will get back to you as soon as possible.