Los Angeles Motorcycle Accident Attorney
A motorcycle accident can be life-changing for the victim. Common motorcycle accident injuries range from bone fractures to traumatic brain injuries. A bad accident could cost the motorcyclist thousands of dollars in vehicle repairs and medical bills, on top of lost wages and significant physical and emotional pain.
At Rose, Klein & Marias LLP, our lawyers have been in the business of helping auto accident victims recover for over 80 combined years. We understand how to navigate motorcycle accident claims in California to the greatest benefit of each client based on his or her specific needs. A skilled Los Angeles motorcycle accident attorney from our firm may be able to help you seek compensation from an at-fault driver. Call (800) 362-7427 to reach our Los Angeles office today.
Why Trust Us With Your Motorcycle Accident Claim?
We commit to two things: getting maximum compensation for each client and furthering the laws that apply to these cases.
We strive to create an environment in which victims who suffer because of acts of negligence do not have to struggle to get by.
We employ a group of lawyers with experience across multiple areas of law, including motorcycle and other auto accidents.
Our Los Angeles motorcycle accident lawyers accept motorcycle accident claims on a contingency fee basis, meaning no fees if we do not win.
How Can a Los Angeles Motorcycle Accident Lawyer Help?
Do not let an insurance company convince you to accept a lowball settlement offer after a serious motorcycle collision. Insurance companies too often escape liability and pressure clients to accept less than their cases are worth. Instead, call a Los Angeles car accident lawyer experienced in motorcycle accidents to review your case for a proper evaluation of its value. At Rose, Klein & Marias LLP, our team of attorneys can calculate an accurate estimate, then go into negotiations on your behalf with this number in mind. If the insurance company refuses to offer a reasonable amount, we can take your claim to court in Los Angeles at no costs upfront.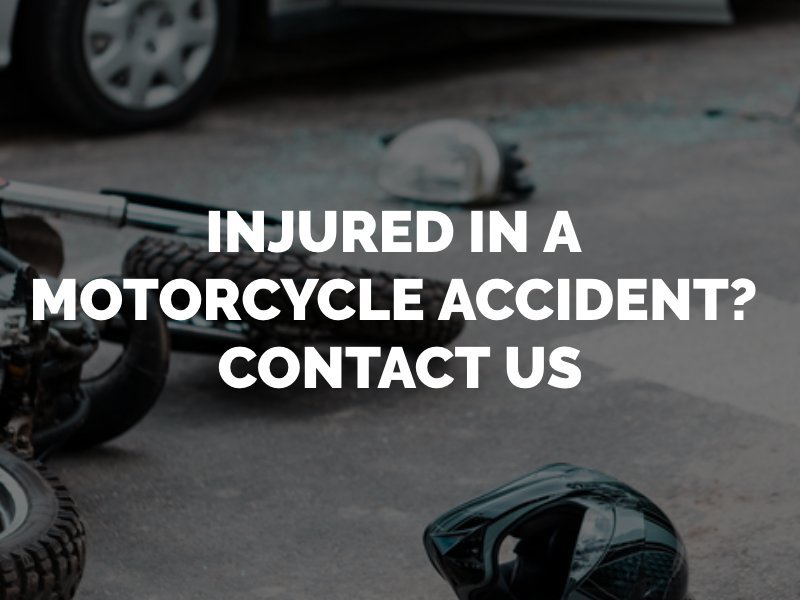 Causes of Motorcycle Accidents in California
Identifying the cause of your motorcycle accident is generally one of the first steps toward obtaining financial compensation in California. California is a fault car insurance state, meaning the at-fault party will be the one that lawfully must pay for your losses. The party that caused your accident may have to pay for your medical bills, motorcycle repair or replacement, lost income, noneconomic damages, and more. One or more parties could share fault for your injuries.
A driver. If a negligent or distracted driver crashed into your motorcycle, his or her insurance provider may owe you for your damages. A driver may cause an accident by texting and driving, driving drunk, speeding, breaking roadway rules or ignoring a motorcyclist's right-of-way.
A roadway. Motorcycles are vulnerable to even minor roadway defects. If a pothole, loose gravel, rubble, storm debris, an unsafe construction site, grass clippings or another roadway defect caused your wreck, you could have a case against the City of Los Angeles for failing to properly maintain its roads.
A vehicle part. If your motorcycle experienced a tire blowout, brake failure, electrical problems, or another type of auto defect that caused your accident, the motorcycle manufacturer could owe you financial recovery through the laws of product liability.
Most motorcycle accident cases are tort claims. A tort claim seeks to hold the party that committed negligence or wrongdoing (a tort) accountable for the victim's damages. Your Los Angeles motorcycle accident attorney will need to prove the defendant caused your accident for you to obtain compensation based on tort laws. A qualified Los Angeles accident attorney at Rose, Klein & Marias LLP may be able to help you prove your case, starting with determining fault.
Discuss Your Case With a Motorcycle Accident Attorney in Los Angeles
Speak to a Los Angeles motorcycle accident lawyer from Rose, Klein & Marias LLP about your unique motorcycle accident claim today. We offer free consultations at our local law offices in Southern California at no obligation to hire one of our attorneys. We want you to learn your rights and how to move forward after a devastating motorcycle accident. Request a free case review today through our online intake form or by calling (800) 362-7427 to reach our Los Angeles office.