Los Angeles Brake Failure Attorney
If your car crashed into another driver or a fixed object, you may be blamed for the accident for failing to brake. However, you may not be obligated to pay for the damages if it is proven that brake failure caused the crash. Brake failure can occur due to a manufacturing defect or poor vehicle maintenance. At Rose,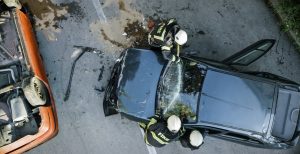 Klein & Marias LLP, our attorneys can help you prove a brake failure case to seek the financial compensation that you need to move forward. Contact our Los Angeles car accident lawyers today for a free case consultation.
Why Choose Us?
Since our law firm was established in 1936, we have helped thousands of clients collect compensation for their injuries. We have recovered more than $5 billion for our clients.
You will receive one-on-one care and attention from your Los Angeles personal injury lawyer. We care about our clients and will personalize our legal efforts to suit your unique needs.
We accept cases on a contingency fee basis, meaning you will not pay us anything unless we win your brake failure case.
Compensation for a Brake Failure Accident
If you get injured in a car accident that was caused by brake failure, you may be able to recover financial compensation for your losses from one or multiple parties. If your lawyer can prove that someone else caused or contributed to the brake failure accident, that person or party may be held responsible for your economic and noneconomic damages. The compensation available may include:
Past and future medical bills
Property damage repairs
Totaled vehicle replacement
Lost wages
Lost future capacity to earn
Pain and suffering
Permanent disability
Death benefits for a deceased loved one, if applicable
Punitive damages, in rare cases
An insurance company may attempt to take advantage of you during the claims process, as its main goal will be protecting its own profits. An attorney can protect you by taking over settlement negotiations on your behalf to fight for fair and full compensation. A lawyer can also take your brake failure case to trial in Los Angeles County, if necessary, for just case results.
How an Attorney Can Help You
Being involved in a brake failure car accident is a traumatic experience that may leave you or a loved one with life-changing or catastrophic injuries, such as a brain injury or spinal cord injury. You do not also need to handle the claims process on your own. You can have greater peace of mind and improve your chances of securing a fair settlement by hiring an experienced attorney at Rose, Klein & Marias LLP to represent you. We can hire experts to strengthen your case, thoroughly investigate your accident, collect evidence of negligence, identify the correct defendant(s) and take other steps to pursue the case results that you need.
Who Is Liable for a Car Accident Caused by Brake Failure?
If bad brakes cause a car accident in Los Angeles with related injuries and/or property damage, the person driving the vehicle may be entitled to financial compensation. Even if a driver was operating a vehicle with bad brakes, someone else may be liable (financially responsible) for his or her losses. That party could be any of the following:
Brake or part manufacturing company
Automaker
Company that installed the brakes
Auto repair shop or mechanic
Individual or company that owns the vehicle
If the owner of a vehicle reasonably should have known about impending brake failure, he or she had a responsibility to make repairs before allowing anyone to drive the car – including employees. If the vehicle was properly maintained but the brakes were defective, however, the manufacturer or distributor of the defective automotive part could be held liable, instead.
Common Car Accidents Caused by Brake Failure
In California, the fault-based insurance law requires the person or party who caused a car accident to pay for related losses, such as medical expenses and property damage. When a car accident claim is filed, an investigation is completed to determine the cause of the crash. The following types of car accidents often point to brake failure as a cause:
Rear-end collisions
Chain reaction accidents
Intersection accidents
T-bone collisions
Wrong way accidents
Fixed object collisions
Collisions with bicyclists and pedestrians
If you get into one of these car accidents due to the failure to brake, but know that you applied the brakes, brake failure may be a relevant issue in proving fault for your damages. It is important to contact an attorney in Los Angeles if you suspect your brakes failed prior to a crash, as a law firm can assist you in proving that you are not at fault.
What Can Cause Brake Failure?
The brakes of a motor vehicle are critical. They are necessary to allow a vehicle to stop when a driver is reacting to changing – and potentially dangerous – roadway situations. Brakes should properly stop a vehicle when applied, without any delays or failures. For brakes to function correctly, they must have properly working rotors, pads and fluid. If anything is wrong with the brakes of a car, they may become spongy, soft, sink to the floor, pulse, squeal, grab, drag or fail to safely stop the vehicle. Common causes of brake failure include:
Product defects: if brakes contain design, manufacturing or marketing defects, they may not perform as they should on a consumer's vehicle. They may leak brake fluid, for example, or the pedal may stick.
Negligent vehicle ownership: vehicle owners have a legal obligation to keep their cars in proper working order. This includes regularly inspecting brakes and taking a car to a professional for brake repairs and replacements, as needed.
Poor fleet maintenance: trucking and delivery companies may not properly take care of their fleet vehicles, including ignoring brake maintenance. If a company vehicle is not serviced regularly, it may experience brake failures.
Identifying the cause of brake failure may take an in-depth investigation that involves vehicle and brake experts, as well as maintenance records and a look into how the brakes were manufactured. An attorney can determine the underlying cause of brake failure and identify the defendant(s) on your behalf.
Consult With a Los Angeles Brake Failure Attorney Today
If you or a loved one is a victim of a car accident involving brake failure in Los Angeles, you may be entitled to recover financial compensation for your losses. Contact the team of attorneys at Rose, Klein & Marias LLP for more information. Request a free consultation by calling (866) 679-7512 or contacting us online today.