Ontario Personal Injury Lawyer
People commit negligent and dangerous acts every day, injuring innocent victims and causing undue financial hardship. In these situations, the victims deserve justice. Filing a personal injury lawsuit in California civil court enables these individuals to recover money for the damages that they suffered.
If you are injured due to someone else's actions, you may be eligible for financial compensation—and Rose, Klein & Marias, LLP can help. Our Ontario personal injury lawyer will leverage our breadth of resources, knowledge, and expertise to craft a compelling case in your favor. Contact us today.
Ontario Personal Injury Resources
To instantly access the resources at any point on this page, please click the corresponding link below.
Why Choose Us?
What is a Personal Injury Lawsuit?
Do I Need to Hire a Lawyer?
How Much Does a Personal Injury Lawyer Cost?
Common Types of Personal Injury Claims
How to Prove a Personal Injury Lawsuit in California
How Much is My Case Worth?
What if I Was Partly to Blame for the Accident?
How Soon Do I Have to File a Personal Injury Case?
Speak to an Attorney Today
Why Choose Our Ontario Personal Injury Attorneys?
Our attorneys have a strong track record of success. We have recovered over $5 billion on behalf of our clients.
Our firm accepts cases on a contingency fee basis. If we do not secure a financial award in your case, you will not be charged any legal fees.
For more than 80 years, our attorneys have fought for the right of injured Californians in personal injury lawsuits. We have the skills and experience to represent the most complex injury claims.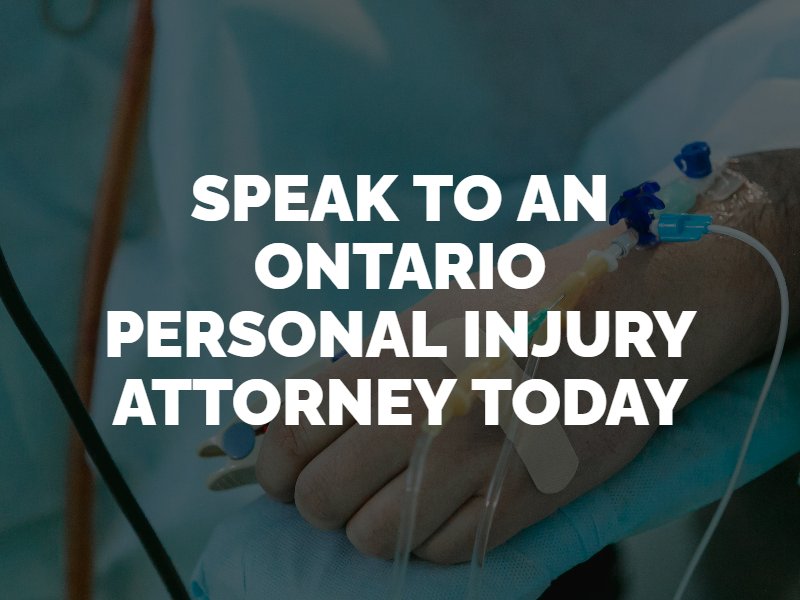 What Is a Personal Injury Lawsuit?
A personal injury lawsuit arises when you suffer harm to your mind, body, or emotions as a result of another's actions. Intentional acts of violence and professional malpractice may lead to a personal injury lawsuit. In many cases, however, the negligence of another person or entity is the cause of the plaintiff's injury.
Negligence refers to the failure to meet the reasonable or acceptable level of care in a situation, such as a motor vehicle driver who fails to obey traffic laws. If someone is negligent and this injures another person, the negligent party can be held liable – or legally and financially responsible – for the victim's losses through a personal injury claim in California.
Do I Need to Hire a Lawyer?
Hiring an Ontario personal injury lawyer is the best way to stand up for your rights during a personal injury case. Even if you are not at fault for an accident, an insurance company might try to take advantage of you. An insurer might deny your claim for an unfair or unexplained reason, for example, or offer less than you know your injuries are worth. Unfortunately, these are common tactics used by insurance carriers to protect their profits and avoid large payouts.
A lawyer levels the playing field between you and an insurer or another powerful adversary. When you have a lot at stake, such as if you are facing a catastrophic injury that requires a lifetime of medical care, don't risk representing yourself. Trust an attorney to maximize your financial outcome. The right lawyer can improve your peace of mind in the aftermath of a serious accident. He or she can take over difficult legal processes while you concentrate on healing and rebuilding your life.
How Much Does a Personal Injury Lawyer Cost?
At Rose, Klein & Marias, LLP, we make our legal fees affordable by charging as a percentage of the settlement or judgment award obtained – and only after we win a case. Our No-Win, No-Fee Guarantee means that you will not owe us a cent in attorney's fees if your personal injury case does not result in financial compensation for your injuries. We charge $0 upfront to take your case – no retainer fees.
If your case is successful, you will pay our attorney's fees as a percentage of your financial award, not out of your pocket. We will agree upon this percentage ahead of time with you so that you never face unpleasant billing surprises. The amount of the percentage depends on the specific details, such as how much work your case requires and whether it goes to trial. Most of our personal injury cases reach successful settlements, however, which can also save you money in court costs.
Common Types of Personal Injury Claims
At Rose, Klein & Marias, LLP, our attorneys represent Ontario residents in several types of personal injury lawsuits. Some of the cases that we handle include, but are not limited to, the following.
Slip and fall accidents
Premises liability claims
Dog bites
Burn injuries
Nursing home abuse
Wrongful death
If you don't see your type of accident on this list, contact us to speak directly to a personal injury lawyer. This is not a comprehensive list of all of our practice areas in Ontario, California, and we may still accept your type of case after listening to your story.
How to Prove a Personal Injury Lawsuit in California
To secure compensation in a personal injury lawsuit, you will need to show that the defendant's actions caused your accident and resulting injuries. After a thorough investigation, you and your lawyer will gather enough evidence to prove four important facts.
Duty: The at-fault party owed you a duty of care at the time of the incident. For example, drivers have a duty to drive safely and follow traffic laws. Property owners and landlords have a duty to maintain safe premises and respond to repair requests.
Breach of Duty: The at-fault party breached his or her duty of care through a negligent act or failure to act. For example, a landlord who fails to repair a set of stairs after repeated requests breaches his or her duty of care.
Causation: The at-fault party's breach of duty caused your injuries. For example, if you fall through a set of broken stairs, the accident would not have occurred if the landlord had repaired them.
Damages: You sustained damages that you can collect in your lawsuit. These damages may include medical expenses, emotional distress, property damage, and lost wages.
Your Ontario personal injury attorney from Rose, Klein & Marias, LLP can help you gather the evidence necessary to prove each of these elements. By leveraging our skills, experience, and breadth of resources, we can craft a compelling case for your right to recovery.
How Much Is My Case Worth?
The initial settlement offered by an insurance company is almost always less than the true value of a personal injury case in California. This is because insurance corporations expect claimants to negotiate by submitting counteroffers. It's important to have at least a general understanding of how much your personal injury case is worth so that you will be less likely to accept an inadequate settlement offer. 
An attorney can calculate the value of your case by analyzing your economic (specific) and noneconomic (general) losses. A successful personal injury lawsuit in Ontario could result in financial compensation for both types of losses, which can include:
Medical expenses and hospital bills

Lost income and future ability to earn a living wage

Permanent disability expenses and accommodations

Medications and medical devices

Property damage repairs

Attorney's fees and court costs

Pain and suffering

Mental anguish and emotional distress

Death benefits, in some cases

Punitive damages
Personal injury case values are calculated first by adding up all past, current and future bills and monetary losses connected to the accident. Then, noneconomic damages are estimated based on the extent of the victim's injuries and other factors. Pain and suffering damages are often assigned by a jury, which can use an equation to calculate these damages or simply assign a number it deems appropriate. If an equation is used, it is often the Multiplier Method, which multiplies a plaintiff's economic damages by a number that is appropriate based on the severity of his or her injuries.
What if I Was Partly to Blame for the Accident? Am I Still at Fault?
Yes. California is a comparative negligence state, not a contributory negligence state. This distinction is important, as a contributory negligence state bars a plaintiff from financial recovery entirely if he or she contributed to the accident even by a small amount – as little as 1 percent. In California, on the other hand, a victim can recover partial financial compensation even if 99 percent of the fault is allocated to him or her.
If you share fault for an accident with someone else, you will still be eligible for an amount of compensation that is equivalent to the other party's percentage of fault. Your compensatory award will be reduced according to your degree of responsibility. If your damages are worth $100,000 total, for example, but the courts find you 15 percent responsible for the accident, your award would be reduced by $15,000 (15 percent of $100,000) to $85,000.
How Soon Do I Have to File a Personal Injury Case?
It is crucial to discuss the possibility of filing a personal injury lawsuit in Ontario with an attorney near you as soon as possible after being involved in an accident. You have a limited amount of time in which to file this type of lawsuit. Under California Code of Civil Procedure Section 335.1 (the statute of limitations), you must bring your personal injury cause of action within at least two years of the accident or the date that you discovered your injuries to qualify for compensation.
There are some exceptions to the rule that can extend or shorten the typical statute of limitations, however. For example, a case brought against a government entity must be filed no later than six months after the accident in California. An injured minor has two years from the date of his or her 18th birthday to file, no matter how many years have passed from the date of the accident. Missing your deadline typically results in being barred from financial compensation; consult with a lawyer without delay.
Contact The Ontario Personal Injury Lawyer At Rose, Klein & Marias, LLP
Are you recovering from a personal injury? The attorneys at Rose, Klein & Marias, LLP can represent your lawsuit against the at-fault party and secure the settlement that you deserve. Contact us today to discuss your legal options with an Ontario personal injury attorney or call us at (800)-362-7427.