Los Angeles Bus Accident Lawyer
No one anticipates a bus accident happening when he or she boards the LA Metro or another bus. Yet every year, hundreds of victims end up in hospitals around the country because of bus accidents. The City of Los Angeles or a private bus company may owe victims compensation after accidents involving their buses. If you were recently in a bus crash in LA, please contact a Los Angeles bus accident lawyer at Rose, Klein & Marias LLP for a free consultation. You could be eligible for financial recovery.
Los Angeles Bus Accident Resources
To immediately access the resources at any point on this page, click the corresponding link below.
Why Choose Our Law Firm?
How Can a Bus Accident Attorney Help?
Bus Accident Statistics
Types of Bus Accidents
Common Injuries Suffered in Bus Accidents
What Causes Bus Crashes?
Who is Liable for a Collision?
Are Bus Accidents Covered Under Liability Insurance in California?
How Much is Your Case Worth?
Recovering Economic & Non-Economic Damages
How Much Will Hiring an Attorney Cost?
Statute of Limitations for Los Angeles Injury Lawsuits
What to Do After a Bus Accident
Speak to a Lawyer Today
Why Trust Rose, Klein & Marias LLP With Your Bus Accident Case?
Our firm began in 1936 when attorney Victor C. Rose started practicing law in Los Angeles. We have helped injured victims for more than 80 years.
Our firm focuses entirely on personal injury and workers' compensation laws, giving us in-depth knowledge in these areas.
Our Los Angeles bus accident attorneys believe in making the law easy for accident victims. We offer services on a contingency fee basis and have 10 conveniently located offices throughout Southern California.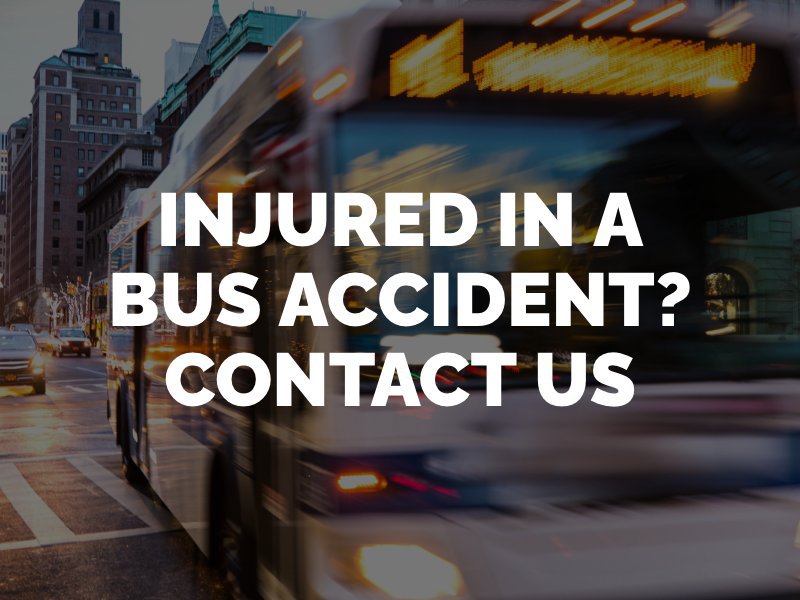 How Can a Los Angeles Bus Accident Attorney Help?
If you hire a Los Angeles car accident lawyer experienced in bus accidents from Rose, Klein & Marias LLP, we will take care of everything for you while you focus on healing. We can connect you to exceptional doctors in the area as well as investigate your bus accident for signs of negligence.
Our bus accident lawyers offer the following services to clients, and more:
Investigating the bus accident.

Preserving and collecting evidence of fault.

Determining the defendant(s).

Filling out and filing claims paperwork.

Hiring qualified experts and consultants.

Negotiating a fair and full insurance settlement.

Informing you of your rights and helping you protect them.

Taking your bus accident case to trial in LA county, if necessary.
The most important thing after a bus accident – our number one priority – is your health, happiness and well-being. We have the power to fight for fair compensation on your behalf while you rest, heal and spend time with family. We can give you total peace of mind after a serious bus accident in LA.
---
Client Review: 5/5
★ ★ ★ ★ ★
This process could've been more challenging but working with you and your associate made it less difficult. Thanks for your time, professionalism and care.
– Ellis G.
---
Bus Accident Statistics
According to the Federal Motor Carrier Safety Administration (FMCSA), 232 fatal accidents involved buses in 2019 alone. This was a small decrease from 238 fatal bus accidents in 2018. From 2009 to 2019, intercity buses accounted for 12% of all fatal bus accidents in the U.S. School buses accounted for 39% and transit buses for 34%. In 2019, 15 intercity buses in the U.S. were involved in fatal traffic accidents. Thirty-five (35) fatalities were bus occupants, while the total number of deaths was 258 in 2019.
What Are Some Different Types of Bus Accidents?
Every bus accident case is one-of-a-kind. The details regarding the case are important when it comes to seeking fair financial compensation for a bus accident. The type of bus matters, for example, as this will determine the owner of the bus and the party that is financially responsible for the crash. When analyzing all of the factors of a case, our bus accident lawyers will take into account the type of accident. We have experience in many types of collisions, including those involving:
Public buses

City buses

Public and private school buses

Airport shuttles

Party buses

Tour buses

Greyhound buses

Charter buses

Metro-transit accidents

Accidents involving bicyclists or pedestrians

Accidents caused by bus driver negligence

Accidents caused by mechanical failure

Drowsy driving bus accidents

Distracted driving bus accidents

Multi-vehicle collisions

Fatal bus accidents (wrongful death)

Bus rollover accidents
We have the legal experience to take on any type of bus accident case in California, whether it was caused by a negligent bus driver or poor road conditions. We will take steps to build your injury claim, such as revisiting the scene of the bus accident, speaking to eyewitnesses, gathering statements, hiring experts and finding evidence of fault. Our lawyers will help you determine liability and pursue fair financial compensation from one or more parties based on the facts of the case.
Common Injuries Suffered in Bus Accidents
A bus accident can easily cause life-changing or catastrophic injuries for both the passengers on the bus and those outside of the bus. From inside a bus, an accident can be particularly harmful due to a lack of seat belts. No seat belts can mean passengers are thrown or tossed around inside of the bus upon impact, increasing the risk of serious injuries. From outside of the bus, other drivers – as well as bicyclists and pedestrians – can suffer the worst of the injuries due to the immense size and weight of the average bus.
At Rose, Klein & Marias, LLP, our Los Angeles bus accident lawyers can help if you've been diagnosed with any type of injury after a wreck, including:
Bone fracture 

Soft-tissue injury

Muscle or ligament damage

Whiplash

Spinal cord injury or paralysis

Traumatic brain injury

Internal damage

Lacerations

Scarring or disfigurement

Burn injury

Amputation
We can help you find the best doctor for your injury or medical condition after a bus accident in LA. Then, we can bring a claim against one or more parties on your behalf to pursue maximum financial compensation for your injuries. We also represent surviving loved ones and families in wrongful death lawsuits after fatal bus accidents in Los Angeles.  
What Causes Bus Accidents?
If you get injured in a bus accident, you or your lawyer must determine the cause of the crash. As the driver of another vehicle, you will need to establish that the bus driver or company is responsible for the accident to recover compensation from an insurance provider. As a passenger, you typically will not need to prove negligence to qualify for coverage from the bus company's insurer. However, it can help to know what caused your accident in case you are eligible for a third-party lawsuit, such as a claim against the bus manufacturer.
Some of the most common causes of bus accident cases in Los Angeles are:
Human error.

Bus driver distraction or negligence can lead to collisions between buses and other vehicles or stationary objects.

Examples include texting and driving, other forms of distracted driving, bus driver fatigue, driving under the influence, speeding, violating traffic laws, and reckless driving.

Bus company negligence.

Other acts of negligence could also contribute to a bus accident, such as failing to maintain the bus or improperly training bus drivers.

A bus company or the entity in charge of public transit is responsible for ensuring the reasonable safety of its fleet vehicles and drivers. Falling short of this duty is negligence.



Road conditions.

A bus could crash if it encounters dangerous road conditions that lead to a loss of vehicle control, such as potholes, hazardous construction zones, uneven shoulders or road surfaces, malfunctioning traffic lights, missing guardrails, and storm debris.
One or more parties may be financially responsible for your bus accident in Los Angeles, depending on the circumstances. In California, the person or party most at fault for a traffic accident is who pays for victims' losses. Identifying the primary cause of your accident will be one of the first steps toward achieving compensation. Speak with a skilled personal injury attorney in Los Angeles as soon as possible following a crash.
Who Is Liable for Bus Accidents in Los Angeles?
Identifying the liable party takes analyzing the cause of the bus accident and the parties involved. Your Los Angeles bus accident attorney will need to make a list of all possible at-fault parties, then narrow it down based on duties of care and evidence of negligence. One or more parties could be accountable for your losses after a bus crash in LA:
The government. The government will be liable for most accidents involving intercity buses, including the LA Metro.
A private bus company. If your accident occurred on a private tour bus, party bus or charter bus, the private company could be liable.
A school. A public school bus accident will point to government liability, but a private school will be responsible for its own buses.
A third-party driver. If a third-party driver crashed into your bus, his or her insurance company may be liable for damages.
A vehicle manufacturer. If a defective bus part contributed to your wreck, the manufacturer of the item may owe you compensation.
Most Los Angeles bus accident claims name the city as the defendant responsible for causing the collisions. The City of Los Angeles will typically absorb liability for accidents involving its public buses, bus drivers, and other employees. If you are not sure who to name as the defendant in your case, speak to our attorneys for counsel.
Are Bus Accidents Covered Under Liability Insurance in California?
Buses are a type of common carrier, meaning they are hired to transport passengers from one place to another. As such, bus companies are responsible for paying for accidents involving their buses and drivers with adequate insurance. For this reason, bus companies in California are required to carry minimum amounts of liability insurance to cover accidents that injure passengers and others.
Bus insurance coverage varies based on the type of bus and how it will be used. There are two main types of liability insurance: bodily injury and property damage. Since a bus carries passengers, bus companies need to have medical coverage to pay for the hospital bills of passengers who do not have health insurance. Optional types of coverage, such as collision, comprehensive and uninsured motorist insurance, can also be useful for a bus company in the event of an accident.
If the driver of a standard motor vehicle (or a third party) is found to be liable for a bus accident, the driver's liability car insurance may pay for the crash instead of the bus company's insurer. Most often, both companies will work together to cover the losses of injured passengers. If you were not responsible for the bus accident or were a bus passenger, your injuries will be covered by one or more insurance policies. Our lawyers can carefully assess your case to find all available sources of insurance coverage on your behalf.
How Much Is a Bus Accident Case Worth?
At Rose, Klein & Marias, LLP, we know that no amount of money is enough to make up for a serious or life-threatening injury from a bus accident in Los Angeles. If the accident could have been prevented, however, filing a lawsuit and pursuing compensation can hold a negligent party responsible – giving you and your family a measure of justice and closure after this traumatic event. A lawsuit can also result in safety changes on an institutional level in your city, such as LA County reevaluating the safety of its buses and drivers.
Our lawyers have also seen first-hand how a fair settlement or judgment award can improve a family's overall ability to recover after a devastating accident. Obtaining the compensation that you deserve can allow you to pay for necessary medical bills far into the future. It can also pay to repair your vehicle if you weren't a passenger on the bus. Other compensable losses in a bus accident case can include lost wages, pain and suffering, emotional distress, loss of consortium, wrongful death damages, and punitive damages.
There is no such thing as an average bus accident settlement in California. The value of each case is carefully determined based on unique elements, such as the severity of the victim's injuries. If you were diagnosed with a catastrophic injury or a loved one passed away in a bus accident in LA, you can generally expect a higher-value case. However, how much your bus accident case is worth is something that you should discuss with an attorney before accepting an insurance settlement.
Recovering Economic and Noneconomic Bus Accident Damages
The damages or losses suffered in a bus accident are classified into two main categories: economic and noneconomic. Economic losses refer to the financial toll that a bus accident takes on a victim, such as the victim's hospital bills, property damage and lost wages. Economic damages are calculated by adding up the bills and receipts associated with the crash and the recovery of the victim. The victim should also consider the future foreseeable economic losses associated with the crash, such as continuing necessary medical care for a permanent disability.
Noneconomic damages encompass all of the other losses that are not financial or monetary. They are also referred to as general or intangible damages. This financial award can cover a victim's physical pain and suffering, chronic pain, discomfort, inconvenience, emotional harm, anxiety, distress, mental anguish, post-traumatic stress disorder, new phobias, lost quality of life, grief over the death of a loved one, and any other losses suffered due to the bus accident that do not have a specific monetary value.
Calculating noneconomic damages in a bus accident case is more difficult than economic. Since there are no bills or receipts valuing noneconomic damages, the value is determined based on more arbitrary factors, such as the severity of the victim's injuries and how much they have impacted the victim's life. It is often up to a jury to determine a fair amount in noneconomic damages during a personal injury case in California.
Economic and noneconomic losses are both types of compensatory damages. They aim to make a bus accident victim whole again by reimbursing him or her. The other category of damages is punitive. They punish a defendant for egregious acts of wrongdoing, such as actions motivated by malice, fraud or oppression. Punitive damages are awarded less often than compensatory damages; however, you may be entitled to this additional type of compensation if the defendant's actions were especially negligent or malicious.
How Much Will it Cost to Hire a Los Angeles Bus Accident Attorney?
You have already spent enough money or gone into enough debt dealing with steep medical expenses, property repairs and lost wages as the victim of a bus accident in Los Angeles. It is normal to be wary of spending even more money to hire a lawyer. Yet you could end up with less financial compensation if you handle your case on your own, without an attorney, compared to hiring a strong legal advocate – even after deducting attorney's fees.
At Rose, Klein & Marias, LLP, we accept all bus accident clients on a contingency fee basis. This payment arrangement means you will not spend any of your own money to hire a Los Angeles bus accident attorney, win or lose. Our lawyers deduct their fees directly from a settlement or judgment award obtained on the client's behalf. If you don't win your case, you won't owe us anything for the services rendered.
The amount of money it takes to resolve a bus accident case varies based on factors such as the complexity of the case, the extent of the victim's injuries and how the insurance company handles the claim. For example, if a bus accident case has to proceed to trial to be resolved, this will increase the overall cost of your legal representation. No matter how much work your case takes, however, we won't charge a dime unless we succeed in securing a financial award for your losses. 
How Long Do You Have to File a Bus Accident Claim in California?
In California, a victim has two years to file a standard auto accident case under the statute of limitations (California Code of Civil Procedure Section 335.1). This is a law that gives a strict deadline for filing a personal injury claim. In general, if you miss this deadline, you will not have the right to obtain compensation or hold someone liable for a bus accident. 
If your accident involves public transportation or a public school bus, however, you may have significantly less time to file. California has special laws pertaining to claims against the government under the Tort Claims Act. This act states that a cause of action for bodily injury, personal property damage or death must be presented against the government no later than six months from the accident. This is why it is critical to contact a bus accident lawyer in LA as soon as possible.
What Should You Do After a Bus Accident?
If you get injured in a bus accident, give your side of the story to the police officer that arrives at the scene. Write down a description of events while the details are still fresh in your mind – including the date, time, location and bus number. Take photographs and videos for your personal records before you leave the scene. Then, get medical care for your injuries without delay. Before you accept an insurance settlement, consult with an attorney in Los Angeles about your recovery rights.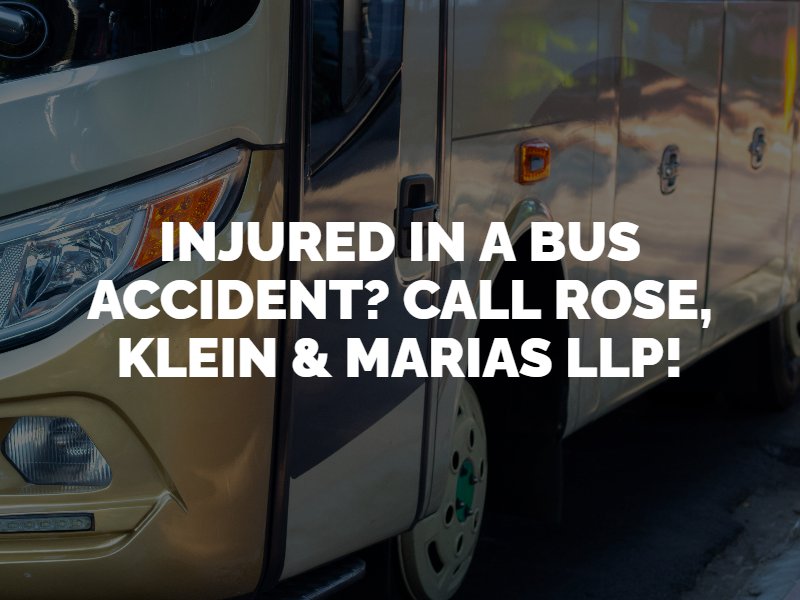 Contact a Top Bus Accident Lawyer in Los Angeles, CA Today
The law firm of Rose, Klein & Marias LLP is here for injured passengers after serious bus accidents in Los Angeles. Our Los Angeles bus accident attorneys can take you through the claims process step by step. Start with a free case evaluation at the law office closest to you. Schedule your free consultation online or call our local law office at (213) 626-0571.