Los Angeles Seat Belt Failure Attorney  
Seat belts are one of the most important vehicle safety features. Seat belts save thousands of lives each year in what could otherwise have been deadly car accidents. While seat belt usage is up to a record amount, wearing a seat belt does not always offer the protection that it should. Serious and fatal injuries may still occur if a seat belt fails to perform properly. In these cases, an injured victim may be able to file a claim in pursuit of financial compensation.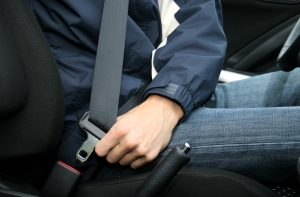 At Rose, Klein & Marias LLP, our Los Angeles personal injury attorneys have been representing injured accident victims in California since 1936. We know how to help consumers go up against major auto part manufacturers in pursuit of the justice and financial compensation they deserve for injuries caused by defective seat belts. Find out how we can help during a free case consultation. Call our Los Angeles location at (213) 626-0571 today.
Why Clients Choose Us
We have a long track record that includes more than 80 years of successfully obtaining outstanding results for our clients. Our

success stories

speak for themselves.

Our attorneys put their clients first. We will stand by your side, answer your questions and provide personalized legal advice every step of the way as your law firm.
Our Los Angeles car accident and product liability attorneys are recognized as the best by their peers. We are regarded by the legal community as being at the top of our field.
We operate on a contingency fee basis, meaning you will not pay your seat belt failure attorney unless your case ends in financial compensation for your losses.
How a Seat Belt Failure Attorney Can Help
A personal injury case involving seat belt failure deals with complex car accident and product liability laws. An attorney in California will have an in-depth understanding of these laws and the ability to explain them to you without the legal jargon. Your attorney can list your legal options and guide you to the one that is most suited for your case. Hiring an attorney to handle your seat belt failure claim can come with many benefits. Your attorney can:
Work with investigators to determine the cause of your injury.

Search for evidence to prove that a seat belt defect caused or contributed to your injury.

Hire highly qualified auto defect and seat belt experts.

Take care of confusing legal paperwork to bring a claim against one or multiple parties.

Go up against powerful adversaries, including seat belt manufacturers and their insurance companies.

Aggressively negotiate for fair and full financial compensation for your losses.

Take your seat belt failure case to trial in Los Angeles County, if necessary.
 In a seat belt failure claim, you may be going up against major automakers such as Ford, Toyota, Honda or GM – companies that have recalled faulty seat belts in the past. They will have legal teams ready to combat your case and refute liability for your losses. The best way to protect yourself is to hire an experienced attorney to represent you. An attorney can make sure an insurer does not take advantage of you, and that you have everything you need during this difficult time.
What Is Seat Belt Failure?
Seat belts are designed to help keep a vehicle occupant securely in the best possible position if a car crash occurs. Seat belts use devices known as crash tensioners to cause the belt to tighten around an occupant upon impact. This helps keep the occupant in a more static motion despite a sudden change in momentum caused by a collision. 
When it functions correctly, a seat belt can prevent serious and fatal injuries to vehicle occupants during a car accident. According to the National Highway Traffic Safety Administration (NHTSA), seat belt use saved almost 15,000 lives in 2017 alone. If a seat belt fails or malfunctions at a crucial moment, it may fail to protect the occupant – or even cause additional injuries. 
Examples of Seat Belt Failures
Motor vehicle accidents are a top cause of death in the United States. Seat belts have the ability to save lives by preventing critical injuries from occurring in automobile accidents. Unfortunately, seat belts may fail when they are needed the most due to product defects, faulty assembly or negligent installation. Examples of seat belt failures include:
Seat belt buckle or latch failure

False latching

Unlatching caused by inertia

Defective seat belt straps

Webbing defects

Torn or ripped belt webbing

Straps that wear out over time

Retracting device or spooling failure

Missing shoulder belt

A seat belt mounted to a door

A seat belt pulling free of its anchor

Incorrect seat belt placement
The NHTSA has reported consumer complaints and recalls involving defective seat belts from manufacturers including AmSafe, Autoliv, Beams, BMI, Delphi, Hyundai, IMMI, Mitsubishi, Safety Belt Solutions, Subaru, Tokai Rika, TRW, Volkswagen, Volvo, VSSI and Wang's. Reported issues have involved seat belt assemblies, retractors, buckles, connectors and belts.
What Injuries Can Be Caused by Seat Belt Failures?
If a seat belt fails during a motor vehicle accident, the buckle may unlatch or the straps may fail upon impact. This could send the driver or passenger of a vehicle forward at a high velocity. A victim may hit the steering wheel, windshield, console, window or another person in the vehicle. A victim may also be ejected from the car. Injuries caused by seat belt failures can include: 
Broken bones

Chest injuries

Fractured ribs

Punctured lung

Knee and lower extremity injuries

Soft-tissue injuries

Neck and back injuries

Paralysis

Abdominal trauma

Organ damage
In other cases, injuries can be caused by the defective seat belt itself. If a seat belt does not have a properly functioning force limiter, for example, forces from the seat belt may become too high in a crash and cause injury to the victim's chest, abdomen, internal organs and spinal cord. Serious injuries from an impact with the seat belt should not occur with a belt that is designed and manufactured correctly.
Who Is Liable for Seat Belt Failure?
In California, if a seat belt fails to operate as it reasonably should in a car accident, resulting in driver or passenger injuries, one or more parties could be held liable. Holding someone liable, or legally and financially responsible, for a defective seat belt can help you collect the financial compensation that you need to pay for medical bills and other related losses. The liable party in a seat belt failure case will depend on the cause of your injury. Potential defendants (accused parties) include: 
The seat belt or part manufacturer

The company that designed a defective seat belt

The vehicle manufacturer/automaker

A distributor or retail company

The company that installed the seat belt
Many car accident cases involving seat belt failures have multiple defendants. For example, you may be able to hold the other driver responsible for causing your car accident as well as the manufacturer of a defective seat belt liable for a preventable seat belt failure. An attorney from Rose, Klein & Marias LLP can thoroughly investigate your case to identify all potentially liable parties on your behalf. 
How Do You Prove Seat Belt Failure?
If you wish to file a claim for financial compensation (also known as damages) for seat belt failure in Los Angeles, your attorney must prove that the failure occurred and is connected to your injury. There must be evidence that the seat belt failed or fell short of its expected performance, and that this caused or contributed to your injury. Evidence of seat belt failure after a car accident may include:
Rips, tears or visible damage to the seat belt

Unstable or broken latch mechanism

Loose-hanging seat belt

Belted driver or passengers thrown from their seats

Belted vehicle occupants ejected from the vehicle

Serious passenger injuries but minor property damage

Multiple passengers hurt when a seat belt failed, causing an occupant to strike the others

A history of other seat belt failures from the company or model

Prior consumer complaints against the defendant
As the filing party (plaintiff) in a seat belt failure lawsuit, you will have the burden to prove that your seat belt failed and that this caused your injury. Your attorney can help establish the necessary elements of a case using evidence such as photographs and expert testimony. Your attorney can also prepare to combat potential defenses, such as the allegation that you were not wearing your seat belt or not wearing it properly at the time of the crash.
What Is the Rule of Strict Product Liability?
A seat belt failure lawsuit in Los Angeles may take the form of a Los Angeles product liability claim if there is evidence that the seat belt contained a defect and caused the victim to be injured. In this case, the legal doctrine of strict product liability might apply. This rule states that a defendant shall be held liable when a plaintiff proves that a product is defective, regardless of the defendant's intent. If it can be shown that a seat belt contained one of the three types of product defects, establishing negligence is not necessary:
Design flaw:

an issue with how the product is designed, with inherent safety risks based on its structure or engineering, even if the product is manufactured correctly.

Manufacturing defect:

a problem that occurs during the manufacture, assembly or production of a product that makes it unreasonably dangerous for consumers despite being used as intended.

 
Marketing mistake:

errors in how a product is packaged, marketed or advertised that make it unnecessarily dangerous, such as a failure to warn of known hazards.
If you cannot use the doctrine of strict product liability, it may still be possible to pursue damages through another legal doctrine, such as negligence or a breach of warranty. A seat belt manufacturer could be negligent if it knowingly used low-quality parts or failed to conduct the proper safety tests to check the performance of a seat belt, for example. Breach of warranty means that a company failed to fulfill a promise or guarantee it gave to its customers.
What Damages Are Available?
At Rose, Klein & Marias LLP, our motor vehicle defect lawyers in Los Angeles are prepared to help you and your family seek fair financial compensation if you were injured by seat belt failure. We know how to negotiate with insurance claims adjusters, including when to be aggressive and when not to be. We will use our decades of experience in personal injury law to fight for maximum compensation on your behalf. You may qualify for the following types of damages, among others:
Past and future medical expenses

Hospital bills and ongoing health care

Losses of income, wages and future ability to earn 

Pain and suffering

Punitive damages, in rare cases
Our attorneys understand what seat belt failure cases need to succeed. We can work with automotive technicians and experts who are at the top of their fields to help you prove your case and demonstrate the severity of your injuries. If you or a loved one suffered a lasting or catastrophic injury, for example, we will pursue a settlement that includes future estimated medical costs. We have won over $5 billion on behalf of our clients with vigilant legal representation.
What Is the Statute of Limitations in California?
By law, you have no more than two years from the date of your car accident or the date that you discovered your injuries to file a seat belt failure claim in California. This is the general statute of limitations on most personal injury cases in California. If you miss your deadline, you will most likely be barred from seeking financial recovery. Do not wait to contact an attorney; call one right away to protect your right to hold someone accountable for a seat belt defect.
Contact a Seat Belt Failure Attorney in Los Angeles Today | Free Consultation
If you were recently involved in a car accident where your seat belt failed, resulting in injuries or the death of a passenger in your vehicle, you may be entitled to financial compensation. The Los Angeles personal injury lawyers at Rose, Klein & Marias LLP can help you with a seat belt defect lawsuit. We care about our clients and will customize our legal strategies to suit your unique needs. 
Find out why thousands of clients have trusted us with their injury claims. Contact our seat belt failure attorneys today for a free case review. Call (213) 626-0571 or contact us online to learn more.