Ventura Car Accident Lawyers
Car accidents are unfortunately common on Ventura roads. Many people suffer injuries in these collisions every year, resulting in extensive medical needs, financial hardship, and long-term complications.
If you are injured in a car accident and believe that another driver is responsible, you deserve justice. In these situations, trust the Ventura car accident lawyers at Rose, Klein & Marias, LLP to fight for your right to compensation. Call our Ventura office today at (805) 642-7101 to set up a free consultation.
Why Choose Us for Your Ventura Car Accident Claim
Our lawyers have represented people in all types of injury claims in Ventura, including car accident cases. We will aggressively advocate for your rights in the courtroom and at the negotiating table.
Our firm has secured over $5 billion on behalf of our clients. We will focus our energy on achieving the highest possible settlement in your case.
Our attorneys are consistently recognized as being at the top of the legal field. We have received numerous awards, as well as membership in prestigious legal organizations.
What Are Common Causes of Car Accidents?
Car accidents can occur due to several factors. In some cases, vehicle components break down and malfunction due to product defects. Poor weather like rain, snow, and sleet can make the roads dangerous and slippery. Government agencies can fail to maintain safe road conditions, heightening the risk of a collision.
However, many Ventura car accidents occur due to the negligence of other drivers. The following examples of negligence can lead to serious collisions.
Speeding
Running a red light
Ignoring traffic signs and signals
Failing to yield the right of way
Driving under the influence
Distracted driving
Fatigued driving
Our car and Ventura truck accident attorneys are prepared to take on your case and fight for fair compensation for damages suffered.
What Injuries Can a Car Accident Cause?
Being involved in a car accident can be life-changing for a victim. Many survivors suffer serious or catastrophic injuries that will stay with them for life. Even more minor car accident injuries can be painful and temporarily debilitating, resulting in lost wages and medical expenses. Recovering physically and emotionally from a car accident may take many months or even years. This is why it is important to pursue the financial compensation that you need and deserve if you have a serious injury from a car accident in Ventura.
Examples of injuries that are often caused by car accidents are:
Soft-tissue injuries
Broken bones
Skull fractures and head injuries
Traumatic brain injuries
Concussions
Neck injuries, such as whiplash
Damage to the back or spinal cord
Internal organ damage
Cuts, scrapes and deeper lacerations
Severe burns
Permanent scars or disfiguring injuries
Amputations
Fatal injuries
If you were diagnosed with any type of injury or a loved one passed away in a car accident in Ventura, you may be entitled to financial compensation. If your injury required professional medical care, ambulance fees, time taken off of work, or caused pain and suffering (including emotional distress), this will qualify you for a financial recovery from the at-fault party under California's car accident laws.
What Are California's Car Insurance Laws?
Like most states, California follows a fault-based system when it comes to car accidents. If you are injured by a negligent driver, you have the right to pursue a claim against him or her and recover compensation for the losses that you experienced in the accident. To uphold this responsibility, state law requires all motorists to carry liability insurance to pay for victims' damages in the event of a collision.
As a victim of a car accident, you can pursue one of three types of claims.
You can file a claim under the at-fault driver's insurance policy.
You can file a lawsuit against the at-fault driver in civil court.
You can file a claim under your own insurance if you have the appropriate coverage.
Most car accident cases reach insurance settlements. However, if the other driver's insurance provider is denying liability or has rejected your claim, you may need to file a lawsuit in Ventura. If the insurance company alleges that you contributed to the car accident, this could reduce your compensatory award. Under the state's comparative negligence law, you could still be eligible for partial compensation regardless of your percentage of fault.
Benefits of Hiring a Ventura Car Accident Attorney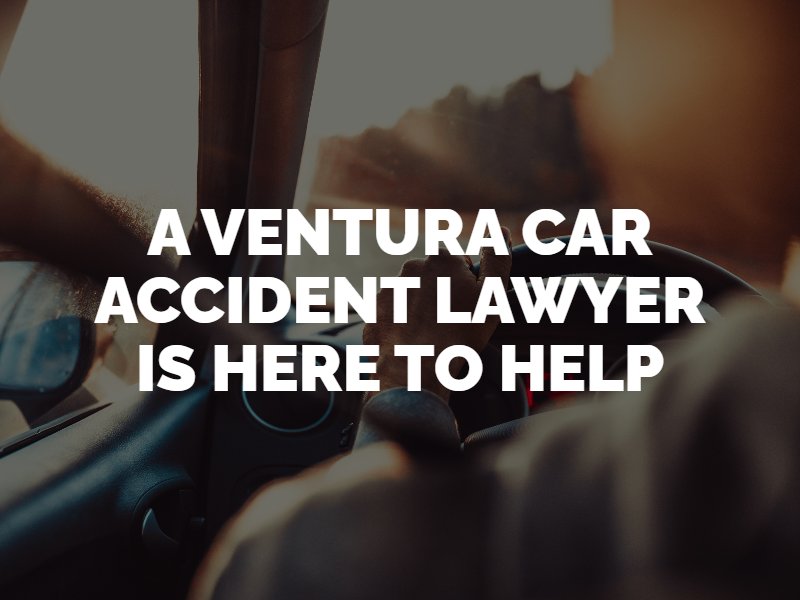 Hiring a car accident attorney can make a major difference to your claim. It can make the legal process easier for you and your family after a traumatic car crash, giving you the opportunity to focus on healing and moving forward. Your lawyer will know exactly how to fill out and submit the required claims paperwork, for example, as well as how to deal with a car insurance company on your behalf.
You can tell your story to your attorney and get the legal advice, information and advocacy that you need during this difficult time. Your lawyer will listen to you and make sure that you and your family have everything you need to get through a car accident claim. A car insurance company will take a represented claimant more seriously than an unrepresented one. This could result in a higher settlement being offered by an insurance company to settle your case and avoid going to court.
Your lawyer will provide a comprehensive investigation of your car accident to determine fault, identify the defendant(s) and search for evidence of negligence. This may include photographic and video evidence, witness statements, documentation and records, physical evidence, and medical evidence. Your lawyer can help you go up against any defendant to establish fault and demand justice for the damage they have inflicted on your life.
Possible Compensation Available After a Collision
A successful claim against the person or party who caused your car accident in Ventura can result in financial compensation to help your family recoup the costs of medical bills, property damage and other losses. The insurance settlement or judgment award that you may be entitled to in California could cover the full extent of your losses up to the other driver's insurance policy limits. If you have grounds to bring a claim against another party, you may be eligible for additional compensation.
The possible types of compensation available for a collision include:
Hospital bills
Future health care costs
Lost wages
Lost capacity to earn
Property damage
Pain and suffering
Punitive damages, in some cases
Wrongful death damages
It is important not to accept a settlement from an insurance company without first speaking to an experienced car accident attorney in Ventura. The initial settlement offer is often too low – an attempt by the car insurance company to save money. A lawyer from Rose, Klein & Marias, LLP will give you an honest and accurate evaluation of the value of your car accident case before you settle. Then, your lawyer will negotiate for the amount that you deserve from an insurance provider.
What to Do After a Ventura Car Accident
The moments after a car accident can be scary and overwhelming. In these situations, it is important to protect yourself, preserve evidence, and seek the help that you need.
Call 911 and report the accident to the police.
Seek medical attention, even if you do not feel injured. Save all of your medical records.
If you can, take as many pictures and videos of the accident scene as possible.
Exchange contact information from any witnesses who saw the accident.
Briefly speak with the at-fault driver and exchange contact, license, and insurance details.
After you receive medical attention, the at-fault party's insurance company may contact you and ask for a statement. Do not speak with the company. Instead, contact a car accident lawyer to discuss your case.
How Much Time Is There to File a Car Accident Claim?
You need to act quickly if you plan on filing an insurance claim or personal injury lawsuit after a car accident in Ventura, California. The state has a statute of limitations that limits the amount of time an accident victim has to file a claim. With rare exceptions, if a victim files after this time limit has passed, the courts will approve a defendant's motion to have the case dismissed. In California, a car accident victim has no more than two years to file a claim with the courts.
The statute of limitations is generally two years from the date that the crash took place. However, you may have more time to file if you did not discover your injuries right away. In this scenario, the two-year clock begins on the date of reasonable injury discovery. There are some exceptions to the rule. The best way to protect your right to file is by contacting an attorney as soon as possible after a car accident in Ventura.
How Much Does an Experienced Ventura Car Accident Lawyer Cost?
You can hire an exceptional car accident attorney at an affordable rate when you search for one that operates on a contingency fee basis, such as Rose, Klein & Marias, LLP. This means that you will never pay out of pocket for your lawyer. There are no upfront fees or retainer costs. Instead, you will only pay your attorney if he or she secures financial compensation for your car accident case. If no compensation is obtained, you won't owe the attorney anything.
Contingency fees are automatically deducted from the settlement or judgment award won for a successful car accident case. They are calculated using a pre-agreed upon percentage rate. This rate is typically around 33 percent or one-third of the financial recovery. However, this percentage depends on the law firm and the complexity of the case. For more information about how much a car accident attorney costs, schedule a free initial consultation with us.
Contact Rose, Klein & Marias, LLP Today
Negligent drivers should be held accountable. If you are injured in a car accident, the lawyers at Rose, Klein & Marias can fight for your right to maximum compensation. Contact us or give us a call at (805) 642-7101 to schedule your free case consultation and discuss your legal options with a Ventura car accident attorney.