Los Angeles Defective Airbag Attorney  
When a car crashes, you expect safety features such as airbags to protect you from the worst possible injuries. Unfortunately, if the airbag is defective, it may not protect you at all – or even make your injuries worse. If a defective airbag recently injured you or a loved one, contact the attorneys at Rose, Klein & Marias, LLP for help. We can assist you with the claims process against the airbag manufacturer, the other driver or another party. We care about our clients and can help you get through this difficult time.
Why Choose Us?
We have a record of success that makes our clients confident in our capabilities. Our lawyers have achieved over $5 billion in settlements and verdicts.
Our lawyers have been helping clients in California since 1936. We have handled thousands of claims, including many Los Angeles car accident cases and product liability lawsuits.
We accept defective airbag cases on a contingency fee basis, meaning you will only have to pay our attorney's fees if you win your case.
What Does it Mean if an Airbag Is Defective?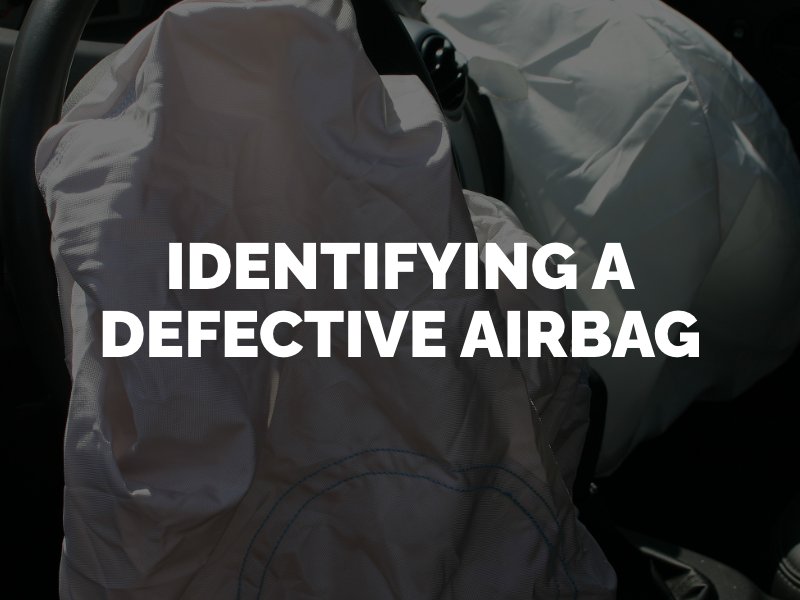 A defective product is an item that contains a problem with its design, manufacture or marketing that makes it unsafe for consumer use. Product defects can be dangerous under any circumstances, but when a motor vehicle part is defective, the consequences can be catastrophic. Vehicle defects can cause serious car accidents and exacerbate the injuries suffered.
An airbag is a motor vehicle safety feature that deploys an inflatable cushion to protect occupants from striking the inside of the vehicle or objects outside of the vehicle in a car accident. When working properly, an airbag will deploy and expand rapidly when triggered by crash events, such as a hard enough impact. The airbag should protect occupants from blunt force trauma and then deflate.
If an airbag contains a defect, it may not perform as it should in an accident. It may fail to deploy, for example, or explode upon deployment and send shrapnel into the cab of the car. A defective airbag may also be oversensitive and deploy for no reason, potentially causing a car crash. A defective airbag cannot serve its purpose or protect occupants in a collision.
What Are Common Airbag Defects?
In product liability law, there are three types of product defects: design flaw, manufacturing mistake and marketing error. There is also a breach of warranty, where a manufacturing company fails to fulfill a guarantee made to consumers, such as product quality assurances. A defective airbag could contain many types of defects within these categories. Examples include:
Defective inflator
Delayed deployment
Failure to deploy
Electrical system issues
Oversensitive airbag
Deployment for no reason
Exploding airbag
Faulty design
Part corrosion
Airbag and airbag part manufacturers have a responsibility to ensure the reasonable safety of their products. Poorly designed airbags could contain dangerous issues from the start, while mistakes made during the manufacture of an airbag could lead to a product that is unsafe for consumers. Marketing errors, such as improper labeling or inadequate warnings, could also lead to serious injury.
Injuries Caused by Defective Airbags
Airbag defects can result in catastrophic or life-changing injuries. Defective airbags can cause injuries themselves or exacerbate crash victims' injuries by failing to protect them in motor vehicle collisions. Either way, the victim may suffer with the effects of the accident for life. Common injuries caused by defective airbags include:
Face injuries
Eye injuries
Abrasions and lacerations
Vision impairment
Hearing loss
Bone fractures
Broken ribs
Bruising and contusions
Shrapnel-related injuries
Scarring and disfigurement
At Rose, Klein & Marias, LLP, we have experience helping clients with many different types of injuries. Our Los Angeles personal injury lawyers can assist you no matter what shape your injuries take after a defective airbag incident. We can handle even the most complicated claim involving catastrophic injuries or the death of a loved one.
Who Is Liable for a Defective Airbag Injury?
Liability refers to someone's legal and financial responsibility for an accident. Holding someone liable for a defective airbag may require proof of negligence, or the failure to exercise ordinary care. In a strict product liability case, however, the injured party does not have to prove negligence. It is enough to show that the product contained a defect and caused the victim's injury. The first step in filing a claim is to identify the at-fault party (defendant). This could be the:
Airbag or part manufacturer: if the airbag has a design, manufacturing or marketing defect that makes it unsafe, the manufacturer could be held strictly liable. One example is the Takata airbag recall, which involved more than 67 million defective airbags that could explode when deployed.
Airbag installer: if the airbag was not installed in a vehicle properly, it could result in airbag defects or oversensitivity issues. This could result in liability for an accident going to the person or company responsible for installing the equipment.
Airbag refurbishment company: some used airbags are rebuilt using replacement or recycled parts that may malfunction after being installed, especially if they use counterfeit after-market replacement parts.
You may need an attorney's assistance to properly determine the defendant(s) in your case, as well as to prove liability.  Your lawyer will understand the laws surrounding these cases and how to optimize results. Our law firm can thoroughly investigate your accident, assign fault, collect evidence and handle every step of the claims process for you while you focus on healing from a serious injury.
What Damages Are Available?
A successful personal injury case for a defective airbag could lead to financial compensation, or damages, for several of your past and future related losses. A lawyer can help you pursue maximum compensation for all of your losses, which may include medical bills, lost wages, pain and suffering, property damage, and out-of-pocket costs. Work with an attorney to seek the compensation that you deserve before accepting a fast settlement from an insurance company.
Request a Free Case Consultation at Rose, Klein & Marias, LLP
If you or a loved one has been injured by a defective airbag in an accident in Los Angeles, contact Rose, Klein & Marias, LLP without delay to request a free case consultation. An attorney will listen to your story and explain your legal rights. We have convenient Southern California law office locations to make it easy for accident victims to get the help they need. Call us at (213) 626-0571 or contact us online to learn more.