Los Angeles Wrongful Death Lawyer
Wrongful death occurs almost daily in Los Angeles. Negligent drivers, dangerous workplaces, defective products, and careless property owners could all cause preventable fatal accidents. If you recently lost someone close to you in any type of accident, from a car accident to medical malpractice, speak with a compassionate Los Angeles wrongful death lawyer at Rose, Klein & Marias LLP for assistance during this difficult time. We offer compassionate legal representation and free wrongful death case evaluations at our local Los Angeles law office, as well as at nine other offices throughout Southern California at your convenience. Someone could owe your family significant financial compensation.
---
Los Angeles Wrongful Death Resources
---
Why Trust Rose, Klein & Marias LLP With Your Wrongful Death Claim?
We focus exclusively on personal injury and workers' compensation cases, giving us an edge during claim negotiations.
We are extremely passionate about helping families in the aftermath of preventable fatal accidents in Los Angeles.
We have lawyers who have represented clients in all matters of personal injury law, including car accidents, medical malpractice, workplace accidents, and criminal attacks.
We help families through wrongful death claims at zero costs upfront. We will not charge you for our services unless we win.
What Is Wrongful Death?
Wrongful death is a type of tort claim that allows surviving family members to seek financial compensation for the death of a loved one. If any type of tort, or wrongdoing, is to blame for the injury that ultimately proved fatal for a victim, the person responsible for the tort will have to pay damages. In California, the legal definition of a wrongful death action is a legal claim that arises when someone dies as a result of another person or entity's wrongful act or negligence. Filing a wrongful death lawsuit in Los Angeles could reimburse your family for economic damages and related losses, including burial and funeral expenses, as well as bring the at-fault party to justice. A wrongful death claim is not a murder or homicide trial. It is not a criminal case at all. Instead, it is a claim brought to the civil courts in California. It seeks to hold a defendant civilly, not criminally, liable for someone's death. Your family may have grounds to file a wrongful death lawsuit whether the at-fault person committed a crime or not. After intentional misconduct or a crime, such as homicide, your family could file a civil wrongful death claim at the same time as an ongoing criminal trial against the defendant. Your family may also have grounds for a wrongful death suit for an unintentional tort, such as accidental negligence.
Survival Actions 
During conversations with a Los Angeles wrongful death lawyer about a potential claim, you may also hear the phrase survival action. A survival action is a different type of legal action you may be able to take after the death of a loved one in California. It also claims damages for a defendant's negligence or recklessness. The difference is that a survival action specifically seeks reparations for the pain, suffering and losses of the deceased person (decedent), rather than the losses of the family. A survival action is something an attorney can bring on behalf of the decedent's estate. It is a claim the deceased person likely would have been able to bring had he or she survived the injury. It holds the defendant responsible for the decedent's pain and suffering from the date of the accident to the date of death. Pain and suffering in a survival action can refer to physical pain, mental anguish, emotional distress and the fear of imminent death. The value of a survival action in California will depend on the severity of the decedent's suffering.
How Can a Los Angeles Wrongful Death Attorney Help?
Wrongful death is the most devastating possible outcome of someone else's negligence in Los Angeles. At our law firm, we do not believe families should have to accept wrongful death without a fight. Your family deserves justice, answers, closure, and compensation if another person negligently or recklessly caused a loved one's death. Hiring a Los Angeles personal injury attorney experienced in wrongful death cases can give you the ability to go up against one or more at-fault parties after a fatal accident. Your lawyer can handle the complicated legal aspects of your case while your family grieves and tries to heal:
Investigating the accident
Collecting evidence or proof of negligence
Determining the defendant(s)
Obtaining the decedent's medical records
Dealing with confusing claim documents
Proving the victim's and family's losses
Building a case against the defendant(s)
Demanding maximum compensation from insurance companies
Taking the claim to trial in LA County, if necessary
A Los Angeles wrongful death attorney will understand the legal processes behind bringing this type of claim in California. Your lawyer can help you successfully navigate these processes during this difficult time. Your lawyer will know the true value of your wrongful death suit. He or she can obtain more for your devastating loss than you could receive alone from an insurance company. In addition to moral support and financial support professional legal services will also provide much-needed support for you personally and emotionally. Ultimately, hiring an attorney can save your family time, money, and a great deal of stress.

Types of Wrongful Death Claims We Handle
On the search for the perfect wrongful death lawyer in Los Angeles, look for one with experience handling the type of accident that took your loved one's life. Real, hands-on practice area experience is crucial to the success of your case. Ask a prospective attorney for a list of his or her practice areas. At the law firm of Rose, Klein & Marias LLP, we have spent years representing clients during different types of wrongful death claims. We can help you learn your legal rights after any type of fatal accident in Los Angeles, CA:
Abuse or neglect
Accidental poisoning
Construction accidents
Criminal activity
Dangerous property accidents
Defective products
Drowning
Fatal workplace accidents
Medical negligence or medical malpractice
Mesothelioma/asbestos exposure
Product liability
After any circumstance that results in the devastating loss of a loved one, contact our wrongful death lawyers for a free consultation to discuss your personal injury case and learn your legal options. We may be able to help you hold one or more parties in Los Angeles accountable. Our personal injury attorneys are committed to rooting out negligence in our community – especially negligence that kills. Filing a wrongful death claim and/or survival action could protect others in LA by forcing negligent parties to take responsibility for their actions. It could also help your family move forward with invaluable financial stability.
Proving a Wrongful Death Claim in California
Before you can recover any compensation for a loved one's death, you or your attorney will have to prove that wrongful death occurred. In general, proving a wrongful death claim takes evidence that someone was negligent and that this caused your loved one's fatal injury. You will not need to prove that the defendant tried to kill your loved one, or even that he or she meant to injure your loved one. Instead, the burden of proof is based on the legal theory of negligence. Negligence is made up of four main elements your experienced wrongful death attorney must prove to be more likely true than not true.
Duty of care owed. The defendant had to have owed your loved one a duty to exercise reasonable care. The specific responsibilities owed to the victim will depend on his or her relationship to the defendant. A friend giving medical advice, for instance, will have different duties of care than a licensed physician or medical professional.
Duty of care breached or violated. There must be proof of the defendant's breach of his or her duty of care. A breach can refer to any action or omission that falls outside of the defendant's duty of care. If another person would have done something differently, the defendant may be guilty of a breach of duty.
Accident or injury caused. The defendant's misconduct or carelessness must be the actual cause of your loved one's critical injury. Your lawyer will need to prove that your loved one's death more likely than not would not have occurred had the defendant obeyed his or her duties of care.
Damages incurred. Finally, your family will need proof that the defendant's negligence gave you compensable losses. Your lawyer can help you list the damages that accompanied your loved one's death, such as medical bills, property damages, lost wages, funeral expenses and mental anguish.
Essentially, if the defendant acted in a manner that a reasonable person in the same situation would not have, the defendant will be liable for your loved one's wrongful death. Working with a Los Angeles wrongful death lawyer from Rose, Klein & Marias LLP can make it easier for your family to prove negligence and fulfill the burden of proof in California. As a surviving family member, your lawyer can explain the defendant's duty of care toward your loved one, collect evidence of wrongdoing, and demonstrate causation to a judge or jury. We have the experience and resources you need for a strong wrongful death claim in Los Angeles.
Who Can File a Wrongful Death Claim in California?
In California, specific laws restrict who has the legal right to file a wrongful death claim. If you are not a qualifying party or the representative of the estate, unfortunately, you may not have the opportunity to seek wrongful death damages. Only certain relatives of the deceased person may file wrongful death lawsuits under California Code of Civil Procedure 377.60:
A surviving spouse or domestic partner
Surviving children
Anyone entitled to the property by intestate succession
Putative spouse
Children of a putative spouse
Stepchildren or minor children
Parents
This is the general order in which surviving family members have the right to bring wrongful death claims. Putative spouses and those below them on the list will only be able to bring claims if they can show they were financially dependent on the decedent. Someone may file a claim through intestate succession only if no surviving person exists within the decedent's direct line of descent.
California Wrongful Death Statute of Limitations
Yes, there is a deadline for filing a wrongful death lawsuit in California. This deadline comes in the form of a law in California called a statute of limitations. A statute of limitations keeps wrongful death claims just for both parties by encouraging the plaintiff to file within a reasonable amount of time. Different statutes of limitations apply to different cases. In most cases under California law, the plaintiff will have two years from the date of a loved one's death to file a claim. The two-year deadline may or may not come with a discovery rule exception. The discovery rule states that if a plaintiff does not discover his or her injuries until a date later than that of the accident, he or she will have until the date of discovery before the clock starts ticking. In a wrongful death claim, the discovery rule may toll the deadline until two years from the date that surviving loved ones discovered – or should have discovered through reasonable diligence – the cause of death. If your family did not recognize the cause of death until later, therefore, you may have longer to file your claim. Deadlines for some wrongful death cases are longer or shorter than two years based on the circumstances. In medical malpractice cases or if you are filing a claim against the government in California, for example, you will have less time to act. It is important to take prompt legal action after a wrongful death in your family. If you miss your statute of limitations, you may be ineligible to receive any compensation for your loved one's death, even if your lawyer can prove negligence. The defendant may use your missed deadline as a defense against his or her liability for the fatal accident. Speak to a Los Angeles wrongful death lawyer right away to avoid missing a deadline.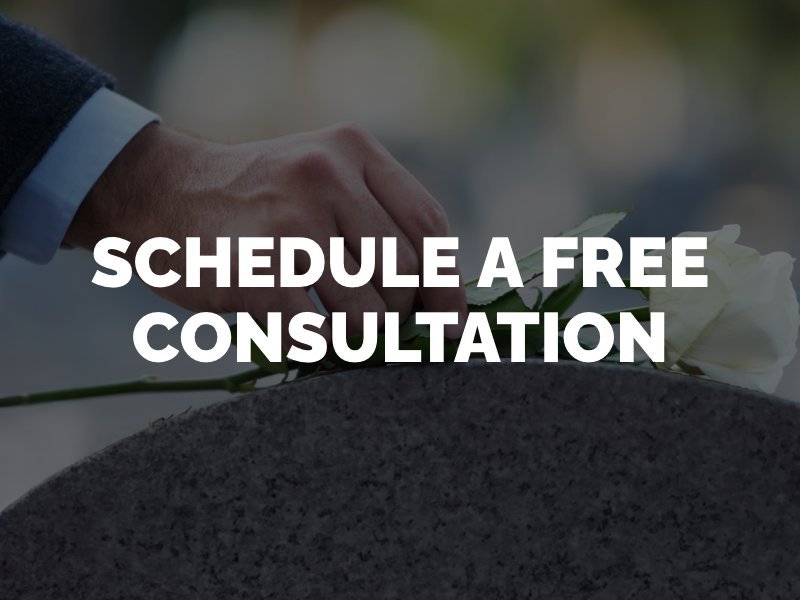 Compensation for Wrongful Death in California
The goal of a wrongful death lawsuit is to seek compensation for a survivor's past and future losses. These are losses survivors might have suffered financially, emotionally, and mentally. The types of damages available in California for a wrongful death claim can be both economic and noneconomic. Economic damages, or monetary damages, are financial losses, such as the family's out-of-pocket expenses and future income or even lost household services. Noneconomic damages are intangible losses, such as pain and suffering as a result of the victim's death. Punitive damages can be awarded if the defendant engaged in a particularly reckless manner resulting in the deceased person's death. Punitive damages are intended to punish the defendant and to deter similar egregious behavior in the future. A successful wrongful death claim in Los Angeles could end in financial compensation for both noneconomic and economic losses such as funeral and burial expenses, mental anguish, medical expenses, property repairs, loss of consortium, the deceased person's pain and suffering, and more. Find out the potential value of your case during a free evaluation with a dedicated wrongful death lawyer in Los Angeles. While we know a compensation award will not make up for the devastating loss of someone close to you, we hope it can provide a future of better financial stability for your family.
Speak to a Wrongful Death Lawyer in Los Angeles Today
At Rose, Klein & Marias LLP, we are passionate about helping people in Los Angeles who have experienced deaths in the family. We recognize most fatal accidents on the road, at work, or on someone else's property are preventable. It is our mission to shed light on deadly negligence and potentially prevent future such accidents in the future. If you experienced an unexpected death of a family member, begin your wrongful death claim with a free consultation with one of our Los Angeles wrongful death attorneys. Call our local law firm at (213) 626-0571 to schedule yours.