Ventura Truck Accident Lawyers
Collisions involving a commercial truck can be catastrophic. These large, heavy-duty vehicles can weigh tens of thousands of pounds, and can easily inflict serious damage on drivers, passengers, cyclists, and other parties during a collision.
If you are injured in a truck accident, the lawyers at Rose, Klein & Marias, LLP can help. Our Ventura truck accident attorneys are dedicated to securing your maximum award and will advocate aggressively for your best interests. Call our Ventura office at (805) 642-7101 to schedule a free consultation.
Why Choose Us for Your Truck Accident Case
We have represented injured people for over 80 years in all types of claims, including truck accident cases. We have the skills and experience necessary to handle your case.
Our firm has a strong track record of successful settlements and jury verdicts. We have recovered over $5 billion on behalf of our clients.
Our Ventura personal injury attorneys have received multiple awards and distinctions recognizing their achievements in their fields. We are highly regarded in the legal community.
How Do Truck Accidents Occur?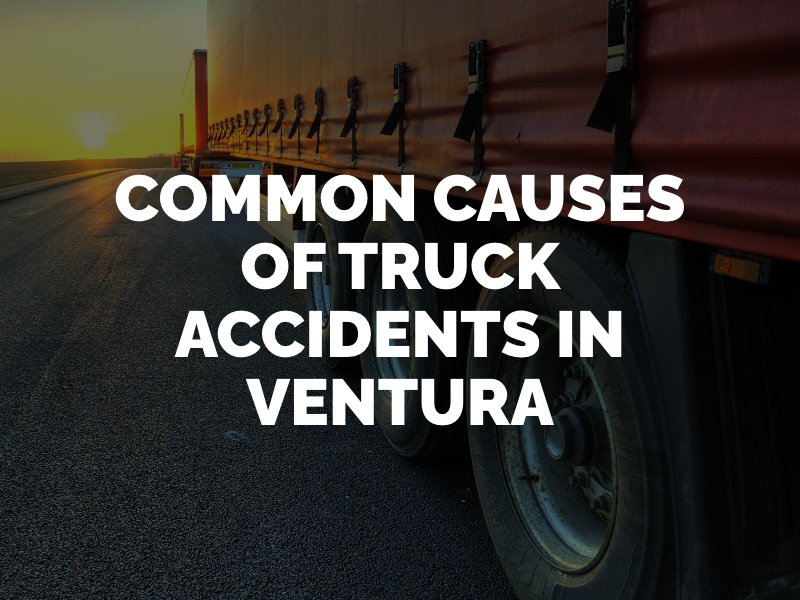 The vast majority of traffic accidents involving commercial trucks in Ventura are preventable. They occur due to negligence and human error. In personal injury law, someone is negligent if he or she fails to use a reasonable or ordinary amount of care. Trucking companies and their employees, including truck drivers, have an obligation to use reasonable care within the scope of their jobs. This includes paying attention to the road, obeying traffic laws, driving prudently and ensuring safe trucking operations.
When a trucking company or a driver is negligent, truck accidents take place. Examples include:
Speeding/driving too fast for conditions
Operating a truck while drowsy or fatigued
Operating under the influence of drugs or alcohol
Driving a truck while distracted/texting and driving
Ignoring traffic signs and running red lights
Driving recklessly or aggressively
Following too closely/tailgating
Failing to check blind spots
Violating federal trucking regulations
Failing to properly inspect and maintain trucks
Failing to train truck drivers
Loose or unsecured cargo falling into the road
When a truck accident takes place in Ventura, the trucking company generally sends a team of investigators, crash analysts and other experts (known as a rapid response team) to the scene of the crash immediately. This team may try to collect evidence and control what version of events gets told to law enforcement to protect the trucking company from liability. The best way to protect your rights is by contacting a truck accident attorney as soon as possible to investigate the crash and determine its cause.
Common Injuries After a Truck Accident
An accident between a heavy commercial truck or 18-wheeler and a passenger car cannot end well for the latter. Large trucks can weigh 80,000 pounds or more while the average passenger car weighs between 3,000 and 4,000 pounds. When these two vehicles collide, the weight disparity means that the smaller car will typically get crushed or destroyed upon impact. The occupants of the car can suffer catastrophic injuries, including permanent injuries and disabilities.
Common injuries suffered in truck accidents in California include:
Fractures (broken bones)
Head and brain injuries
Concussions
Back and neck injuries
Whiplash
Spinal cord injuries and paralysis
Internal injuries
Lacerations
Scarring and disfigurement
The injuries suffered in a truck accident could impact a survivor for life. Victims and loved ones are often left to pick up the pieces after these traumatic accidents without understanding their rights or knowing where to turn for help. The attorneys at Rose, Klein & Marias, LLP can assist you and your family no matter what type of injuries were caused by a truck accident in Ventura. We will pursue maximum financial compensation for your injuries using aggressive legal tactics. We could also connect you to top doctors in Ventura to aid in your recovery.
Compensation Available in Truck Accident Claims
If you are involved in a collision with a commercial vehicle, you could file an insurance claim or lawsuit against the party responsible for the accident. Through your claim, you can recover compensation for the financial losses that you experienced, as well as your pain and suffering.
Examples of damages in Ventura truck accident claims include the following.
Medical expenses
Lost wages and future earnings
Property damage
Disability accommodations
Chronic pain
Emotional distress
Loss of quality of life
Calculating the value of your truck accident claim requires adding up the bills and expenses connected to the crash. This may include your health care, how much it will cost to repair or replace your motor vehicle, and any wages that you lost. Then, estimate your noneconomic damages by multiplying your total amount of economic damages by a number between one and five – a multiplier that is fair for the level of your injury. A truck accident attorney can accurately evaluate how much your case is worth before you accept an insurance settlement.
Benefits of Hiring a Lawyer for a Ventura Trucking Accident Claim
No matter how serious your injuries are or how compelling the evidence is against a trucking company, you may find yourself facing a roadblock during the insurance claims process. Insurance companies are for-profit businesses that want to protect their bottom lines – not their clients. This can make it difficult to secure the financial compensation that you deserve for serious truck accident injuries. You can level the playing field by hiring a lawyer in Ventura for your trucking accident claim.
Hiring a lawyer can come with a variety of benefits, such as:
Experience with your type of case and knowledge of California's related laws.
Connections to experts and accident reconstructionists to investigate the crash.
The ability to move quickly to preserve key evidence, such as the truck's black box.
An understanding of the federal trucking regulations that apply to your case.
The ability to negotiate with an insurance company and its claims adjusters.
The power to take your truck accident case to trial in Ventura, if necessary.
When you hire a lawyer, you gain an advocate and representative that you can trust. Personal injury lawyers are legally obligated to protect the best interests of their clients. Unlike an insurance company, your lawyer will strive to maximize your financial recovery rather than minimize your claim payout. You can benefit from greater peace of mind to focus on healing from your injuries in the aftermath of a devastating truck accident while your lawyer handles the legal legwork of your case.
What Evidence Is Necessary in a Truck Accident Case?
When you pursue a truck accident claim as an injured victim, you have the burden of proof. It is your job – or that of your lawyer – to convince a judge or jury using clear evidence that the trucking company or defendant is at fault for your crash. This is how the insurance system works in California. It is a fault-based system, meaning crash victims must prove fault before they can qualify for an insurance settlement.
You will need compelling evidence to establish a case against a negligent truck company or truck driver. Evidence may include:
A police accident report
The truck's black box
The trucking company's compliance history
Truck maintenance records
Truck inspection reports
The truck driver's employment and medical history
Photographs of the crash site and property damage
Video surveillance footage
Signed eyewitness statements
Expert testimony
Your medical records
The burden of proof in a civil lawsuit is a preponderance of the evidence. This is a lesser standard than proof beyond a reasonable doubt. It requires proof that the defendant is "more likely than not" responsible for the plaintiff's injuries. An attorney from Rose, Klein & Marias, LLP can revisit the scene of the crash, interview eyewitnesses, obtain accident reports and cell phone records, and take many other steps to collect evidence on your behalf to support your truck accident claim.
Who Is Liable for a Ventura Truck Accident?
California is a fault state when it comes to motor vehicle collisions. Drivers have a duty to follow all traffic laws and drive safely, and they are financially responsible for any accidents that they cause. These rules extend to truck drivers and their employers, who must follow several rules and regulations for commercial drivers.
Depending on the cause of the accident, any of the following parties may be liable for a truck collision.
Truck Drivers: Truck drivers are liable for any accidents that they cause due to their own negligence or recklessness. For example, a driver who breaks hours-of-service guidelines and falls asleep at the wheel would be liable for an accident. If a truck driver's actions caused the collision, you can file an insurance claim or lawsuit against him or her.
Trucking Companies: Employers are liable for the actions of their employees acting within the scope of their duties. You can name a trucking company in your claim if the driver is an employee of the company. You can also file a lawsuit against a trucking company if its actions caused your accident, such as failure to inspect or maintain vehicles.
Manufacturers: If a defective product leads to a truck accident, you can file a lawsuit against the manufacturer of that product. In some cases, you can name the retailer and distributor in your claim.
Cargo Loading Companies: Some trucking companies hire third-party contractors to load cargo onto their vehicles. If a cargo loading company or employee uses improper cargo loading techniques and an accident occurs as a result, you can name the entity in your lawsuit.
Contact Rose, Klein & Marias, LLP Today
If you are injured in a Ventura truck accident, you deserve justice. The lawyers at Rose, Klein & Marias, LLP are dedicated to achieving the highest possible settlement in your case and will work tirelessly to craft a compelling case in your favor.
Contact us today to schedule your free consultation with a truck and car accident attorney in Ventura.