Ventura Premises Liability Attorney
A premises liability claim could enable you to hold a negligent property owner responsible for injuries that you suffered on a dangerous premises in Ventura. If you were injured due to dangerous conditions at a restaurant, grocery store, workplace, public park or private home, you may be eligible for financial compensation. The Ventura premises liability attorneys at Rose, Klein & Marias, LLP can help you understand your legal rights as an accident victim. Contact us today for a free consultation, where you can receive tailored legal advice about your case.
Why Choose our Rose, Klein, and Marias?
Our Ventura personal injury lawyers will fight for maximum compensation during your liability claim, even if this means going to trial on your behalf in Ventura County.
We have years of experience handling even the most complex premises liability cases. Our law firm can confidently go up against property owners and their insurance companies.
Our premises liability lawyers operate on a contingency fee basis, meaning you will only pay us if we win compensation for your case.
Common Types of Premises Liability Claims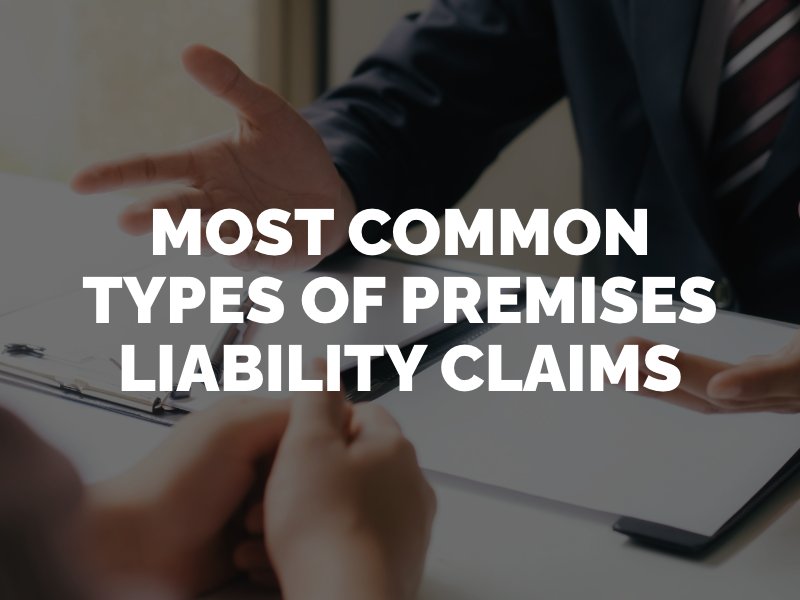 Premises liability claims can be filed after many different types of accidents on someone else's property in Ventura, California. If you were injured this way, it is worthwhile to contact an attorney to discuss a potential premises liability claim. If you are entitled to financial damages, our legal team can help you navigate California law to achieve the case results that you deserve. Common examples of premises liability claims are:
Amusement park accidents
Dog bites and animal attacks
Elevator and escalator accidents
Fires and floods
Negligent security
School and daycare accidents
Slip and fall accidents
Swimming pool accidents
Toxic substances
Our liability attorneys can help if you suffered an injury in a fall accident on a wet floor, a dog attack in your neighborhood, a construction site accident at work or any other incident involving a dangerous premises. We will help you understand the laws that apply to your case and handle the claims-filing process for you while you concentrate on healing.
What Are a Property Owner's Responsibilities in California?
Every land and building owner in California must fulfill certain legal obligations in terms of property maintenance and care. They have a responsibility to ensure the reasonable safety of their premises before welcoming lawful visitors. According to California Civil Code 1714, property owners are responsible for injuries caused to others not only by willful acts but also by want of ordinary care or skill in the management of the property.
A property owner in Ventura can be held liable (legally and financially responsible) for injuries to a lawful visitor that occur on the premises due to a lack of ordinary care. There are two types of lawful visitors: invitees and licensees. Invitees are owed the highest level of care. They enter a property with permission from the owner and for the owner's benefit. An example is a customer at a business. A licensee also enters with the owner's permission or legal authorization, but does so for his or her own purposes.
In California, a property owner must search a premises for new or hidden hazards, repair any discovered defects, and warn visitors of any potential risks that are not obvious. These are the duties of care owed toward invitees. Licensees come with the same duties of care, minus a responsibility to check for hidden or unknown hazards. An unlawful type of property visitor, a trespasser, enters without permission from the property owner or legal authority. Property owners do not owe trespassers any duties of care, other than to not intentionally cause them harm.
Do You Have a Ventura Premises Liability Claim?
If you get injured in an accident while on someone else's property in Ventura, you may have grounds to file a premises liability claim against the property owner or business owner. If there is evidence that the owner failed to use reasonable care and this caused your injuries, this can entitle you to compensation. The failure to use ordinary care is referred to as negligence in Los Angeles personal injury law.
Your Ventura premises liability attorney can search for evidence that proves negligence, such as photographs, witness statements and testimony from a highly qualified expert. The elements you will need to prove in a premises liability case are that you were lawfully on the defendant's property at the time of the incident, your injuries were caused by a defective or dangerous condition, and that the owner knew or reasonably should have known about the condition but failed to remedy it in a timely manner. Your attorney can help you establish evidence of these elements.
Compensation Available
A successful premises liability case could result in financial compensation being paid by the owner's property insurance company for the damages that you suffered in the accident. You may qualify for compensation for the following types of losses:
Medical bills (past and future)
Lost income
Property damage
Pain and suffering
Loss of enjoyment of life
Wrongful death, if applicable
The value of your case will depend on the circumstances. For example, a catastrophic injury such as a spinal cord or brain injury could cost more money in medical expenses. This could lead to a higher-value claim. Our attorneys can help you determine how much your case is potentially worth.
What Is the Deadline to File in Ventura?
It is important not to wait if you think you have a premises liability claim in Ventura. Under California's statute of limitations, you only have two years to file your claim, with some exceptions. If you try to bring a lawsuit after more than two years have passed from the date of your accident, the courts will most likely reject your claim and bar you from recovering financial compensation. If you did not discover your injuries right away, the clock starts ticking on the date of discovery rather than the date of the accident. Contact a lawyer as soon as possible to avoid missing your time limit.
Contact a Ventura Premises Liability Lawyer Today
A premises liability claim can be confusing and overwhelming without help from an experienced Ventura premises liability attorney. At Rose, Klein & Marias, LLP, our legal team has helped countless clients recover financial compensation for their serious injuries. We have a thorough understanding of how liability cases work in California and can use our knowledge to your advantage. We are passionate about helping injured victims hold negligent property owners accountable. Contact us today by calling (805) 642-7101 to schedule a free consultation. We accept clients in Ventura, Ventura County and throughout California.