Ventura Slip and Fall Lawyer
A slip and fall accident in Ventura can lead to devastating injuries that interfere with your ability to enjoy life and earn a living. At Rose, Klein & Marias, LLP, our Ventura County personal injury lawyers can help you move forward after a harmful slip or trip and fall in Ventura County or elsewhere in Southern California. We can represent you or a loved one as we seek justice and financial compensation from a careless property owner on your behalf. Contact us today for a free case consultation.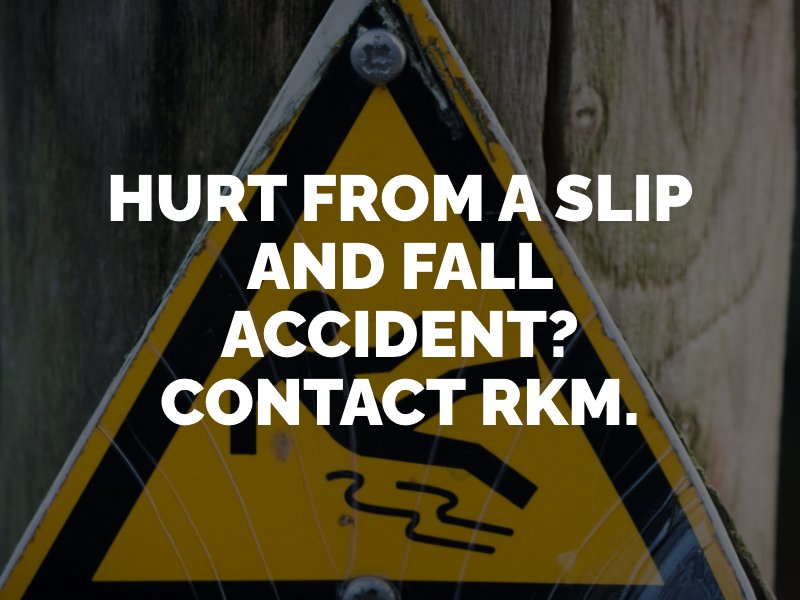 Why Choose Us for This Case?
Our law firm has been representing clients in

premises liability cases

since 1936.

We are committed to obtaining top results for each client using personalized legal strategies.

We have successfully

collected over $5 billion

for our clients.

Our attorneys are widely regarded by the legal community as being at the top of their fields.

Our Ventura slip and fall lawyers operate on a contingency fee basis, meaning you won't pay us unless we win.
How Can a Slip and Fall Lawyer in Ventura Help You?
It is not always easy to recover fair financial compensation from property owners in slip and fall accident cases in California. Property insurance companies are notorious for denying premises liability claims to protect their own profits – even in cases where victims have suffered serious injuries, such as brain injuries or permanent disability. Hiring a lawyer allows you to protect your rights.
Your Ventura County slip and fall lawyer can:
Answer your questions and provide legal advice when you need it most.

Investigate the slip and fall accident for legal grounds to file a claim.

Collect evidence to support your case, such as an accident report or medical records.

Hire subject-matter experts, such as medical experts, to testify.

File the required claims paperwork before California's deadline

(two years)

.

Negotiate with an insurance company on your behalf.

Bring your slip and fall case to trial in Ventura County, if necessary.
A personal injury attorney will be in your corner from the very beginning of your case, helping you correctly report the slip and fall, file a claim against a store owner or property owner, and seek fair compensation from an insurance company. Meanwhile, you can focus on what matters most: healing and moving forward.
Slip and Fall Facts and Figures
Ventura County sees hundreds of emergency room visits each year due to slip and fall accidents. According to the National Floor Safety Institute, slip and fall accidents send an average of 1 million victims to hospitals in the United States annually. About one in five falls cause a serious injury, such as broken bones or a head injury, according to the Centers for Disease Control and Prevention. Falls are the most common cause of traumatic brain injuries. The elderly (people over the age of 65) are the highest-risk population for fatal fall injuries, such as hip fractures.
Common Causes of Slip and Fall Accidents in Ventura
Slip and falls occur most often in unsafe premises. An unsafe premises is a building, home, business or piece of property that contains defects or hazardous conditions. If an unsafe condition is due to negligent property ownership, or the failure to safely use and maintain a property, a premises liability claim may be filed against the property owner or landlord.
Common causes of slip and fall accidents in Ventura include:
Slippery floors in businesses, such as restaurants and retail establishments.

Wet, waxy or greasy floors without proper warning signs. 

Unsafe conditions on private property, such as broken staircases or clutter.

Ignored property damage or the failure to repair potential fall hazards.

Dangerous conditions in the

workplace

, including warehouses or office buildings.

Worker and bystander fall risks in

construction zones.

Nursing home fall accidents due to unsafe environments.

Cracked sidewalks or uneven curbs on city streets and sidewalks.

Trip and fall hazards in public parks and outdoor areas.
Whether your slip and fall injury occurred in a personal home or a place of business, an attorney can help you file a premises liability claim with the correct insurance company. All property owners in Ventura have a legal responsibility to ensure the reasonable safety of their properties. Any home or business owners who fall short of this duty of care can be held accountable for related visitor injuries.
How Does a Premises Liability Case Work?
A slip and fall accident claim is a type of premises liability lawsuit. In California, premises liability laws state that property owners have a legal duty of care to ensure safe environments for visitors on their properties. The specific duty of care owed to a visitor depends on the visitor's classification.
There are three types of visitors:
Invitee:

someone invited to a property for business purposes, such as a customer. Invitees are owed the highest duties of care, which include inspecting a property for new or hidden hazards, repairing known defects, and posting warning signs of potential risks.

Licensee:

someone who has permission to enter the property for social purposes or a reason unrelated to business. Licensees are owed the duties of care to remedy existing hazards and be warned of potential injury risks, but an owner does not have to search for new defects.

Trespasser:

someone who does not have permission or consent from a property owner to enter the premises. An owner does not owe any duties of care to a trespasser unless the trespasser is a child under the age of 18.
Proving a slip and fall injury claim in Ventura requires clear and convincing evidence that the property owner owed the injured victim a duty of care, breached or fell short of fulfilling this duty of care, and that this caused or materially contributed to the slip and fall accident and victim's injuries.
Request a Free Slip and Fall Case Consultation in Ventura Today
If you or someone you love was recently injured in a slip and fall accident in Ventura, contact the experienced premises liability lawyers at Rose, Klein & Marias, LLP to schedule a free consultation. Our law firm has the resources, experience and personnel to achieve the best possible results for your case. We can go up against private property owners, business owners and insurance companies on your behalf. 
Call (866) 674-5150 or fill out our online contact form to request a free case evaluation today. We look forward to helping you after a harmful slip and fall.