Ventura Catastrophic Injury Lawyer
If you or a loved one has suffered a catastrophic injury in any type of accident in Ventura, California, contact Rose, Klein & Marias, LLP for a free case consultation with an experienced attorney. We care about our clients and are compassionate about helping victims with life-changing injuries protect their rights.
We know that you're dealing with a lot as someone who has sustained a catastrophic injury, including expensive medical bills and a great deal of pain and suffering. Our attorneys can help you understand your rights, bring a personal injury case in California and seek the results that you deserve. Start by requesting a free case review at (805) 642-7101.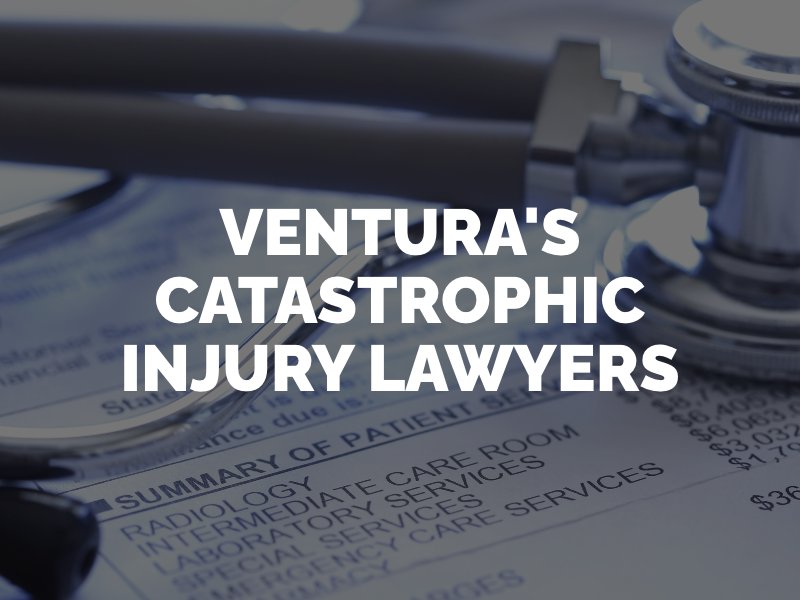 Why Choose Our Firm's Ventura Catastrophic Injury Attorneys?
Our lawyers have served the injured in California since 1936. We have recovered over $5 billion for our clients, which includes many successful catastrophic injury cases.
We are 100 percent committed to obtaining optimal results for each and every client. We can take on major corporations and insurance companies on your behalf.
Our catastrophic injury attorneys in Ventura operate on a contingency fee basis, meaning you won't pay your lawyer anything unless we win your case.
What Is a Catastrophic Injury?
A catastrophic injury is one that inflicts serious or permanent harm on a victim. It leaves a victim with life-changing and long-term consequences. Any injury that causes a severe level of harm, pain, disability, disfigurement, organ damage, lifestyle changes or emotional distress could be deemed "catastrophic."
Common examples of catastrophic injuries include:
Traumatic brain injuries

Long-term brain damage
Neurological damage

Spinal cord injuries

Paralysis (paraplegia and quadriplegia)
Nerve damage
Birth injuries
Loss of sight or hearing
Facial injuries

Amputations
Severe burn injuries

Significant scarring or disfigurement

Injuries that result in wrongful death
If an injury causes a substantial impairment of a bodily function, it is catastrophic. An attorney well versed in catastrophic injury law at Rose, Klein & Marias, LLP can assess your case to let you know if your injury is catastrophic in the eyes of California law. If so, we may be able to help you pursue full financial compensation for you or a loved one's life-altering injury.
Types of Catastrophic Injury Claims We Handle
Our Ventura attorneys have decades of experience handling a wide range of personal injury and wrongful death cases. We understand how different cases work and which California laws apply. In a catastrophic car accident case, for example, the driver or party at fault for causing the crash will typically be held liable under California's fault-based car insurance system.
Our lawyers can help you seek justice and compensation for a catastrophic injury caused by many types of accidents in Ventura, including:
Commercial truck accident
Bicycle or pedestrian accident
Birth injury
Medical malpractice
Electrocution
Sports incident
Fire or explosion
Defective product incident
Fall from heights
Dog bite injury
Elder abuse
Violent crime
Most catastrophic accidents in California are preventable. If evidence shows that one or more parties reasonably should have prevented your accident and catastrophic injury, that party may be financially responsible for your related past and future losses. The compensation available may cover your medical bills, necessary surgeries, physical therapy and rehabilitation, lost wages, lost future capacity to earn, disability accommodations, pain and suffering, and more.
Benefits of Hiring a Ventura Catastrophic Injury Attorney
Handling a catastrophic injury case on your own can be difficult – especially if you are still in recovery from your severe injuries. You may need an attorney to assist you with your case. Hiring a lawyer can come with many benefits, including state-of-the-art resources, in-depth legal knowledge, and a team of attorneys and support staff. A Ventura catastrophic injury attorney will have everything you need to pursue justice for the full extent of the harm suffered.
You can focus on healing and recovering while your lawyer takes care of the complicated claims process for you. For example, your attorney can go up against an insurance corporation or another powerful defendant to negotiate for just financial compensation on your behalf. You can trust your lawyer to handle settlement negotiations using aggressive legal tactics while you rest and recuperate. If your catastrophic injury case requires a trial, your lawyer can represent you in court, as well.
Statute of Limitations for Catastrophic Injury Claims in California
Like all states, California has a statute of limitations on the right to file a catastrophic injury claim. Most personal injury cases in the state must be brought within two years. If you fail to file the required paperwork within two years of your accident or the discovery of your injury, your case will most likely be dismissed. This is why you should never wait to contact an attorney if you believe you have grounds to file a catastrophic injury claim in Ventura.
How Much Does a Ventura Catastrophic Injury Lawyer Cost?
Hiring an attorney for your catastrophic injury case does not have to be expensive. You don't have to pay anything out of your own pocket at Rose, Klein & Marias, LLP. Our contingency fee payment arrangement means that we won't charge you a dime unless we collect financial compensation for your catastrophic injury claim. If your claim is successful, we will deduct our fees directly from the overall settlement or judgment award won. This makes high-quality legal representation affordable for all victims of negligence in Ventura.
Steps to Take Before Contacting Your Attorney
Before you reach out to a member of our legal team, take the following steps to help ensure a smooth and more productive case consultation:
Seek professional medical treatment for your catastrophic injury.
Collect copies of any police reports or accident reports.
Gather other relevant documents and records, such as photographs and medical reports.
If anyone witnessed your accident, collect eyewitness accounts.
Bring biographical documents to your case review, such as your employment records.
Do not hesitate to contact us even before completing these steps. Our attorneys have decades of experience and can assist you with a case at any phase of the legal process.
Speak to an Experienced Ventura Catastrophic Injury Lawyer Today
It is important to protect yourself as a victim of a severe accident by hiring a qualified, reputable and experienced catastrophic injury attorney in Ventura to represent you during the recovery process. At Rose, Klein & Marias, LLP, accident victims have trusted us with their most complicated claims for many years. We have what it takes to help you get through this difficult time with your rights intact.
For more information about how our Ventura catastrophic injury lawyers can help you, call (805) 642-7101 or contact us online. We can answer your questions during a free case consultation in Ventura or one of our other conveniently located California law offices.