Ontario Truck Accident Lawyer
Commercial trucks are very large vehicles, weighing tens of thousands of pounds. To operate these heavy-duty trucks safely, drivers and trucking companies must follow strict rules, regulations, and safety best practices. Unfortunately, not all of them do.
Catastrophic truck accidents can occur on Ontario roads. If you are injured in a truck accident, the Ontario truck accident lawyer at Rose, Klein & Marias, LLP can represent your case and fight for your right to maximum compensation. Contact us today.
Why Choose Us for Your Ontario Truck Accident Case?
Our Ontario personal injury attorneys have recovered over $5 billion for our clients. We will work closely with you to obtain the highest possible settlement in your truck accident claim.
Our firm has represented injured people since 1936. We have the skills, resources, and experience necessary to craft a compelling case in your favor.
We understand how painful a truck accident can be. Our Ontario accident lawyers will handle all aspects of your case so that you can focus on recovery, not complex litigation.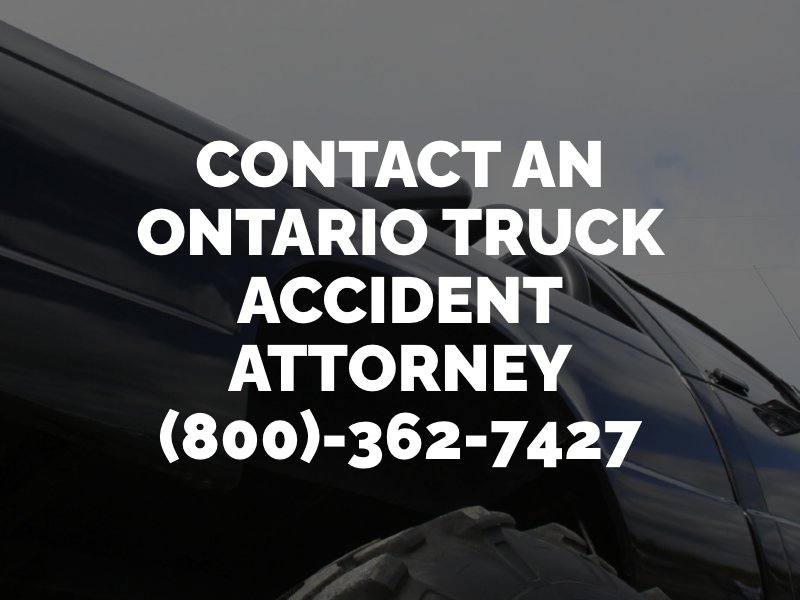 Who Is Liable for a Truck Accident in Ontario, CA?
In California, anyone who causes an injury due to negligence is responsible for any losses that victims experience. This liability extends to truck drivers and trucking companies, who are liable for any accidents that their employees cause. If these individuals or entities break trucking regulations or make dangerous decisions, they could cause serious accidents.
Any of the following parties may be liable for a truck accident, depending on the cause of your collision.
Truck drivers
Trucking companies
Manufacturers
Government agencies
Cargo loading companies
Damages Available in Ontario Truck Accident Claims
Truck accidents can result in devastating damage, from thousands of dollars in medical care to significant physical pain and emotional trauma. By filing a truck accident insurance claim or lawsuit with the help of an Ontario truck accident attorney, you can recover the compensation that you need to pay for these losses.
In California, truck accident victims can recover two categories of damages: economic and non-economic. While economic damages involve your financial losses, non-economic damages involve the pain and suffering that you endured.
Common damages available in truck accident claims include the following.
Past and future medical care
Disability accommodations
Lost wages and loss of future earnings
Property damage
Emotional distress
Chronic pain
Permanent disability
Loss of quality of life
What to Do After an Unexpected Truck Accident
Truck accidents can be catastrophic events. However, the moments immediately following your collision will be crucial for your future claim.
As soon as possible following the collision, call 911 and report the accident to law enforcement. If you can, speak to the responding officer and collect his or her information. Try to collect information from witnesses, photograph the accident scene, and exchange contact details with the other driver.
Always seek medical attention immediately after the accident and save all records related to your injuries. Do not wait to seek emergency care; you may have internal injuries that you do not know about, and your medical records will be valuable evidence in your case.
Once you receive the care that you need, speak to a Ontario truck accident lawyer. Your attorney will evaluate your case and help you understand your optimal path to compensation.
Contact The Ontario Truck Accident Attorney From Rose, Klein & Marias, LLP Today
If you or a loved one are injured in a truck accident, pathways to justice are available. In these situations, trust the lawyers at Rose, Klein & Marias, LLP to represent your claim and hold the at-fault party accountable. Contact us today to schedule a free consultation with an Ontario truck accident lawyer or call us at (800)-362-7427.