Cerritos Personal Injury Lawyers
Nobody ever expects to suffer an injury. Unfortunately, accidents can happen to anyone, often caused by the negligent or reckless acts of others. If you or a loved one is injured due to another's negligence, you may qualify for legal action—and the lawyers at Rose, Klein & Marias, LLP can help.
Our Cerritos personal injury lawyers have recovered over $5 billion on behalf of our clients. Our firm can help you hold the at-fault party accountable for his or her actions and secure the justice that you deserve.
Cerritos Personal Injury Resources
To instantly access the resources on this page, please click the corresponding link below.
Why Choose Rose, Klein & Marias LLP?
What is a Personal Injury Lawsuit?
Another Party Must be Negligent for You to Collect
Recovering Damages Requires a Complex Claims Process
Do You Need a Cerritos Personal Injury Attorney?
Your Attorney Fights for Fair Damages
The Insurance Company is Focused on Profit, Not You
Cerritos Personal Injury FAQs
Speak With an Attorney Today
Why Choose Us for Your Personal Injury Claim
Our firm has been representing injured people since 1936. We will leverage our skills, experience, and network of resources to craft a strong and compelling case in your favor.
After an unexpected injury, it can be difficult to pay for legal services. Under our firm's contingency fee agreement, you will not owe any fees unless we secure a settlement on your behalf.
Our attorneys are highly regarded in their fields and have obtained multiple awards and recognitions, from repeated designations from Super Lawyers Magazine to pre-eminent ratings in Martindale-Hubbell.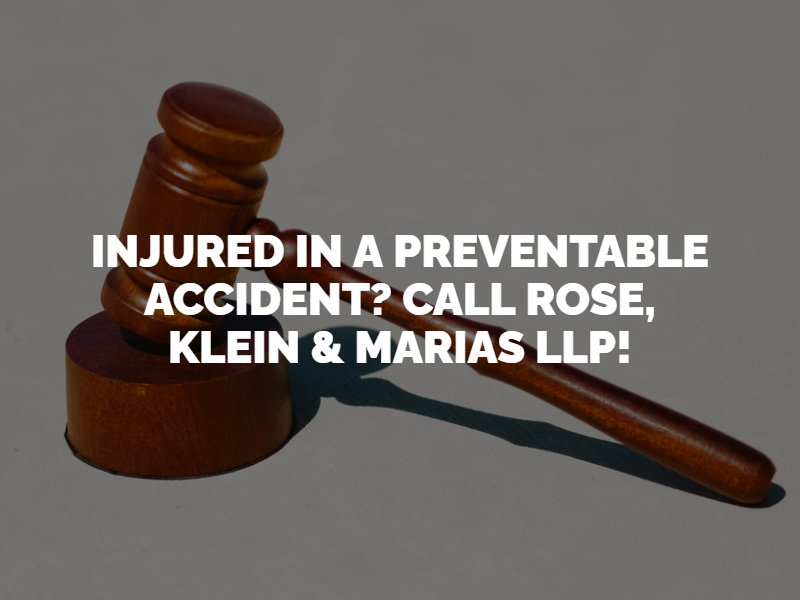 What Is a Personal Injury Lawsuit?
Personal injury lawsuits are civil actions filed against a liable party who causes an injury to another person's mind, body, or emotions. By filing this type of claim, you are requesting that the court order the defendant to pay for any losses, or damages, that you experienced as a result of your injury and his or her negligence.
At Rose, Klein & Marias, LLP, we represent injured Cerritos residents in a wide range of personal injury lawsuits. Some of the cases that we handle include the following.
Bus accidents
Bicycle accidents
Premises liability
Slip and fall accidents
Wrongful death
When your injuries are the result of the negligence of another party, they will be liable for your damages. Parties that may be liable for the costs and damages linked to your accident include:
Other drivers on the road
Trucking companies employing drivers
Car manufacturers
Property owners
Rideshare drivers
Employers
Identifying the party that is responsible for the accident that led to your injuries requires a thorough assessment of the available evidence in your case. This evidence must then be considered through the letter of the law, and the outcome of similar cases in court. The insurance companies know what amounts you could win in court, and when you are working with an experienced attorney, they'll know that you'll pursue that full amount if they do not offer a fair settlement. 
Another Party Must be Negligent for You to Collect
Simply being injured does not entitle you to a personal injury claim, as individuals who cause the accidents that lead to their injuries will be liable for their own damages. To collect compensation for your damages, you'll need to prove that someone or something else was negligent and caused the accident that led to your injuries and damages. 
Negligence is a complex legal term with four parts:
Duty
Breach
Causation
Damages
To be negligent, another party must first have some duty or responsibility towards you. This duty must then be breached, and the breach of that duty causes an accident. The accident must lead to damages, which then opens the potential for you to pursue compensation through an insurance claim, or lawsuit if the claim does not result in a fair settlement. 
For example, motor vehicle collisions are one of the most common sources of personal injuries that can entitle you to compensation. All drivers on the road have a duty to drive safely and sober. When a driver engages in drunk driving, they are violating their duty to all other drivers by engaging in dangerous, intoxicated driving, illegal in all 50 states. If a drunk driver causes an accident that injures you, leading to damages, they will be liable for the costs and damages linked to your accident. 
Proving negligence requires the application of the legal concept to the unique facts and circumstances of your accident. Evidence must be collected about the accident, including what the other drivers were doing prior to the accident, and other factors that might have led to the accident. With a local car accident lawyer on your case from Rose, Klein, and Marias Injury Lawyers, you can rest-assured that you'll recover the best possible compensation in your case. Our attorneys have years of experience helping injured clients like you collect what they deserve by handling the claims process every step of the way. 
Recovering Damages Requires a Complex Claims Process 
If you have been injured in an accident caused by the negligence of someone or something else, you'll generally have to file your claim for compensation with their insurance company. For car accidents, that will be the insurance company of the negligent driver or their employer. If your injury was due to medical malpractice, it will be the medical malpractice insurance provider of your doctor and the hospital. 
The claims process includes: 
Collecting evidence to prove negligence
Collecting evidence to measure your damages
Drafting a claim
Filing the claim with the insurance company in the time allowed
Negotiating the claim
Settling the claim, or
Filing a lawsuit to collect them
You can only collect compensation for an accident that you can prove as due to the negligence of another, and you can only collect compensation for damages that you can prove with evidence. 
While it would be ideal if all the damages that you are entitled to kicked in automatically after you were injured, that is not the case. To recover your damages, you'll need to prove them with evidence that would be admissible in court if it comes to that. You might not know where to begin to collect evidence that could be used in a lawsuit to recover your damages, which is where your local personal injury attorney comes into play. 
Do You Need a Cerritos Personal Injury Attorney?
A personal injury lawsuit can be complex. You may encounter difficulties obtaining evidence or calculating your potential settlement. The at-fault party might claim that you are partially responsible for the accident, putting your award at risk. You may need to negotiate with insurers and attorneys or craft a compelling case for the courtroom.
In these situations, you need a lawyer on your side. By hiring a personal injury lawyer to represent your case, you gain an advocate who can guide you through the litigation process and handle all aspects of your claim on your behalf.
A Cerritos personal injury attorney from Rose, Klein & Marias, LLP can provide several benefits to your case, including the following.
Access to expert witnesses who can testify on your behalf
Knowledge of the litigation process and the ability to prepare you for each stage
Experience negotiating with insurers and defense attorneys
The resources to launch a full investigation into your accident
The ability to calculate all potential avenues of compensation and accurately estimate your potential award
Your Attorney Accurately Measures Your Damages then Pursues Then For You 
One of the key benefits of working with a personal injury attorney for your accident is to ensure that you do not recover less in damages than you are entitled to. If you do not recover complete compensation for the costs and damages linked to your injuries, you and your family will have to cover these costs out of your own budget. 
The damages that you are entitled to include: 
Short-term medical costs like ER bills and pain medicine 

Property repairs to anything damaged in the accident, like your car 

Long-term medical costs like surgeries, medications, treatment, and rehabilitation 

Lost wages in the short-term as well as missed work benefits like sick time or accrued vacation benefits 

Lost earnings potential in the long-term due to your injuries 
A medical expert assesses the symptoms of your injury, and determines what future treatments will be necessary to address it, as well as their costs. An occupational expert then takes this medical information and applies it to your ability to work and support your family. Any change in your ability to work and support your family should be included in your compensation, from the time of your injury through the remainder of your working life. 
To measure your damages, your personal injury attorney from Rose, Klein, and Marias Injury Lawyers will schedule appointments with local medical and occupational experts to support your case. It can be difficult to determine which experts are respected by the courts, and which are available to provide you with assessments. We've been working with experts in the area for years, and will handle the scheduling for you to make the process simple and straightforward. 
The Insurance Company Doesn't Work For You, They Work for Profit 
It is important to understand that the insurance company responsible for compensating you for your injuries does not work for you, they work for profit. Like any other for-profit company, the insurance companies do whatever they can to increase revenues while decreasing costs, in doing so increasing profits. For the insurance company, their revenues are the premiums paid by their customers, and their primary cost is the payments made to injured persons like you. 
To support profitability, insurance companies employ full-time teams of claim analysts and attorneys to carefully scrutinize all claims that come in. Whichever claims they can deny find reasons to deny will be denied, and they'll pay as little as possible if they do approve your claim. Without an attorney by your side to help on your case, you risk being taken advantage of by the insurance company and taking less than you deserve.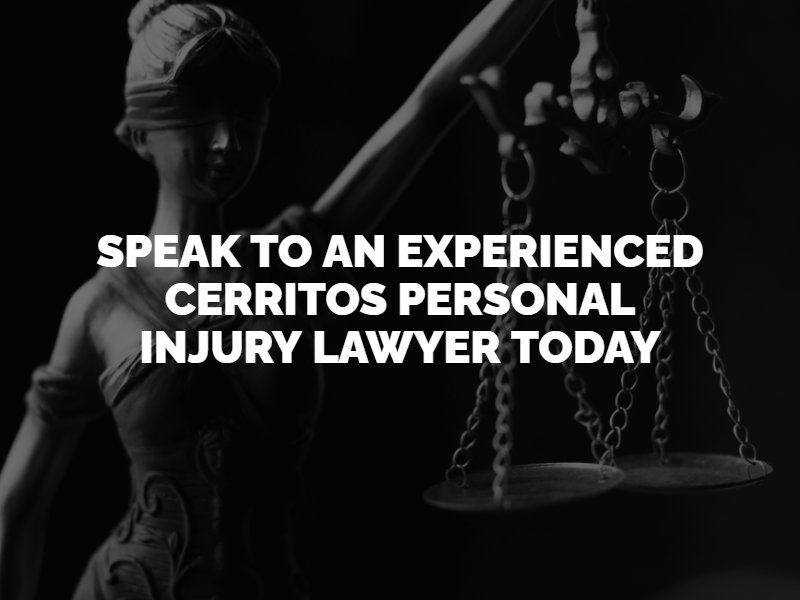 Cerritos Personal Injury FAQs 
Can I collect my compensation on my own? 
While it is possible to file your own insurance claim to recover compensation, it is not recommended unless you have experience gathering evidence and negotiating insurance claims. Attorneys spend 3 years studying the law full-time, and then many years mastering the procedures and processes of the courts to learn how to successfully negotiate insurance claims. Trying to do so while recovering from your injuries can put you at a disadvantage. 
Should I accept a settlement offer without speaking with an attorney? 
If the insurance company is offering you a settlement, then they believe that their client is liable. If you are being offered a settlement, that also means that the insurance company is trying to save money by offering you less than you deserve. Without evidence to accurately and completely measure your damages, the insurance company will take advantage and pay you less than you deserve. 
How much is my personal injury worth? 
One of the most common questions our prospective new clients ask is how much their injury is worth, and our answer is always the same: it depends. The unique facts and circumstances of your injury, and the evidence collected from medical and occupational experts, will determine what your accident is worth. Your attorney will use this information to negotiate the best possible settlement with the insurance company, or will file a lawsuit to force them if they won't be fair. 
How much does my personal injury attorney cost? 
Nothing up-front, and nothing out-of-pocket, ever. This is because if we take your personal injury case, we'll take it on contingency. When we take cases on contingency, we only get paid if we win on your case. Our payment comes out of a portion of the earnings we generate for you that we'll agree upon before getting started. You'll have a chance to ask any questions you might have during your free initial consultation. If we offer to take your case, we'll go over all the details about payment so that you don't enter anything you are not comfortable with. We are here to help on your personal injury. 
Contact Rose, Klein & Marias, LLP Today
If you believe that you qualify for a personal injury claim, it is important to act quickly and speak to an attorney as soon as possible. The lawyers at Rose, Klein & Marias, LLP can represent your case and fight for your right to justice. Contact us today to schedule your free consultation with a Cerritos personal injury lawyer.