Cerritos Car Accident Lawyers
An unexpected car accident can have a significant impact on your life. You may wonder how to pay for your medical bills, struggle with painful physical injuries, and cope with significant emotional trauma.
If someone else caused your car accident, you may be eligible for legal action—and the attorneys at Rose, Klein & Marias, LLP can help. Our Cerritos car accident lawyers have decades of legal experience and will advocate aggressively for your maximum possible recovery.
Why Choose Us for Your Car Accident Claim
Our attorneys have represented injured Californians since 1936. We are dedicated to helping you secure the settlement that you deserve.
Our track record speaks for itself. We have recovered over $5 billion on behalf of our clients.
We accept all cases on a contingency fee basis. If we do not recover compensation in your case, you will not be charged legal fees.
Common Causes of Car Accidents
Car accidents can occur due to many factors, not just driver errors. In some cases, a collision occurs due to poor weather or dangerous road conditions. A defective vehicle or vehicle part can also lead to an accident.
However, most car accidents are caused due to the negligence of other drivers. Negligence means using less than the necessary amount of care, resulting in harm to others. All drivers have a duty to operate their vehicles safely and follow California traffic laws. In some cases, motorists commit negligent acts that put others at risk, such as the following.
Merging without checking for oncoming vehicles
Driving in an aggressive or reckless manner
Speeding or racing
Running a red light or stop sign
Failing to yield the right of way

Following too closely (tailgating)

Driving while drowsy or fatigued

Driving under the influence of alcohol or drugs
Driving while distracted, such as texting and driving
If a negligent driver causes a motor vehicle accident in Cerritos, the driver will be responsible for paying for a victim's medical bills and property repairs. If a road defect such as a pothole or broken traffic control device caused the accident, the government can be held responsible. If a defective auto part played a role, the manufacturer may have to pay, instead. It is also possible to hold multiple parties responsible for a car accident in California, depending on the circumstances.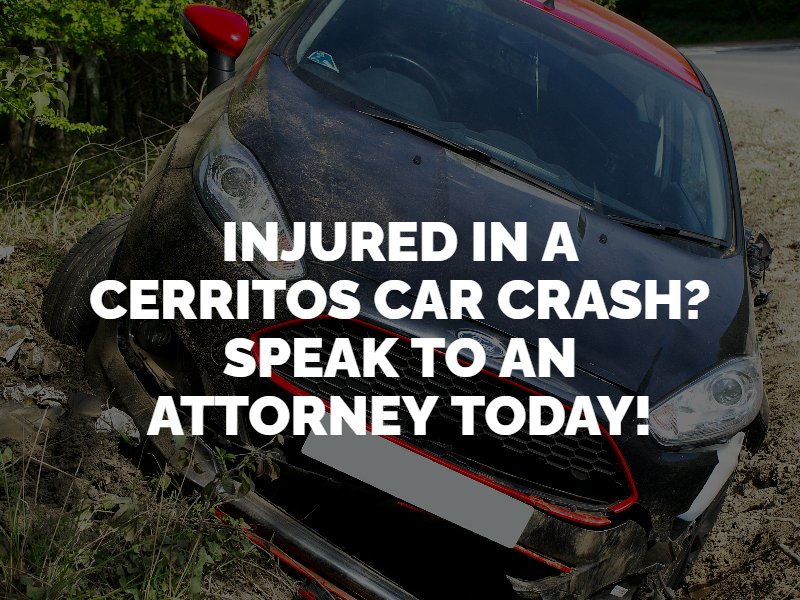 What Are California's Car Insurance Laws?
California is a fault car insurance state, like most areas of the United States. Under this system, drivers who negligently cause car accidents are financially responsible for any losses that the victims experience. As a result, victims can file insurance claims or lawsuits against the at-fault driver and recover compensation for medical expenses, lost wages, pain and suffering, and more.
To uphold this obligation, California requires all drivers to carry the following amounts of liability coverage.
$15,000 for injury or death to one person per accident
$30,000 for injury or death to all people per accident
$5,000 for damage to property in an accident
If you are injured in a Cerritos car accident, you could file an insurance claim against the at-fault party's coverage and recover compensation up to the policy limits. You may also escalate your claim to a lawsuit if your claim is unsuccessful or if the driver's coverage is insufficient for your needs.
A lawsuit could result in compensation to cover your medical bills and vehicle repairs, as well as noneconomic damages such as physical pain and emotional distress.
How to Prove a Car Accident Case in California
The advantage of the fault car insurance system is that more compensation is generally available through a third-party claim than a first-party claim. The drawback is that the accident victim must prove that the other driver is at fault. 
The burden of proof in a civil lawsuit is a preponderance of the evidence. This means clear and convincing evidence that the other driver is more likely than not responsible for the car accident. To prove a car accident case, the plaintiff or plaintiff's attorney typically must establish that the defendant was negligent. Negligence has four main elements:
Duty of care. An obligation to exercise reasonable care, such as a driver's responsibility to obey traffic laws.
Violation or breach of the duty of care. An act or omission that a prudent party would not have committed under the same or similar circumstances.
Proximate cause. Proof that the car accident would not have occurred but for the defendant's breach of duty.
Damages suffered. Compensable losses suffered by the plaintiff in the accident, such as property damage or bodily injuries.
An experienced car accident lawyer in Cerritos can help you preserve and present strong evidence to prove these four elements as true with at least a 51 percent certainty. Evidence that may be used to support a car accident case may include a copy of the police accident report, the victim's medical records, car accident expert testimony, crash reconstruction, photographs and videos, and signed eyewitness statements.
What Damages Are Available in a Car Accident Case?
The damages, or financial compensation, that you and your family may be able to obtain through a car accident lawsuit depends on the case. California law entitles an injured accident victim to pursue both economic and noneconomic damages. This means compensation not only for the financial losses connected to a car accident but the personal and intangible losses, as well. Your list of compensable damages in a car accident case may include:
Past and future necessary medical care

The cost to repair your damaged vehicle or replace a totaled vehicle 

Rental car costs and travel expenses

Attorney's fees and other out-of-pocket costs

Lost wages and future lost capacity to earn

Long-term disability accommodations

Loss of consortium

Diminished quality of life

Punitive damages, in some cases
The value of your car accident case should not be based on an average. Every case is unique, with results that vary significantly from person to person. A car insurance company or jury will determine the value of your case based on its specific factors, such as your age and the severity of your injuries, as well as the number of dependents and the amount of insurance coverage available. The best way to determine how much your car accident case in Cerritos is worth is by consulting with an attorney.
Car Accident FAQs in Cerritos, California
At Rose, Klein & Marias, LLP, we know that you're going through a difficult time after a serious car accident. Most crash victims are overwhelmed with questions about their rights, options and futures. Our main goal is to put your mind at ease. We do this by offering sound legal advice and counsel when you need it most. Use these frequently asked car accident questions for basic information in California. Then, request a free case consultation with one of our attorneys for answers to specific questions.
What Should I Do After a Car Accident?
Try to remain calm and do not confront the other driver. Check yourself and others for injuries. Call 911 to report the car accident immediately, even if it appears minor. When the police arrive, give them your side of the story but do not admit fault. Exchange names and contact information, as well as insurance information, with the other driver. 
Write down the names of all eyewitnesses. Before you leave the scene of the crash, take photographs and videos. Visit a hospital in Cerritos right away and follow your doctor's treatment orders. Call your car insurance company to report the crash, then contact the other driver's insurer to file a claim. Do not settle your claim with an insurance company until you have consulted with a car accident attorney.
How Should I Deal With an Insurance Company After an Accident?
A car insurance company is not on your side during the claims process. It is a for-profit business that will put its bottom line above your recovery. Keep this in mind when answering questions from a car insurance claims adjuster. If you don't feel comfortable dealing with an insurance carrier on your own, you can always ask one of our attorneys to take over communications and claim negotiations for you.
Do not agree to give an insurance company a recorded statement. When asked about your injuries, keep your answers short and simple. Do not sign anything sent to you from an insurance company until speaking with an attorney – especially a release of liability waiver, as this will effectively close your case. You are at risk of settling for much less than you deserve by accepting a settlement without first consulting with a lawyer.
How Much Time Do I Have to File a Car Accident Lawsuit in California?
In California, a law called the statute of limitations imposes a strict deadline on the right to file any type of personal injury case, including a car accident lawsuit. This law gives you no more than two years from the date of the car accident to file a personal injury or property damage claim, in most cases. In general, if you wait too long and the statute of limitations expires, you will lose the right to recover financial compensation.
This rule does not include injured minors, who have two years until they reach the age of majority (18) to file. This deadline may also be extended in special cases, such as if you experienced a delayed discovery of your car accident injuries. You may have less than two years, however, if you are bringing a claim against the government. Contact an attorney quickly to make sure you meet your time limit.
How Much Does a Car Accident Lawyer Cost?
The price of a car accident lawyer should never get in the way of having strong legal advocacy during your case. At Rose, Klein & Marias, LLP, we operate a contingency fee basis so that all crash victims can benefit from high-quality legal representation. With this payment arrangement, you won't pay anything upfront. You also won't pay if we do not secure financial compensation for your losses. We only charge attorney's fees if your case succeeds. If we do win, we will charge our fees as a percentage of the settlement or jury verdict collected. That way, you never pay us out of your own pocket.
What if I Contributed to the Car Accident?
Even if you are partially responsible for the car accident, you may still be eligible for financial compensation from the other at-fault party or parties. California uses a comparative negligence doctrine for these cases. This rule diminishes a plaintiff's financial recovery by an amount equal to his or her percentage of fault. You will not be barred from compensation for contributing to the accident even if you are found to be 99 percent at fault under California's pure comparative negligence doctrine.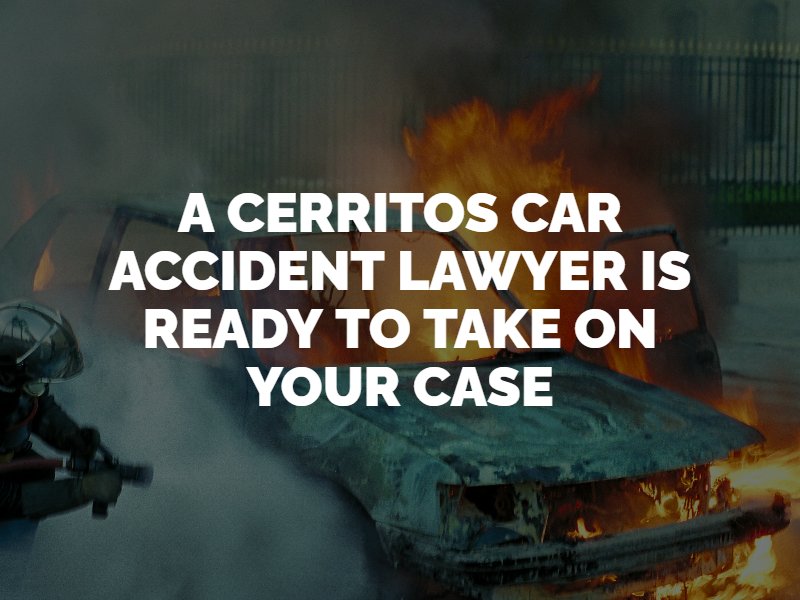 Why You Need a Cerritos Car Accident Lawyer
A car accident can be a scary and overwhelming experience. In these situations, you need someone who can advocate for your best interests and guide you through the litigation process. This is especially true with a car insurance company trying to take advantage of you every step of the way. This is why it is important to speak with a Cerritos car accident lawyer from Rose, Klein & Marias, LLP as soon as possible after a collision.
Our attorneys can help you navigate your claim and prepare for each stage. We will handle all aspects of your case from consultation to settlement, allowing you to focus on healing instead of a complex claim. Some of our services include comprehensive crash investigation, preserving and collecting evidence, filling out confusing claims paperwork, filing a claim with the correct courthouse, negotiating an insurance settlement, hiring experts and consultants, and litigating a car accident trial. Our lawyers will do what it takes to ensure you have everything you need during a car accident case in Cerritos.
Contact Rose, Klein & Marias, LLP Today
If you are injured in a Cerritos car accident, you need an attorney on your side—and the lawyers at Rose, Klein & Marias, LLP can help. We care about our clients and have a proven track record of success. Trust our experienced and compassionate attorneys to give you the results that you deserve. Contact us today to schedule your free case consultation and discuss your next steps.