Is a Nursing Home Responsible if a Resident Falls and Is Hurt?  
Falls are a leading cause of serious injury and death among the elderly. According to the Centers for Disease Control and Prevention, one in four older adults will experience a fall each year in the U.S. Around 3 million seniors visit emergency departments annually for fall injury treatment. If a resident falls and gets injured in a nursing home in Los Angeles, find out when the victim could hold the facility responsible.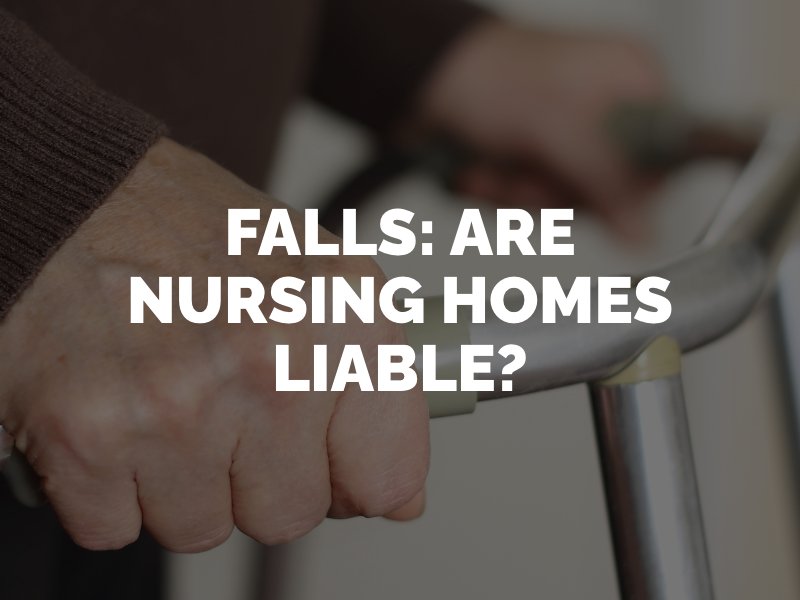 Nursing Home Safety Standards
State and federal regulations are in place regarding the safety of nursing homes and similar elder care facilities. Nursing homes must adhere to these regulations to protect their residents from foreseeable risks, including fall accidents. Since individuals over the age of 65 are more prone to serious falls, nursing homes have a responsibility to take proactive steps to prevent these accidents.
Nursing home fall safety regulations include:
Property maintenance requirements
Periodic inspections for new slip or trip hazards
Safe, sturdy and even floor surfaces
Handrails
Safe staircases and ramps
No loose mats or rugs
No cluttered hallways or walkways
Proper warning signs for wet floors
Adequate lighting
Proper footwear provided to residents
Resident supervision (no elopement)
Correct bed height
Bed railings and other fall guards
Properly working wheelchairs and walkers
If a nursing home or one of its employees violates the regulations for resident safety, a preventable fall accident could take place and result in serious injuries. Common examples include hip fractures, wrist and arm fractures, muscle sprains and strains, lacerations, concussions, head and brain injuries, and back or spine injuries.
How to File a Premises Liability Claim for a Nursing Home Fall Accident
Many slip, trip and fall accident victims in California can file premises liability claims against the owners of the properties where their accidents occurred. Premises liability law states that the owner of a property can be held legally and financially responsible for injuries to a victim that are caused by unsafe property conditions.
If a nursing home resident falls and suffers an injury due to a dangerous property hazard or defect, a premises liability claim could potentially be brought against the facility. The elements that must be proven are that the defendant had a legal obligation to ensure property safety, that the defendant's care or maintenance of the property was negligent, and that this resulted in the resident's fall accident.
If it can be proven that a reasonable and prudent nursing home would have done more to prevent the resident's fall, such as inspecting the property for potential hazards or providing safer footwear, the nursing home may be held responsible for a victim's injuries. All nursing homes carry insurance to pay for injuries that befall their residents. You may need assistance from a premises liability attorney to receive fair compensation for yourself or a loved one in a claim against a nursing home.
Is it an Accident or Elder Abuse?
A nursing home can be held liable for negligence, such as the failure to maintain a safe premises or adequately supervise its residents to prevent fall accidents. However, it can also be held responsible for employees and caregivers who intentionally injure or cause harm to residents. Some fall "accidents" are actually examples of nursing home abuse.
Call the police if you have reason to believe that someone intentionally caused your loved one to fall in a Los Angeles nursing home. If an investigation finds evidence that the elderly resident was pushed or shoved by an employee and that this caused his or her fall injuries, the facility can be held liable for physical elder abuse.
Elder abuse can be extremely damaging both physically and psychologically. A nursing home resident who has suffered abuse has the right to hold the individual abuser as well as the nursing home responsible for related injuries, medical care, diminished quality of life, pain and suffering, and other losses. An LA elder abuse attorney can help you explore your legal options after an intentional fall incident in a nursing home.