Do Rideshare Services Deactivate Driver Profiles After a Crash?         
Taking a rideshare vehicle to your destination may seem like the safest way to travel, but many Uber and Lyft accidents send victims to the hospital each year. If a rideshare driver causes an accident while transporting passengers or while logged into the app, the company may deactivate the driver's account, particularly if the accident results in injuries.
Uber and Lyft's Deactivation Policies
In an effort to make their services safer, both Uber and Lyft have protocols in place for when they will choose to deactivate a driver or user's account. According to Uber, a driver's account will be deactivated if he or she engages in any unlawful or fraudulent behavior, such as driving with an expired license. A driver may also lose his or her Uber account for discrimination, safety issues or persistently low ratings from riders.
A rideshare driver can also have his or her profile deactivated for a failed background check. Uber and Lyft conduct background checks on new drivers that extend seven years prior. These include a Motor Vehicle Report and a criminal background check. A driver may fail the check or get deactivated for a new conviction of a dangerous crime, such as drunk driving or assault. If an applicant attempts to defraud Uber or Lyft with fake documentation, this is also a reason for account deactivation.
If an incident involving a driver gets reported to the rideshare company, the company will investigate the issue and take prompt action to protect its riders. This may include deactivating a driver's account to prevent him or her from transporting future users. Uber or Lyft will temporarily suspend a driver's account while it investigates a report and reviews documents. If the company finds evidence to support the claim, it may permanently deactivate the driver's account.
Deactivation Based on Driver Negligence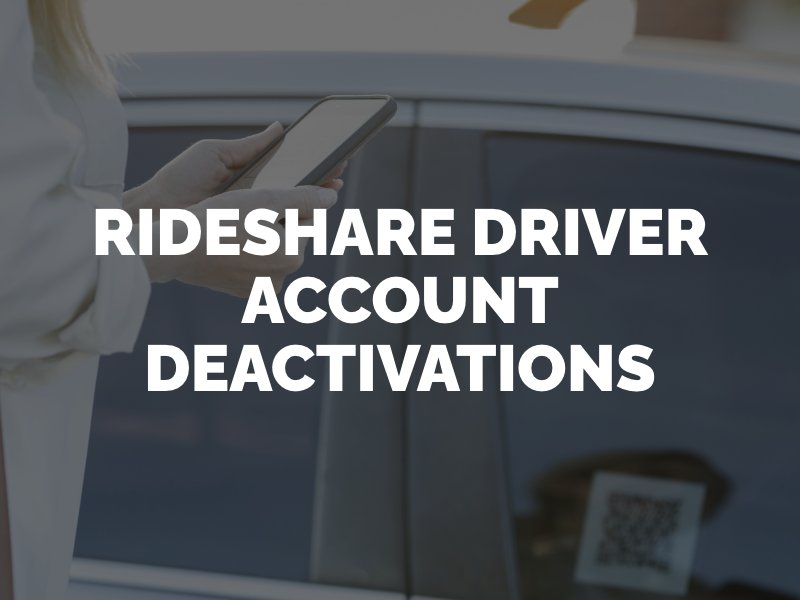 A rideshare driver may also find his or her account deactivated after getting into an accident, especially if the collision caused injuries. This is the company's way of protecting future riders from reckless, negligent or dangerous drivers. According to Uber's website, the following safety issues during a trip could lead to a driver's profile deactivation:
Poor or unsafe driving
Dangerous driving
Distracted driving (e.g., texting while driving)
Drowsy driving
Having drugs or open containers of alcohol in the vehicle
Getting a traffic citation
Getting into a car accident
Aggressive, confrontational or harassing behavior
Sexual misconduct or assault
Unsafe vehicle
If an Uber or Lyft driver gets reported for unsafe driving or receives multiple negative reviews from riders, the company may respond by deactivating the driver's profile for the safety of its users. Deactivations are common after motor vehicle accidents involving rideshare cars, even if the Uber or Lyft driver was not at fault.
Holding Rideshare Companies Responsible for Accidents
Rideshare companies have a legal responsibility to take reasonable steps to ensure the safety of their users. This includes deactivating the accounts of drivers who are known or reported to be dangerous. If the rideshare company fails to deactivate the account of a dangerous driver after he or she causes a car accident, the company could be held financially responsible for subsequent accidents and victim injuries.
If you get injured in a rideshare accident in Los Angeles, learn your rights and legal options during a free case consultation with an attorney at Rose, Klein & Marias, LLP. Our law firm can investigate the company for signs of negligence, such as failing to deactivate a dangerous driver's profile after an accident. We can help you pursue financial compensation through all available outlets, including an insurance claim and a personal injury lawsuit. Contact us today for a free case review.