California Workers' Compensation Laws
If you sustain an injury or illness while performing the essential duties of your job, you may be entitled to workers' compensation benefits in California. Workers' compensation is an insurance program that allows injured employees to obtain financial benefits for their medical bills and other costs without having to prove fault. Having a successful workers' compensation claim in California takes properly navigating all related state laws.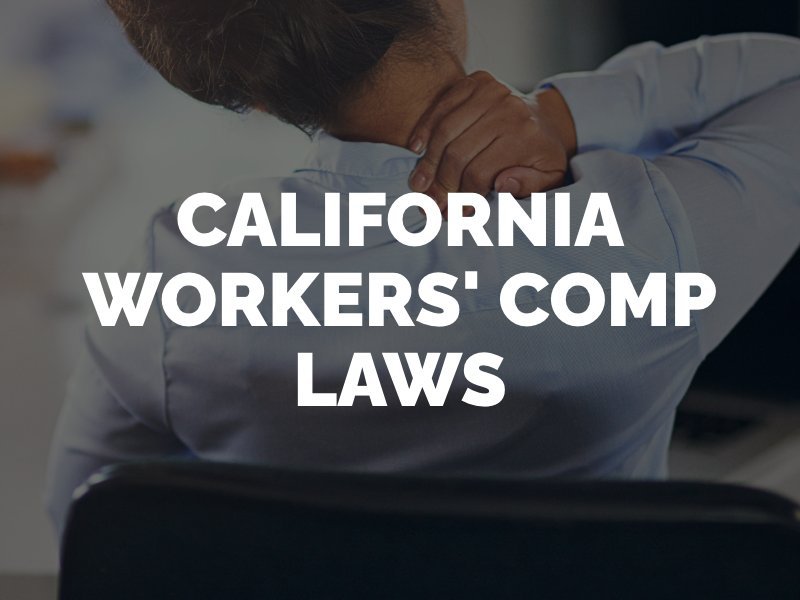 Who Qualifies for Workers' Compensation?
In California, all businesses and employers must purchase workers' compensation insurance, even if they only have one employee. This insurance pays for certain losses associated with occupational injuries or illnesses, without the employee having to prove fault or negligence. Every worker who is classified as an employee (not an independent contractor) is covered by workers' compensation insurance in California.
If you are injured in a workplace accident or contract an illness from exposure to hazardous substances at work, you may be entitled to workers' compensation benefits. To recover with this type of insurance claim, you must prove that you are a covered worker and that your injury or illness arose out of the duties of your occupation. You do not have to prove that your employer was careless in failing to prevent your injury or illness, however.
No-fault workers' compensation systems come with a tradeoff. If you accept a workers' comp settlement, you cannot file a liability lawsuit against your employer. You will give up your right to hold your employer legally responsible for your expenses and losses once you accept workers' compensation benefits. This is why it is important to review your right to file a lawsuit with an Encino workers' compensation attorney before accepting workers' comp.
Deadline To File a Workers' Compensation Claim
For a workers' comp claim to be valid, the employee pursuing financial benefits must obey certain state laws and rules. One of these rules is the deadline to file. In California, employees have one year from the dates of their accidents, or of injury or illness discovery, to file workers' compensation claims. You only have 30 days, however, to give your employer written notice of your work-related injury or illness. Once your employer receives this notice, the company must provide a claims form within one working day.
What Benefits Are Available?
Filing a workers' compensation claim in California can result in a settlement awarded to you by the insurance company to reimburse you for the expenses related to your occupational injury or illness or a loved one's death. The financial benefits available through workers' comp include:
Existing and future medical bills. This includes surgeries, doctor's appointments, specialists, x-rays, treatments, medications, medical bills, etc.
Lost wages. An amount usually equal to two-thirds of your average working wage for the days or weeks you had to take off of work while in recovery.
Disability payments. Benefits to make up for the wages you will miss due to temporary or permanent partial or complete disability.
Vocational retraining. If your injury or chronic illness made you unable to return to your previous job, you may be eligible for benefits to pay for new job training or education.
Death benefits. Financial benefits that are given to surviving loved ones for the death of a family member while on the job.
The value of your California workers' compensation claim will depend on factors such as the severity of your injury, how long it will take you to recover, your average income, your age and your overall health.
What if Your Claim Is Denied?
If your employer's insurance provider denies your workers' compensation claim, you may have the right to appeal the denial. The insurance company must give you its reason for the denial, such as insufficient evidence of an injury or an allegation that you didn't suffer the injury at work. You may be able to provide further information or evidence to convince the insurer to reverse its decision. Otherwise, you may be able to file a claim with the Workers' Compensation Appeals Board requesting an external review of your claim.
A workers' compensation attorney can represent you during an appeals hearing in California. You also have the right to hire an attorney from the very beginning of your workers' comp claim for the best possible outcome.