What Is a "Yellow Alert"?
Drivers have a legal obligation to pull over at the scene of a car accident, check if anyone is injured and report the crash to the police. Unfortunately, many drivers commit the crime of hit-and-run, where they cause a car accident and flee the scene without stopping. California signed a new bill into law in July 2022 called the Yellow Alert Bill to help track down drivers who commit hit-and-run crimes.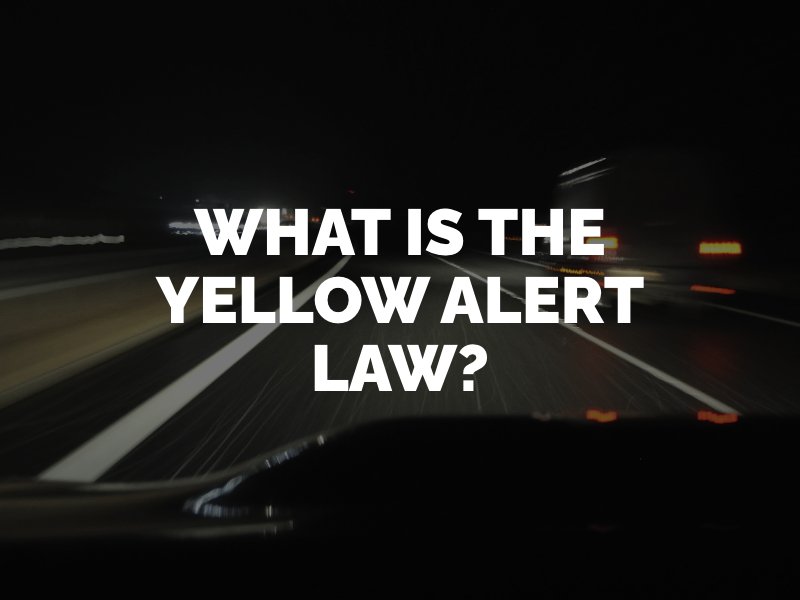 The Yellow Alert Law
On July 19, 2022, Governor Gavin Newsom signed Assembly Bill 1732 and put a new Yellow Alert law in effect. This law, which was introduced by Assemblyman Jim Patterson, can make it easier for law enforcement officials to identify and find hit-and-run drivers after a fatal crash has occurred. The law went into effect in January 2023. The Yellow Alert had previously been active in 2016, but expired in 2019 and was not reinstated.
Hit-and-runs are a significant problem in California, with 20,459 fatal and injury hit-and-runs reported by the CHP in 2019. Under the Yellow Alert law, enforcement agencies can request the California Highway Patrol (CHP) to activate a public alert when a fatal hit-and-run car accident occurs. The Yellow Alert will display a vehicle's license plate and descriptive information on electronic freeway signs so the public can help track down a suspect.
A Yellow Alert can be sent to the CHP if certain conditions are met:
A fatal hit-and-run car accident occurs,
There is reason to believe a suspect has fled the scene using the state highway system or is likely to be observed by the public, and
The investigating law enforcement agency has information concerning the suspect or suspect's vehicle, such as a complete license plate number; a partial license plate number and additional unique identifying characteristics; the make, model and color of the suspect's vehicle; or the identity of a suspect.
The Yellow Alert Law also encourages local media outlets to announce the information contained in an alert. Its purpose is to improve the ability of law enforcement agencies to catch hit-and-run drivers through the use of public assistance. It can help officials find getaway drivers faster, for example, if they are fleeing on local streets or freeways. The Yellow Alert Law has been called "geographically significant" for catching hit-and-run drivers.
What Happens When a Yellow Alert Is Activated?
When the CHP receives a Yellow Alert request that meets all of the requirements, the Department can issue and coordinate alerts on changeable message signs within the geographic area requested by the law enforcement agency. These signs will display a hit-and-run suspect's information to encourage the public to report any sightings of or information about the fleeing vehicle or suspect.
If multiple Yellow Alerts are requested, the CHP will prioritize the activation of an alert based on relevant factors, such as how much time has elapsed from the accident or the likelihood that activation will result in the apprehension of a suspect. In addition to displaying the alert on local notification systems, the CHP will also encourage (but not require) broadcasts via radio, television, and cable and satellite systems to disseminate the information to the public.
If anyone recognizes the suspect's vehicle or has information regarding the fatal hit-and-run accident, he or she should call law enforcement as soon as possible to submit a tip. This can help hold the at-fault driver responsible for the victim's injuries, medical bills and property damage, which can be significant. It could also lead to criminal charges being brought against the suspect since hit-and-run is a crime in California.
If you or a loved one has been injured in a hit-and-run accident in Los Angeles, contact us at Rose, Klein & Marias, LLP to schedule a free case evaluation. We can help you seek financial compensation after this type of disaster.