Timeline of a Personal Injury Case
Before you head into your first personal injury case, it will help to know what to expect from the process ahead. A common mistake made by claimants is to rush into the very first settlement offered by an insurance company. It is normal to be impatient to resolve your case. However, taking the time to ensure that the settlement you are accepting is fair and reasonable can make an enormous difference to your future.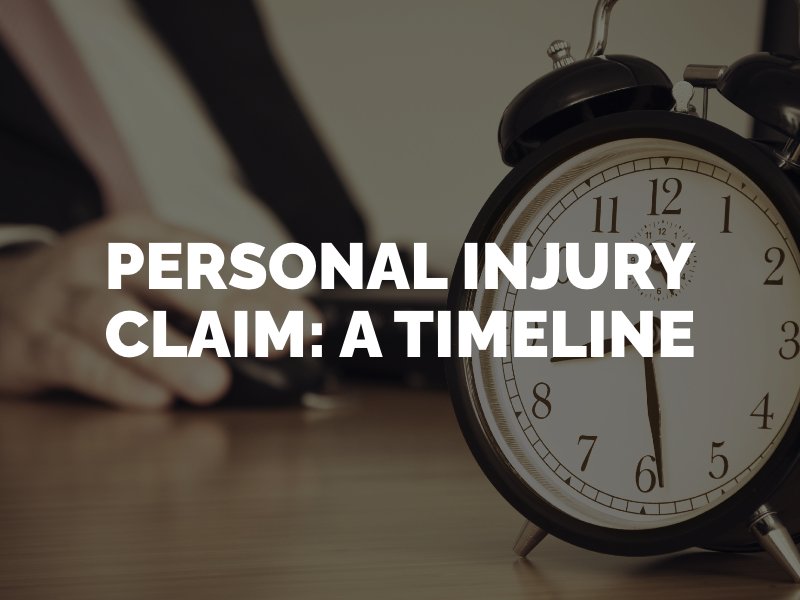 Case Investigation
The first step in a personal injury case is the accident investigation. The goal of an investigation is to understand the dynamics of the accident and why it took place. The investigation of a claim attempts to determine fault for the injury. Investigators from an insurance company, law enforcement agency and/or law firm may use the following evidence to conduct an investigation:
Police reports
Physical evidence from the scene
Witness statements
Medical records
Wage documents
Photographs and video footage
Expert testimony
Accident reconstruction
The average length of time for an insurance claim investigation is a couple of weeks up to a few months. In California, a law known as the Fair Claims Settlement Practices Regulations gives insurance companies a maximum of 40 days to complete an investigation and come to a decision on a claim from the date that it receives the claimant's proof of claim. However, an insurer can extend an investigation with a valid reason.
Settlement Negotiations
If an insurance company accepts a claim, it will offer a settlement. Rather than jumping to accept the first settlement offered, you should negotiate its value with help from a Los Angeles personal injury attorney. Insurance companies expect claimants to negotiate for higher settlements. For this reason, they often make their initial settlement offers low.
The average personal injury claim settlement takes around three to six months. Accepting the first settlement to speed up the process could mean receiving less than you deserve for a serious injury, with no legal recourse for obtaining further compensation. Take the time to negotiate for a fair settlement from an insurance company, even if this extends your payout date.
Filing a Lawsuit and Going to Trial
The majority of personal injury cases in California reach settlements. However, you may need to go to trial if an insurance company rejects your claim or refuses to offer a reasonable settlement. A personal injury lawsuit begins with the filing of a claim in the county where the plaintiff or defendant resides. A lawsuit must be filed within two years of the date of the injury, according to California's statute of limitations.
Next, the case will enter the discovery phase, which can take six months to a year or longer depending on the complexity of the case. A court date will be set after discovery. It may take a year or longer to have your day in court, depending on how busy the courthouse is in your county. A personal injury court case can be resolved with a settlement at any time before the first day of the trial. Otherwise, a trial will commence.
Most personal injury trials take a matter of days or weeks. If the jury believes that the plaintiff has met the burden of proof, the defendant will be required to pay a judgment award. However, the defendant has the chance to file an appeal. This could delay the outcome of your case by several months. To discuss the timeline of your specific personal injury case, contact an attorney in Los Angeles for an in-depth case review.