LA Mayor says he will defy Trump administration on immigration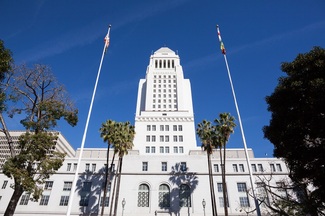 Despite repeated threats that the city may lose federal funding, Los Angeles Mayor Eric Garcetti has said he will not bend to the White House on immigration.
Just one day after Attorney General Jeff Sessions issued a directive ordering cities to notify the Department of Homeland Security at least 48 hours before releasing uundocumented immigrant detainees, Garcetti told Buzzfeed Editor-in-Chief Ben Smith, "We will not change what we are doing and our values are not for sale." Garcetti added, "What they're asking the city to do is in violation of the Constitution."
While Los Angeles has not adopted an official "sanctuary city" policy similar to that of San Francisco, the city does have Special Order 40, which is a policy that prohibits police from stopping/questioning people for the sole purpose of determining their immigration status.
In addition, Garcetti issued an executive order earlier this year that prohibits city employees from helping immigration authorities unless legally required to do so.
Families torn apart
Despite the protections mentioned above, we routinely hear about immigrant residents of Los Angeles who get caught up in the immigration process — and often face deportation even though they are not violent criminal and have been living here for decades.
Regardless of your views on immigration, there is no denying that actions taken by immigration authorities can often tear families apart.
If you or a family member is facing the possibility of deportation, or you simply need answers to your questions about immigration, contact Rose, Klein & Marias LLP today. You don't have to deal with these complex legal issues alone — we can help.