California Auto Accident Statistics
Every year, negligent and reckless drivers strike other roadway users and cause serious injuries and deaths. In California, car accident statistics are usually high due to the state's large population. California is often a nationwide leader in statistics related to auto accidents and their victims. Reviewing auto accident statistics could help you understand what causes most crashes and why. If you get into an auto accident in California that someone else caused, you may be eligible to recover financial compensation. Learn more by speaking with a Los Angeles car accident attorney.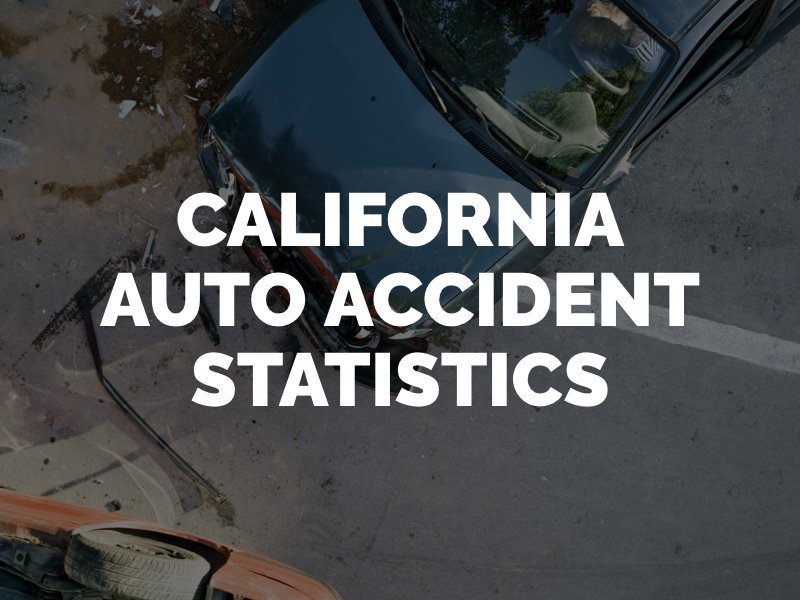 Number of Car Crashes, Injuries and Deaths per Year in California
Many different organizations collect data on California auto accidents. These include the California Office of Traffic Safety. The latest statistics available are for 2018. In 2018, the number of statewide traffic fatalities was 8.3% lower than in 2017. Traffic fatalities decreased from 3,884 to 3,563 statewide. California had a car accident death rate of 9 per 100,000 people in 2018. Car accidents are the main cause of death in California related to unintentional injuries.
Across the country, statistics show 33,654 fatal auto accidents occurred in 2018, which caused the deaths of over 36,500 victims.
Los Angeles County alone reported 92,020 victims killed and injured in auto accidents in 2017. The same year, 7,271 injuries and deaths in LA County involved drunk drivers.
In 2018, 1,069 people in California died in car accidents involving alcohol impairment. Forty-two percent (42%) of all drivers killed in car accidents tested positive for drugs (legal and illegal).
California's bicyclist fatalities increased by almost 7%, from 145 deaths in 2017 to 155 deaths in 2018. A total of 893 pedestrians in California lost their lives in traffic wrecks in 2018.
The number of motorcyclists who suffered fatal injuries in California auto accidents in 2018 was 488, a 15.57% decrease from 578 deaths in 2017. Thousands of other motorcyclists received serious crash-related injuries.
California car accidents leave thousands of people with serious, life-altering personal injuries and the devastating losses of loved ones each year. Almost all of these car accidents are preventable with due care among drivers and other roadway users, as well as proper care by parties in charge of roadway maintenance and safety. You may be able to avoid collisions when you recognize their most common causes in your community.
Common Causes of California Auto Accidents
One of the most important reasons to track California car crashes as well as national data is to spread awareness about who or what most commonly cause traffic accidents. Everyone who travels in California is at risk of getting into potential traffic accidents. Learning the most frequent causes could help you reduce your risk of a collision.
Distracted driving
Drunk driving
Speeding
Broken traffic laws
Inattention
Failure to yield
Drowsy driving
Inexperienced driver
Dangerous roadways
Bad weather
Driver error is the number one cause of California car accidents. Driving at night could increase your risk of getting into an accident due to a higher number of drunk drivers on the road. Lack of visibility can also raise the number of crashes at night. Other common causes of auto accidents include vehicle defects, such as bad brakes or defective tires, and roadway defects. Potholes, debris in the road, poorly designed roads, dangerous construction zones, missing guardrails and other roadway defects can contribute to harmful car accidents.
Average Settlement Amount for a California Car Accident Claim
Many auto accidents in California give victims the right to file claims for damage reimbursement. A successful auto accident claim could pay the victim for losses such as medical expenses, vehicle repairs and lost wages. A car accident settlement in California could total $10,000 or less. It could also lead to much higher settlements, from $50,000 to $100,000 or more. A car accident lawsuit could lead to even greater judgment awards – sometimes in the millions. The values of car accident settlements can vary drastically depending on the case. Talk to a lawyer in Southern California for an estimated value of your car accident case.